You've seen the ads; a simple black and white photo of
Carmen Kass
with beachy bleach blonde hair messily braided into a heidi/german milkmaid-esque style, oh so chic and modern.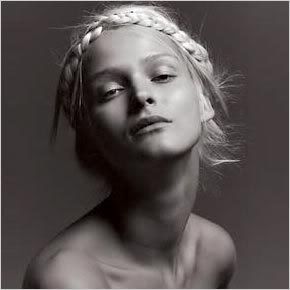 Kass is the face of NARCISO RODRIGUEZ For Her Eau de Parfum, my new obsession.
In my opinion, the perfect designer perfume should accurately reflect the designer's style, and in Narciso's case, it does so to a T.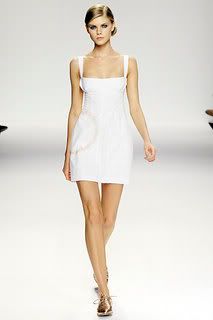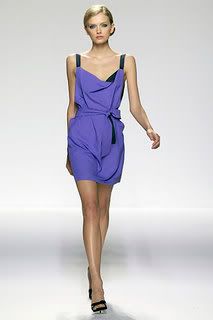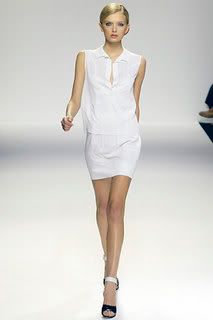 looks from the designers
S/S 08 runway show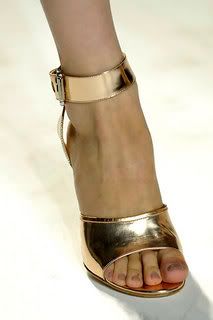 Rodriguez's gorgeous gold ankle strap sandals
The laidback, simple, and youthful Parisian-eque style of his clothing is mirrored in the perfume's delicate combination of honey blossom, amber, and egyptian musk.
Sephora.com's biography of the scent:
"Musc is at the heart of For Her. The fragrant harmony of the musc expresses itself through three pulsations; honey flower, radiant amber, and tactile wood. This fragrant harmony develops gently and slowly, rounding out into the warm tones of sunkissed skin, dusted in a soft, velvety sensuality.
Notes:
Honey Flower, Solar Musk, Orange Blossom, Osmanthus, Amberlyn, Vanilla, Tactile Musk, Tactile Woods, Vetiver.
Style:
Warm. Sensual. Feminine."
-
Sephora.com
I can no longer count the times I have wandered into a "Marionnaud" store (A chain of French Parfumeries), just to "try" Narciso's lovely perfume. My perfume searches are extremely intense, I rarely truly LOVE a scent, even after sniffing my way through Sephora's whole perfume section! Once I find one a think I kind of like, I have to test it out on any number of victims: friends, boys, my sister, random homeless people... have a true paranoia about smelling bad. in my opinion, wearing a bad or overpowering perfume is almost worse than just smelling bad naturally!
Therefore, after multiple sniff tests of Narciso Rodriguez For Her, and after hearing one friend say it smelled like honeysuckle (my favorite flower), I have officially fallen in love with Mr. Rodriguez's concoction.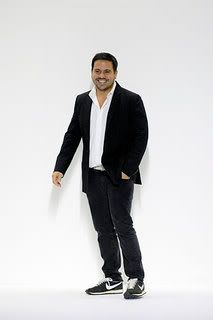 Narciso Rodriguez at his
S/S 08 runway show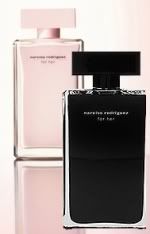 Narciso Rodriguez For Her eau de parfum 1.6 oz $72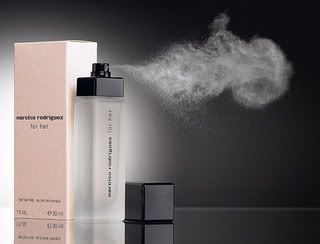 Narciso Rodriguez For Her Hair Mist $32
If you haven't smelled it yet (hint hint MOM, for christmas), it's time to pay a visit to your local sephora!
*Please let me know how you like the new layout, thank you!*
-Arianna
fashioninsider00@aol.com
to be added to the mailing list, comment with your email address