For a fashion junkie like myself, there are always those certain pieces that elicit a feeling much like what a crack addict might feel upon that first hit... a high like no other: my stomach jumps for joy, and I YEARN for the clothes. Yes, I am a style addict, and I'd like to share this seasons addictions with you. After days and days of poring over the Spring 08 shows on
STYLE.com
, I have finally finished and have chosen those certain pieces that hit me hard like heroine.
A friend of mine worked the Lanvin show in Paris and said it was absolutely fabulous and was the first show of Alber Elbaz's to get a standing ovation. Of course, some of his pieces are interspersed in my favorites, and later, in my Spring 08 trend post. Stella McCartney was lovely as well, and I'd kill for some of Alexander Mcqueen's feathered pieces. So here we go, the beginnings of several Spring 08 runway blog posts...
MY FAVORITE PIECES
Casual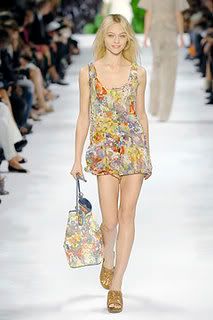 Stella McCartney- A lovely and simple floral dress...perfect for a laidback sunday brunch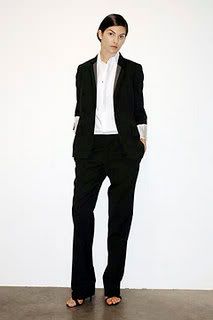 Kris Van Assche- I recently bought a well-taylored black blazer from
Maje
in Paris, and love wearing it with my black skinnies, a white tee, and black patent high heeled oxfords, so menswear chic.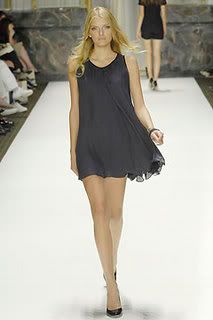 Rag & Bone- The Little Black Dress I'd kill to just "throw on" before running to an appointment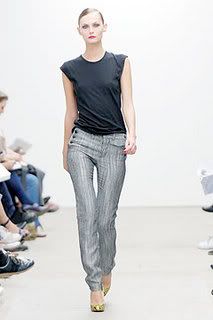 Todd Lynn- I love the tough girl/androgynous look of these skinny gray pants and black semi-muscle tee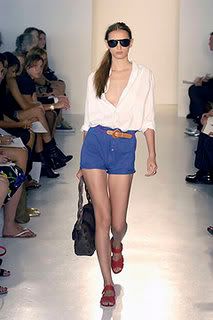 Yigal Azrouel- Lush blue shorts and a casual white blouse are perfect for lazy summer days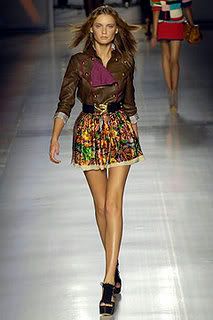 Etro- I absolutely love the leather jacket paired with the flowery mini skirt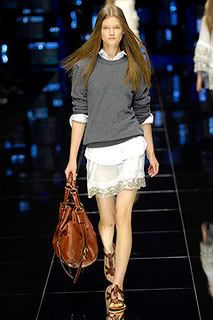 Dolce & Gabbana
PLAYING DRESS UP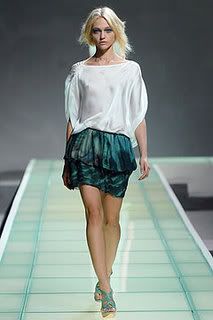 Alberta Ferretti- beautiful green silk skirt with a slight tie-dyed look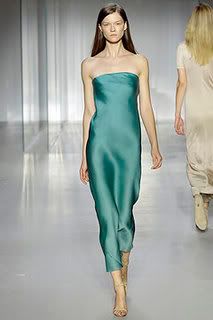 Calvin Klein-Who doesn't need a classic CK satin foam green strapless dress?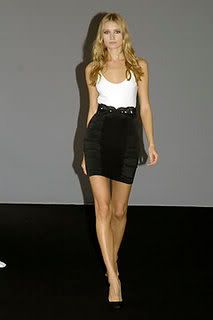 Jasmine Di Milo- Black high waist skirt + white tank=perfection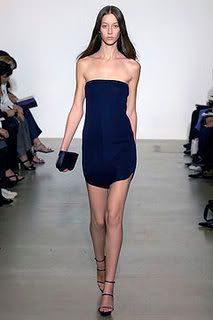 Jil Sander- simple, clean, and elegant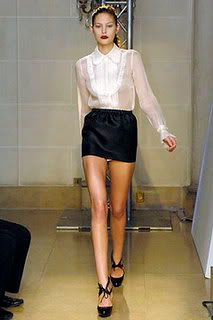 Miu Miu- another beautiful black skirt, white blouse combo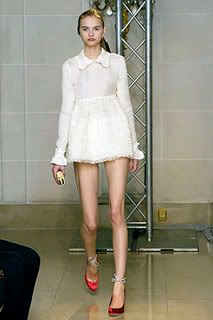 Miu Miu white babydoll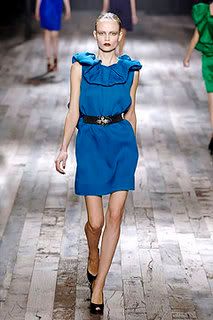 Lanvin-A gorgeous robins egg blue dress in traditional Lanvin style...what could be better?
Little Black Dresses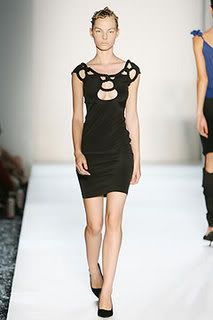 Benjamin Cho- An interesting take on the LBD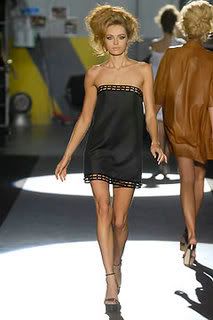 D Squared- It' ALL in the details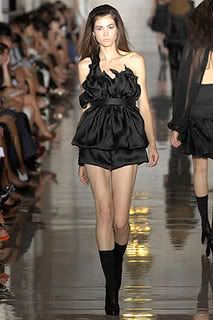 Jill Stuart- So unusual, yet so good!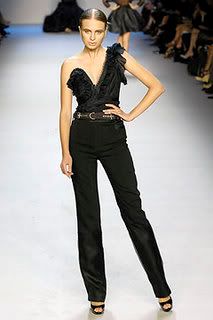 Zac Posen- i LOVE the one shoulder strap look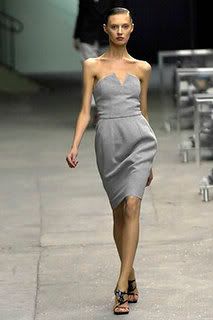 Yves Saint Lauren-I've been looking EVERYWHERE for a gray, strapless, structured mini...if only I could afford the YSL dream version
Little White Dresses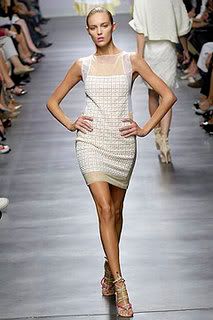 Allesandro Dell'Acqua- A quirky, unusual and absolutely fabulous white mini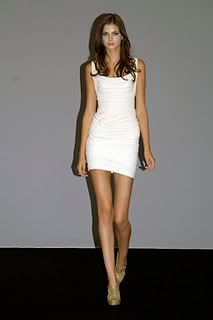 Jasmine Di Milo- That's hot.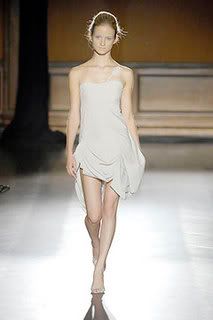 ThreeAsFour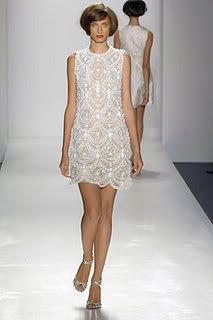 Naeem Khan- I'm ALWAYS looking for white lace minis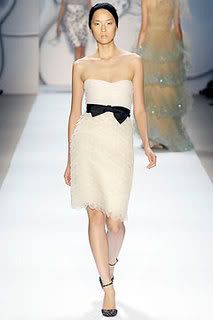 Monique Lhuillier
SHOES AND ACCESSORIES
Alexander Mcqueen- Pretty much the most amazing shoes I've ever seen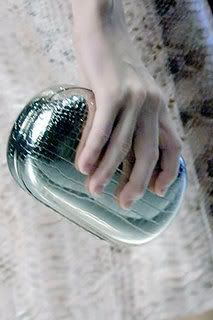 Alexader Mcqueen- A perfect silver going-out clutch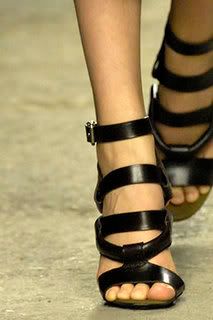 Dries Van Noten-So simple yet so amazing, a black leather alternative to the gladiator sandal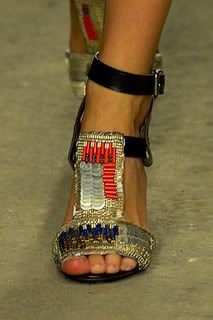 Dries Van Noten-Beautiful beaded sandals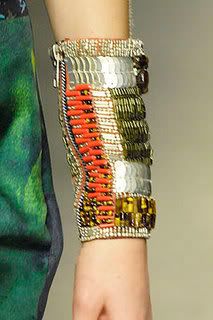 Dries Van Noten- and a beaded bracelet to match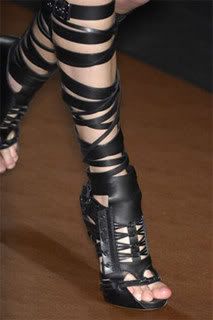 Givenchy- I don't know if I'd have the guts to wear them, but you KNOW Mary Kate will swap her balenciagas for these babies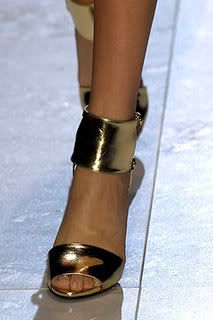 Gucci-PURE GOLD HEAVEN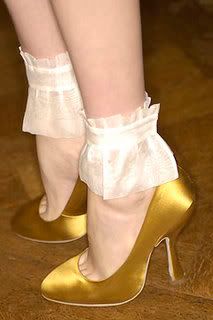 Miu Miu- I really don't know why I like these so much, and I'm not too sure what the white ankle curtains are... but I'd take em
COATS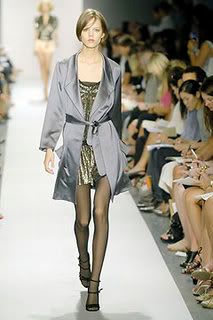 Derek Lam-LOVE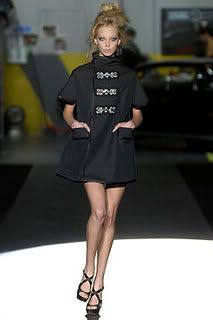 D Squared-A lovely but decidedly different black coat
THE OSCAR GOWNS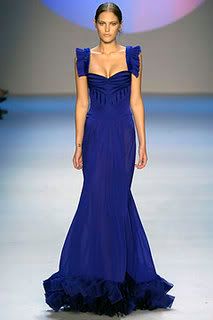 Zac Posen
Nina Ricci-LOVELY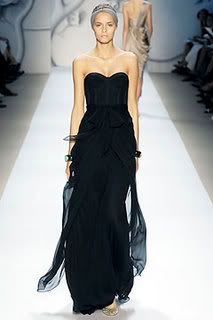 Mnique Lhuillier
THE WEDDING DRESS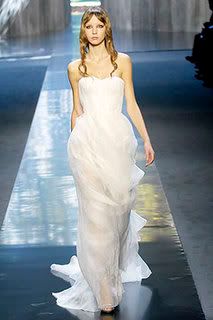 Nina Ricci-Simple and beautiful
That's all for now, next is the Spring 2008 Trend Reports
Some spring styles: bright colors, socks with sandals, luxe hippie, and much more...
<3 Arianna
fashioninsider00@aol.com
to be added to the mailing list comment with your email address