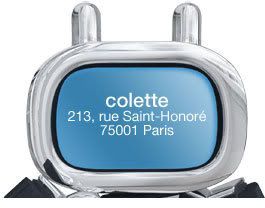 CLICK TO BUY
Having nothing planned today and not wanting to waste the day sitting around watching old seasons of entourage on sidereel.com, I ventured out into my beautiful little neighborhood, the Marais, in the 4ième arrondissement in Paris. Much like New York, everywhere you go in Paris practically screams "SPEND YOUR MONEY HERE!!" so of course, I ended up on the tiny cobblestone streets of Rue des Francs-Bourgeois, one of the best boutique shopping streets in Paris. All my favorites are right around there:
Et Vous
,
Zadig et Voltaire
,
Comptoir Des Cotonniers
,
Sandro
,
Maje
,
Les Prairies de Paris
,
Abou d'Abi Bazar
, and so many more. As I made my way through the winding maze of parisian streets, I wandered into major shopping area Châtelet Les Halles, then I passed the Louvre and le Palais Royale, and ended up on Rue Saint Honoré, which becomes Rue du Faubourg Saint Honoré, home of major Couture stores such as Christian Dior, Chloé, Guy Laroche, Hermès, Yves Saint-Laurent, and Lanvin. Right past Palais Royale on Rue St. Honoré lies the strangest, most fascinating store in Paris: Colette.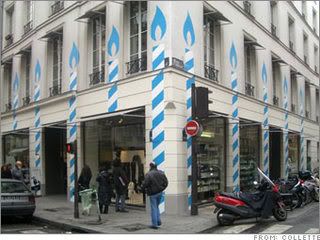 Every celeb who has visited Paris is sure to have named it as one of their favorite boutiques (including the Olsens and Corey Kennedy). So what's so special about it? It has the oddest assortment of knick knacks and clothes you will ever encounter. On the ground floor, I spotted colorful ipod minis, cell phones, cool coffee table books, Nars makeup, CDs, cameras, champagne, watches, magazines, motorcycle helmets, sunglasses, jewelry, and many more random items.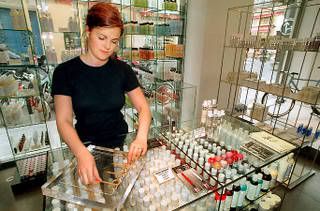 A makeup counter at Colette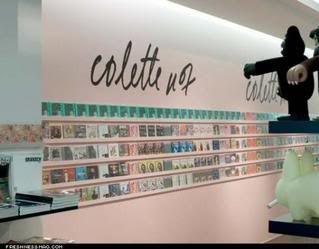 Colette's "CD Wall"
On the floor above, there is an assortment of the most fabulous high fashion clothes I have ever seen-
the beautiful
Burberry Knight
bag in all its studded glory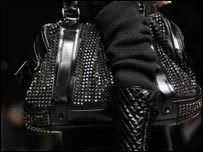 colorful Miu Miu heels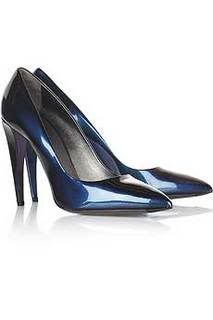 Lanvin flats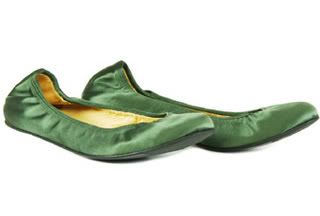 Chloe patent leather bags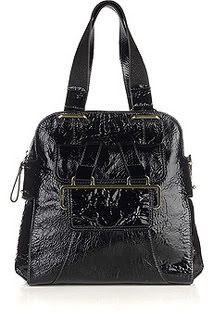 Prada skirts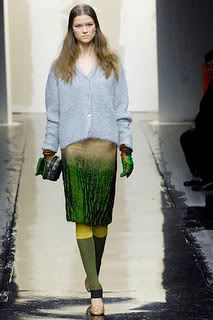 and many more, all arranged gorgeously on mannequins standing in the middle of the floor, like a clothing museum, which it basically was for me since there is no way I could afford any of it.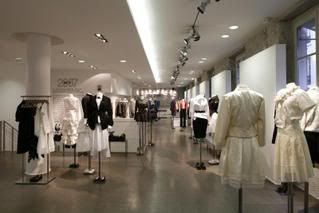 All around me there were people sipping champagne, clutching their 2000 euro handbags and sporting their flashy gold rolexes. They were there to buy, but I was overwhelmed and felt underdressed in my American Apparel baggy gray tee and thrift shop brown leather messenger bag, so I had to leave. On the basement floor, according to their website, there is a cafe and a water bar with over 100 water brands from around the world that you can sample.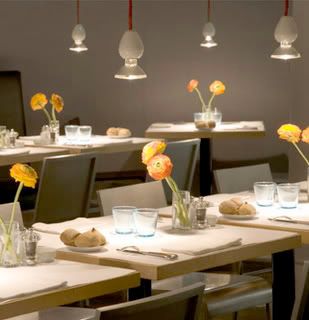 I also missed an art gallery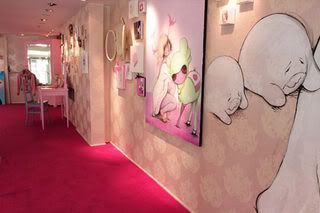 and a streetwear area in the back of the 1st floor (2nd floor to americans-in France they call the 1st floor the "Rez de Chaussée") which includes a collection of limited-edition sneakers a denim bar, and t-shirt brands from around the world. I'll be going back pretty soon, especially since it's down the street from my gym.
If you're ever in Paris, check it out! Or at least check out their super cool website
Colette.fr
-Arianna
fashioninsider00@aol.com
to be added to the mailing list comment with your email address