In the spirit of the current Menswear/Androgynous style comes the newest trend that has showed up in all the hippest stores in Paris: Jazz shoes, Wingtips, and Oxfords.
You've already seen high heeled oxfords in every fashion magazine possible, but the lower heeled versions, along with wingtip and jazz shoes, are just starting to be noticed. They've only recently showed up on the Spring 2008 runways and on the hippest dressed celebs.
High heeled open-toe oxfords on the Spring 2008 D&G runways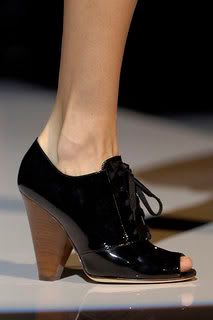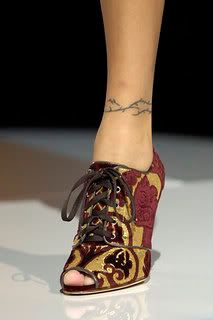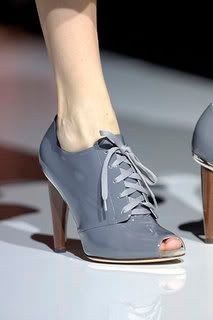 Lower heeled oxfords on the Spring 2008 runways at Alexander Wang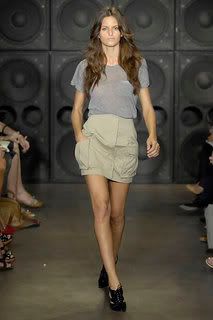 Want a glossy, patent leather shoe thats flexible and pretty casual? Try Repetto Paris' Jazz shoe.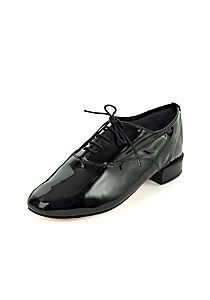 Repetto Paris Patent Jazz Shoe $198
A little more glitzy, mabe that's why it's called "The Pimp"?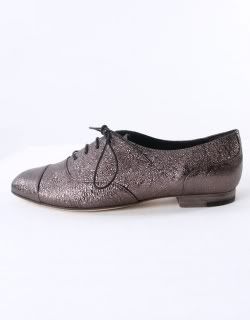 ld tuttle the pimp $435
Literally a direct translation of a classic men's wingtip into a women's shoe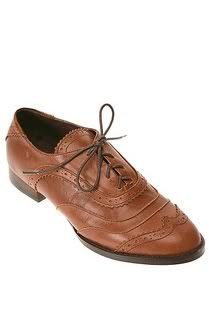 Jeffrey Campbell Wingtip $98
Spice it up with patent leather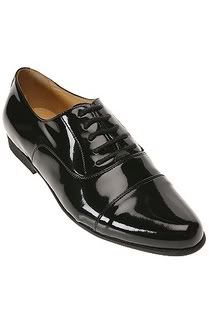 Swear Patent Jimmy Oxford $180
Simple and classic, probably exactly what Bob Fosse wore when choreographing "Chicago"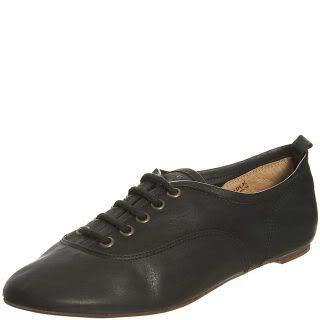 Lace up detail shoe 45 pounds
If you're still searching for the perfect pair of high heeled oxfords...
The Gold Standard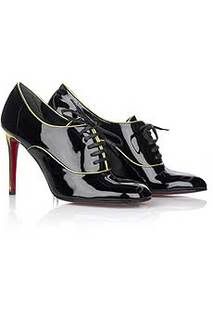 Christian Louboutin Miss Fred Shoe Boots $695
The Silver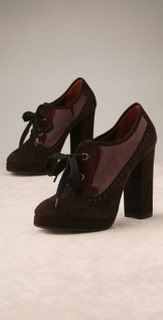 Marc by Marc Jacobs Platinum Oxford Pump $450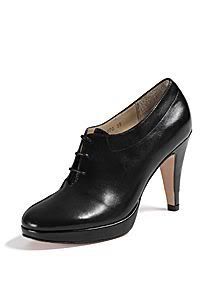 Opening Ceremony Oxford Platform Heels $350
The Bronze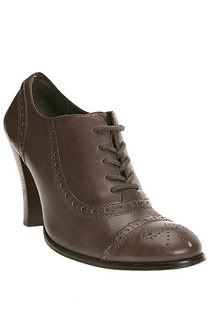 Ash Travis Oxford $150
Celeb Trendsetters

Ashley Olsen in low-heeled oxfords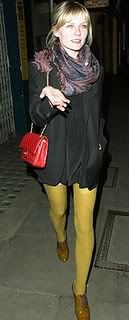 Kirsten Dunst in brown oxfords

Harry Potter actress Katie Leung in black patent leather oxfords

Gray versions on the street in a pic taken by
The Sartorialist
That's all for now! Look forward to the full breakdown of the Spring 2008 runway shows coming soon...
**Arianna**
fashioninsiderguide00@aol.com
to be added to the mailing list comment with your email address