After a long summer spent working 24 hours (no make that 23, we had 1 hour off a day) at a summer camp in the middle of nowhere, also known as Windsor, New Hampshire, I'm finally BACK! And starting Saturday I will be off on a brand new adventure (which is sure to include TONS of fashion) in Paris where I'm studying abroad!
And now for my last post on American soil....
Over and over in countless magazine articles and ads, I have seen what I KNOW is the true "It bag" of the season, though no one else seems to know it yet. I also was lucky enough to see it in the flesh while passing the elite storefront in Chicago, and I had to stop myself from screaming/drooling with lust and excitement. What is it that caused such an unusual reaction?
Why,
Burberry's Knight Bag
of course!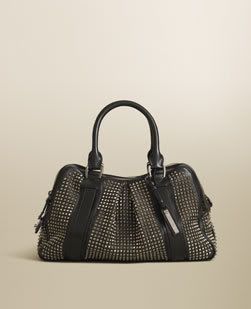 A quirky take on the classic black doctor's bag, it just screams "I'm too cool for school" with its supple black leather adorned with metal studs. But for this kind of style, you pay big. $2995.00 that is. My heart drops every time I see all those annoying little numbers. I've searched high and low for a good replica or a similar bag, but alas, none exists. I am resigned to drooling over the new rock and roll chic Burberry ads featuring studded black clad Lily Donaldson and Agyness Deyn.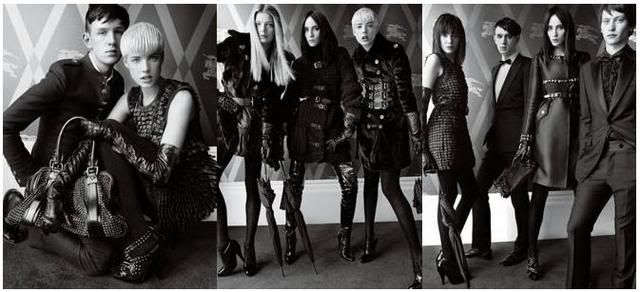 PS. I'm also IN LOVE with the double and triple buckle waist belts shown above, a must for fall
After rejoining the world of contemporary fashion, I also discovered that Mary-Kate and Ashley Olsen's new line, Elizabeth and James, kindly named after their two non-famous siblings, is now available to the public! The line features two versions of classic items such as blazers, jackets, and t-shirts, the "Elizabeths'" with more feminine, curve-hugging shapes, and the "James'" with a more "I stole this from my boyfriend/brother" kind of look. The prices may be in the Barneys Co-op range, $95 for a comfy gray tee to $775 for a three-quarter sleeve leather jacket, but they are far less expensive than their couture counterparts in the Olsen's other line,
"The Row."
In my opinion, the Olsens make some of the best and most interesting fashion choices of all the popular young starlets, and fortunately they chose to create a true fashion label, with clothing that truly mimics their personal style, not a cheapened version to be sold at Target or Walmart. Each outfit is meticulously crafted with the finest materials, and one can easily imagine Ashley nonchalantly sporting one of them, Starbucks Latte in hand, frozen in time in a stalkerazzi photograph in US Weekly.
Check out my favorite pieces!
The black Hoodie Dress, $395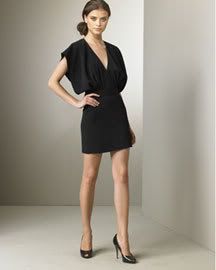 Business in the front

Party in the back
Shrunken Blazer $375, Boyfriend Shirt $225, Button Leggings $145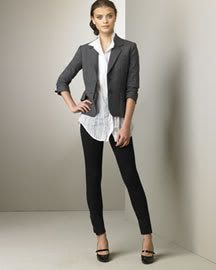 Sequined Dress, 495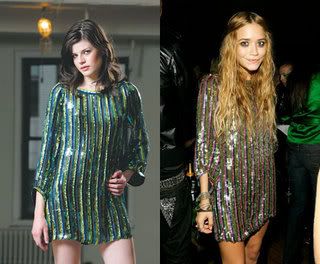 Left: Elizabeth and James Sequined Dress, Right: Mary-Kate wearing the vintage sequin inspiration
Minidress in Lipstick pink (also available in purple), $275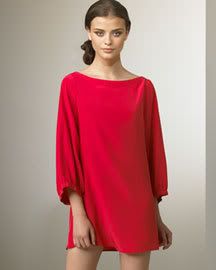 100% silk with a bateau neckline and three-quarter bubble sleeves
Bonfire Shirt $225, Muscle tee $95, Cocktail shorts $225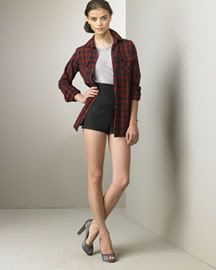 James Blazer $395, Stirrup leggings $220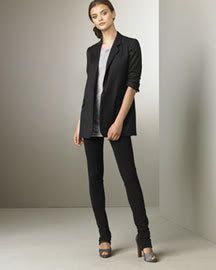 Dandy Cropped Jacket $450, Hot shorts $350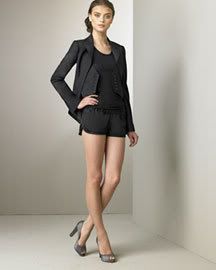 100% wool jacket, 100% silk shorts
Hooded Jacket $425, Tunic Dress $275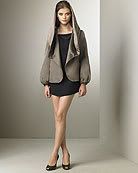 All 100% silk
Strapless dress $395, Leather Jacket $775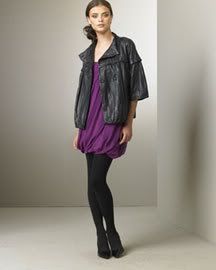 OPINION CORNER-Red frame Wayfarers
I've seen them several times on Sienna Miller
But I know they're a passing trend so I couldn't shell out the big bucks for the real Ray Bans, but when I stumbled upon them at the Melrose Trading Post flea market for $7, I couldn't resist. How do you like them?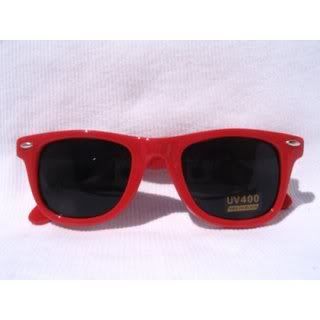 CLICK TO BUY
Next week look forward to the first post on Parisian fashion from PARIS!!
-Arianna
fashioninsider00@aol.com
to be added to the mailing list comment with your email address