The resort collection is the ultimate in luxury. It is the excessive yet fully appreciated free toy that comes with a happy meal, the superfluous cherry on top of the sundae. It reminds us poor mortals that we could have been rich jetsetters flying off to the the South of France on a whim, had we only married rich or been born into money. Alas, I can only scan style.com's photo gallery and dream of looking incredibly fabulous in a St Tropez worthy white dress to wear on my husband's 20 million dollar yacht.
At CHANEL, the look was part pilot/punk chic,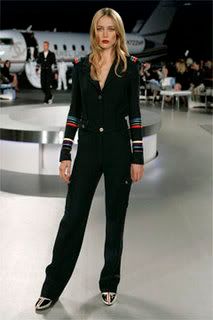 part black and white hippie with uncharacteristic flared jeans and headbands.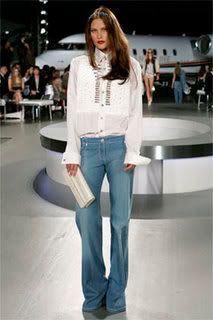 It was Karl Lagerfeld letting loose and catering to the hipster hollywood queens, (LL being the leader of the pack at the moment, though her career is slowly dwindling) who jet back and forth between the hottest spots in LA and New York. The collection has it all: glitter, glamour, rock and roll, and simple attention to detail. It didn't exactly create trends we were unaware of, it SOLIDIFIED them. JBrand, famous for their drainpipe jeans, are now making wide legs and flares, and now that even Chanel is advocating the style change, I might just have to try it. Mary Kate Olsen has already been seen sporting her punk rock chain metal studded belt (I just bought a vintage one myself from Jetrag on Melrose), and Chanel's version will surely make the trend skyrocket.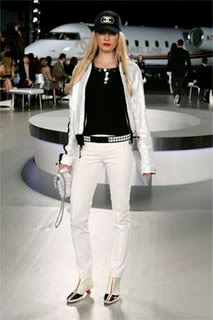 Hipster Headbands anyone? Last year you wore them vertically, this year turn that thing on its side! It's all about the Hippie-esque wraparound band a la MK and Nicole Richie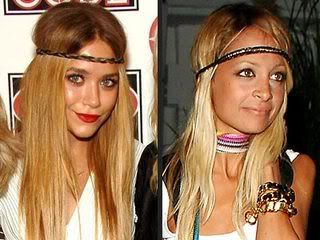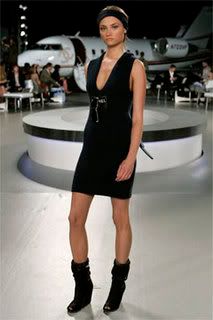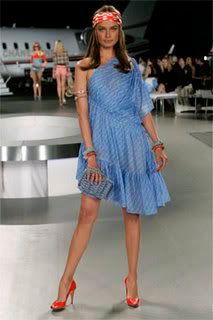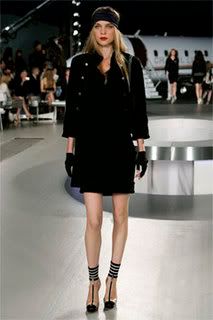 How about a little jetsetting 2007 Lolita look?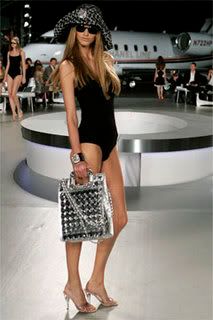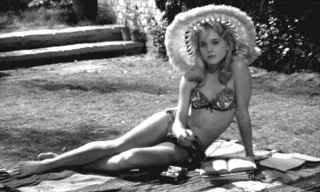 Or the little schoolgirl jetting off to Paris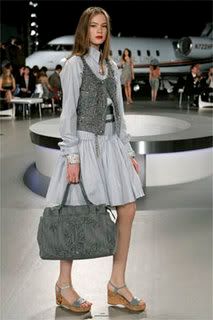 Another trend that's here to stay: VESTS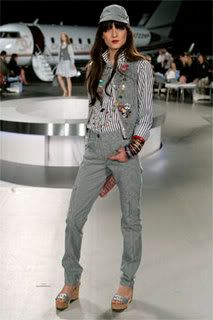 and ANKLE BOOTS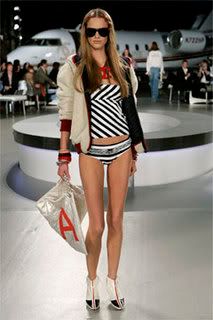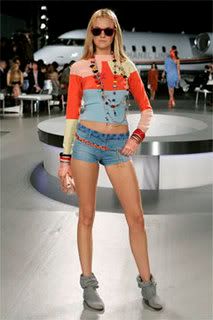 METALLICS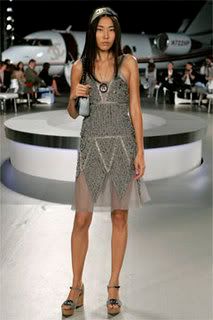 and of course Karl threw in a few easy to pack in your LV luggage LBDS (Little Black Dresses for those who aren't down on the lingo)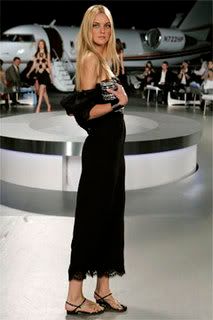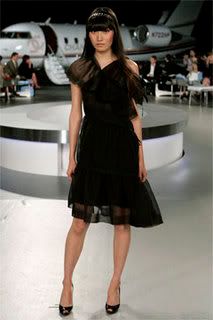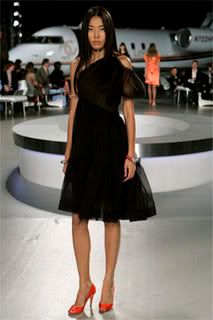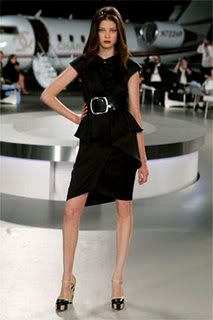 And black and white gowns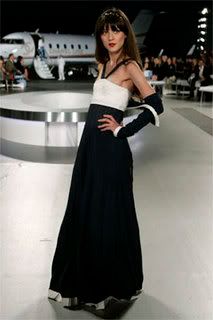 OSCAR DE LA RENTA stuck with the old faithfuls, his classic flowery gowns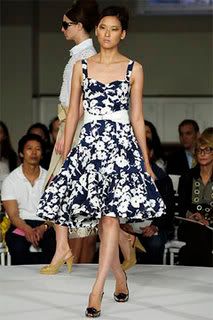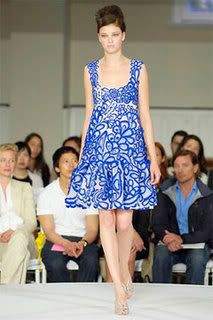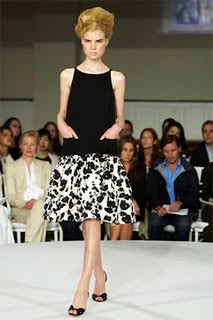 Brightly colored cocktail dresses in fresh, summery yellows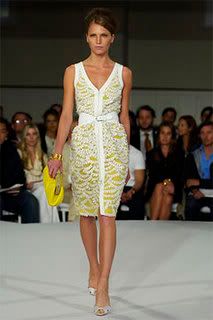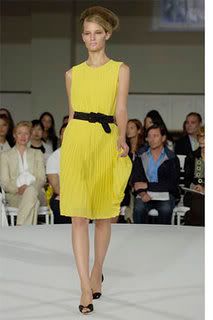 And some trendy metallic dresses.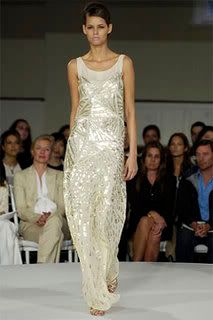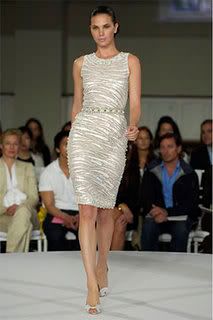 One look I loved but would never wear was a white suit that was his take on the 1940's Katherine Hepburn look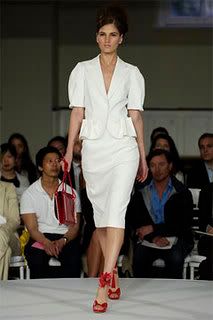 Plus some classic 50s style dresses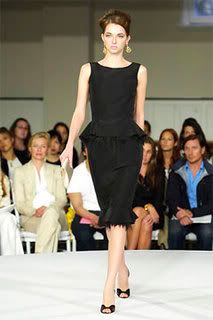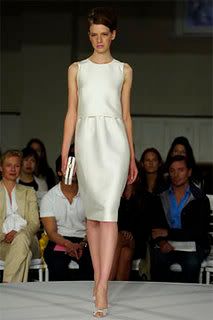 A sleek and fresh navy strapless number caught my eye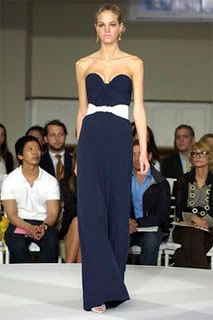 As did an over-the-top sheer white chiffon puff sleeve shirt paired with a floor length feathery hemmed dress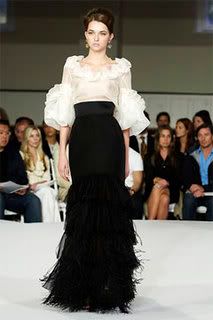 ALBERTA FERRETTI'S resort collection epitomized the perfectly groomed french schoolgirl, giving off a slightly child-like air. Ferretti's collection tied with Chanel for popularity and relevance to today's (still fresh) trends (and my personal taste). Though Ferretti is Italian, her style is very simple, clean, and French, and seeing as I will be jetting off to Paris in four months, her collection completely clicked with my sense of style: simple, clean, and chic.
Ferretti played with the understated sexiness of a schoolgirl pleated skirt (and not in the creepy old pervy man kind of way)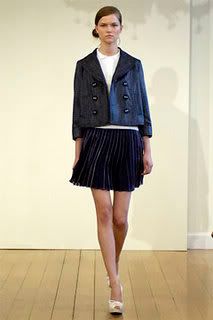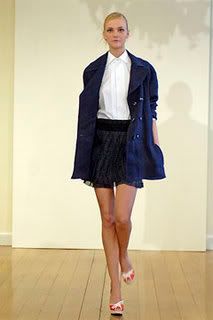 As well as a belted men's white button-down worn as a dress.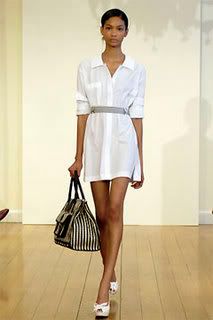 The classic French look of black and white stripes were present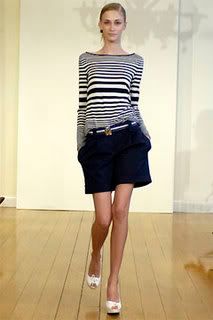 Her colors were simple, with a palette of gray, black, tan, and an array of blues.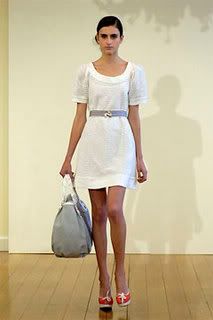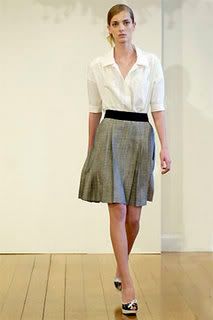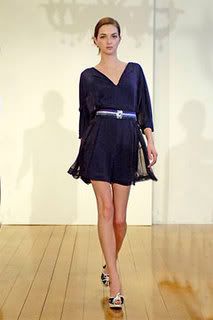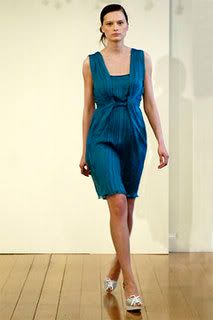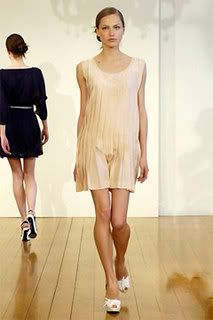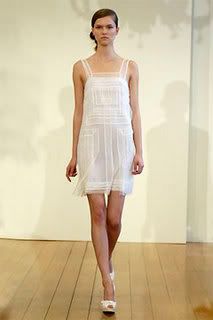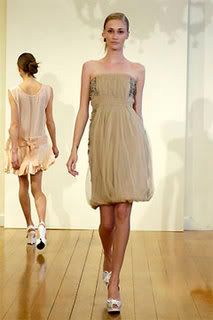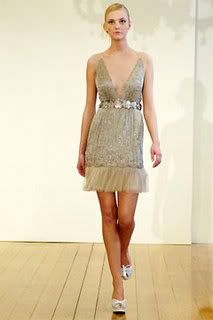 Hopefully someday soon I won't just be copying Ferretti's resort 2008 style, I will be wearing it!
Dior was different. DRASTICALLY. It was 1960's eurotrash revived, with lime green, orange, and hot pink swathed models devouring the catwalk. There must have been at one time a 60's jetsetter Barbie, and if so, she would have been wearing something much like Dior's resort 2008 line (though not quite as Twiggy-chic as you're picturing)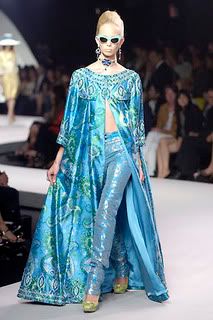 Acid green leopard print capris? So not for me.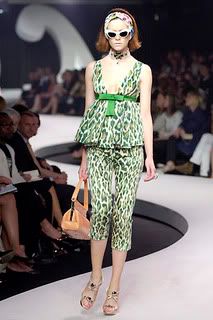 Orange Cremesicle colored furry tank tops? No thanks.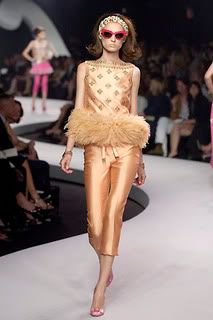 I'll stick with the only two looks I actually liked at Dior's resort show: a simple blue bikini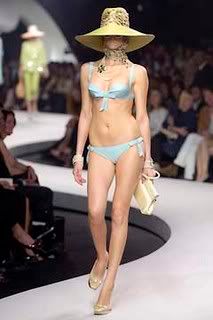 and a long pale green strapless gown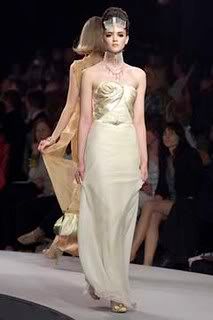 At LUCA LUCA, simplicity ruled. The general theme seemed to be chic chick does safari, with tan four button dresses,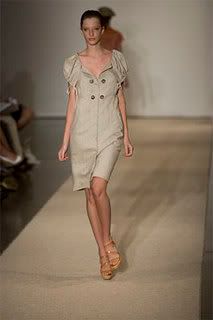 tan tops and plain white skirts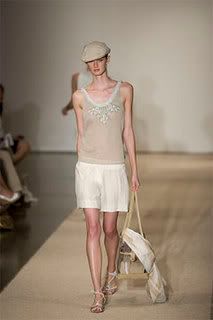 Simple no frills white and gray dresses,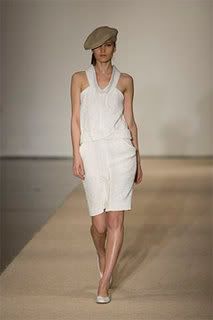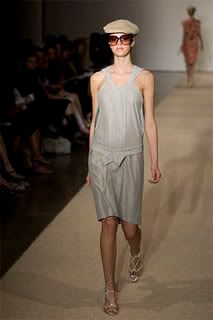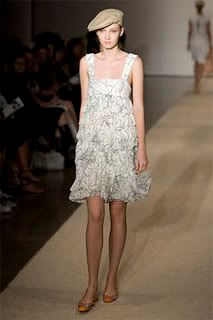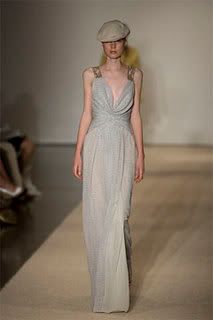 And a little bit of needed glamour in the shape of more "cocktails beside the pool" appropriate dresses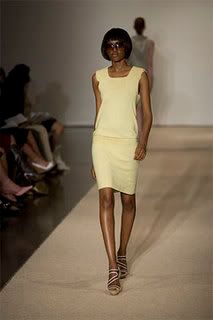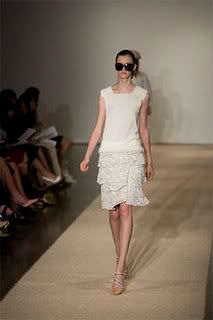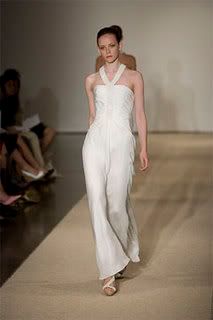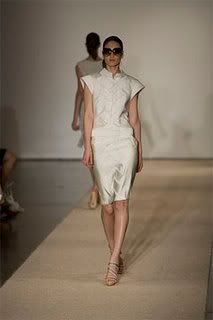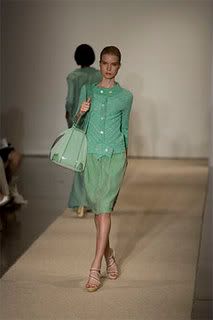 More to come!
-Arianna
fashioninsider00@aol.com
Source:
Style.com