A few weeks ago, shopping in Soho as always, I was rudely awakened to my ignorance by a street vendor who, upon selling me a very cute white tee with a silk screened image of Shiva on it, handed me my change and shirt, but no generic

bag.
"It's earth day so we're not using plastic bags!" he chided, eyeing my previous purchases, wrapped up in pretty and pointless pastel pink tissue paper and placed carefully by the salesperson at Calvin Klein intimates, in a PLASTIC BAG. "Oh...I'm sorry. Thanks." I said and scurried off. Since then, whenever possible I refuse all plastic bags. No THANK YOU. I can just as easily place my new headband in my purse, along with the receipt, because, being overly paranoid as usual, I always feel like people think I'm shoplifting if I don't have an environmentally cruel plastic bag slung over my shoulder.
So, I'm a nature lover and an earth saver whenever possible, and though cheesy, I have to admit that I've fallen for Anya Hindmarch's "I'm not a plastic bag" totes that have been seen on the arms of the hottest celebs and models.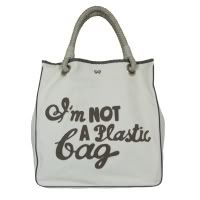 The Original sold out limited edition British Version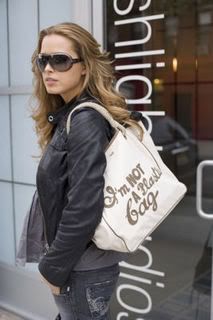 Petra Nemcova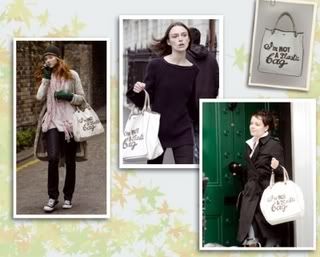 model Lily Cole, actress Kiera Knightly, and British pop sensation Lily Allen with their totes
Hindmarch created the popular purse as an alternative to plastic bags, millions of which are wasted every day around the world. Her goal was to make it fashionable not to use plastic bags; she wanted to "raise awareness of the issue of wasted packaging and spark debate." (Anya Hindmarch website)
The Anya Hindmarch bag quickly sold out in the UK, and will soon be available in the US with navy blue writing. Another "it" bag for $1000 right? Don't think so.
PRICE: $15
But the British version is on ebay selling for up to $250! Ridiculous. I say wait for the U.S. version and RUN, don't walk, to your local Ron Herman, which, along with the Anya H. stores and website, are are taking pre-orders for the bag and will have them in stores on June 20th.
Be sure to be the first to get updates by registering at the
Anya Hindmarch website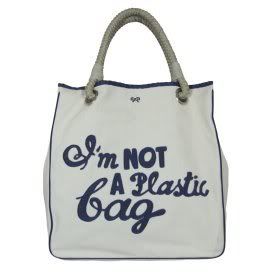 The upcoming limited edition American version.
Sources:
Bagsnob
,
Anya Hindmarch website
happy environmentally sound shopping!
-Arianna
fashioninsider00@aol.com
to be added to the mailing list comment with your email address