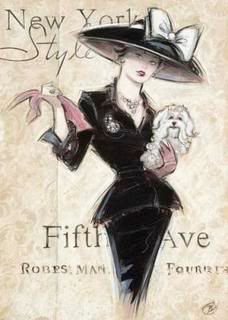 The life of a fashion world socialite is always much more intriguing than that of, say, a hotel heiress. With connections up the wazoo, it's no wonder the majority of them end up working in the fashion business. I went to high school with one lucky magazine editor's daughter myself (who shall remain nameless). I was always amazed at the nonchalant way she tossed out the name of her dinner companions of the previous night; "Oh yeah, last night I went out with Zac (Posen); he might be making my prom dress…" Instead of a dress by "Zac" though, she went with one she "saw in last month's Vogue" instead. The summer after high school, my friends and I ran into her in the streets of Paris, where she was living while doing an internship with Paris Vogue. Growing up, Fashion Week was probably her playground, and she was dressed to the nines for events by her oh-so-fashionable mother.
However shallow it may seem, my dream is to be able to point to a picture in a magazine and have the clothes handed to me on a silver platter (in a box is okay too). Didn't every girl swoon when the Russian presented Carrie Bradshaw with an elegant white box containing a luscious pink Oscar de la Renta cocktail dress? I think I'll start looking for my rich prince charming right now, preferably one with a fashion designer/magazine editor mother or father. I heard that Coco Chanel's grandson goes to NYU, maybe he's still available!
Sometimes the style darlings become fixtures on the fashion party circuit. Hundreds of chic girls stare longingly at their pictures in the parties section of W magazine, dreaming of life in the front row.
One such girl is French born Julia Restoin Roitfeld, daughter of French Vogue Editor-in-chief Carine Roitfeld.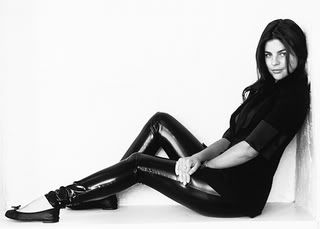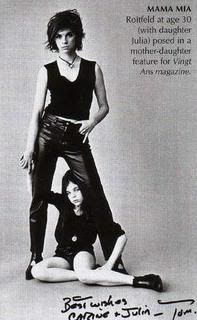 With her mother as a child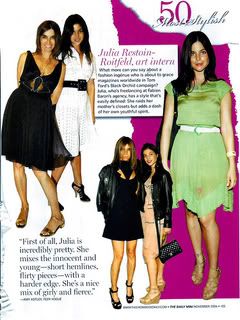 Julia has landed the cover of Hercules Magazine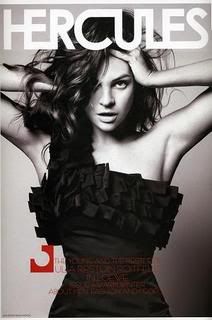 and was hand-picked by Tom Ford (an old family friend) as the fresh face of his Black Orchid perfume campaign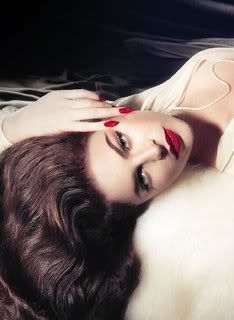 Not only is she beautiful, French, and sultry, she has great style too. Her choices are often classic and clean, but with a little bit of punk thrown in (like fur vests or leopard pring coats that match her mother)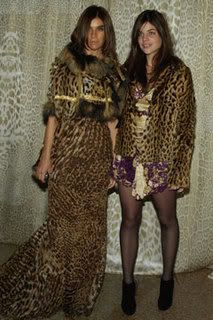 She can most often be found in formfitting little black dresses with a bit of an edge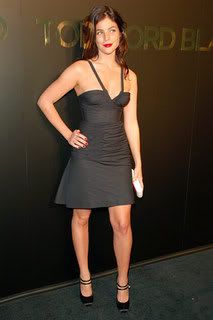 At a Tom Ford party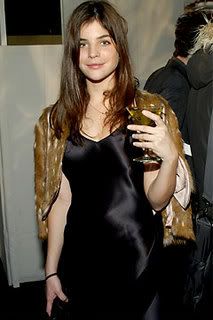 In black silk and a rabbit fur capelet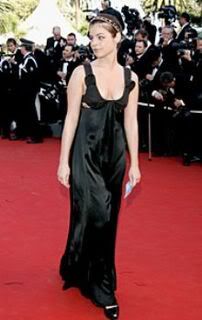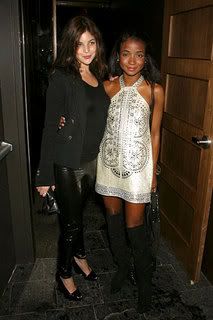 Toughening it up with leather pants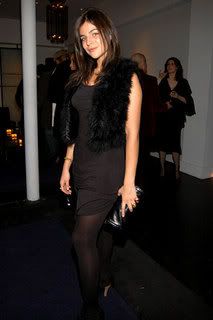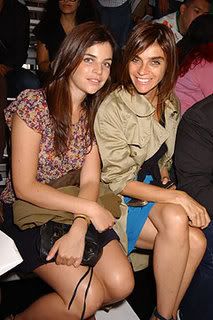 With her mother at the Marc by Marc Jacobs show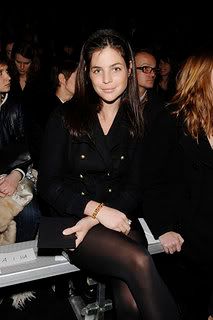 At Marc Jacobs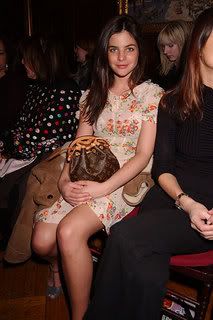 At Luella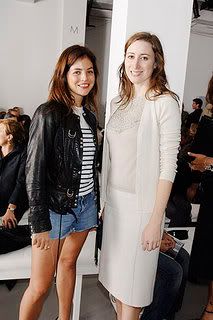 Backstage at Calvin Klein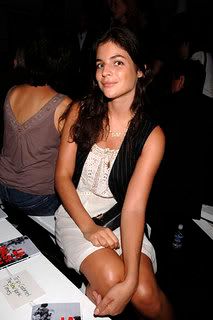 At Diane Von Furstenberg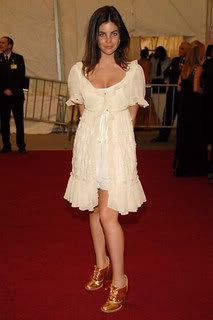 At the Costume Institute Gala
"I'm really impressed by the power of the fashion industry. Some people think that clothes are just things that you wear to cover yourself but I'm blown away because clothes to me are a sort of new pop art. Clothes can be either art or design but need a real purpose... I might buy a bit of Marc by Marc Jacobs because he makes great day to evening dresses, or I go for some vintage at Resurrection in NoLita. When I'm in Paris, though, aside from the odd trip to Miu Miu or Prada, I'd prefer to go to a sex shop in Pigalle for a miniskirt. And of course I also get to raid my mother's wardrobe because she is incredibly generous." (Times Online)
-Julia recently graduated from Parsons School of Design in New York City, interned at design firm Baron & Baron and with famed photographer Craig McDean, and is also studying acting.
Other Fashion Socialites include fashionable Missoni heiress Margherita Missoni and Vogue Editor Anna Wintour's daughter Bee Schaffer, upcoming articles perhaps?
-Arianna
fashioninsider00@aol.com
to be added to the mailing list comment with your email address
Sources:
Times Online
Fashion Squad
Style.com
Fashionologie
Fashion Week Daily