Sure, pictures of your favorite fashionable celebs at the annual Costume Institute Gala have already been plastered all over the tabloids, but the insiders know that the most fashionable people are those who are less famous and not controlled by Rachel Zoe-like stylists. The queens of the catwalk, the designers, small time actresses, and many more photo-worthy people of less than Jlo status deserve to have their great fashion choices appreciated too! So here are MY personal favorite fashion choices, let me know what you love/hate.
SOCIALITES AND GIRLFRIENDS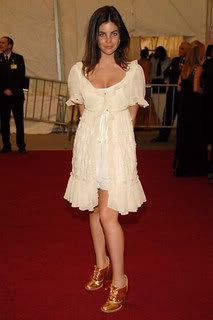 Julia Restoin-Roitfeld, daughter of Carine Roitfeld, editor of French Vogue, in Phi
*She has such a quirky yet simple and chic style, I'm planning on doing a whole article on her soon.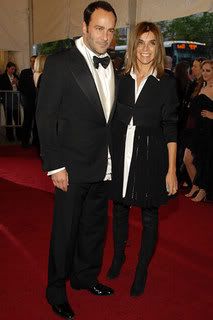 Gucci's Tom Ford with Paris Vogue's Carine Roitfeld.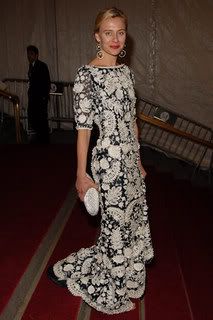 socialite/heiress Renée Rockefeller, in Oscar de la Renta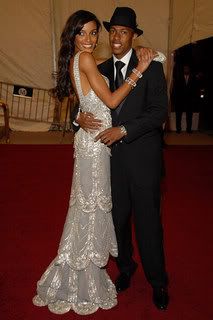 Selita Ebanks, in Zuhair Murad and Kwiat diamonds, with Nick Cannon.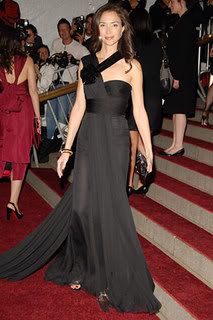 heiress Olivia Chantecaille, in Valentino Haute Couture.
Elettra Rossellini Wiedemann, daughter of Isabella Rossellini, in Yves Saint Laurent and Boucheron jewels.
*It's oddly shaped but for some reason I like this
DESIGNERS AND MODELS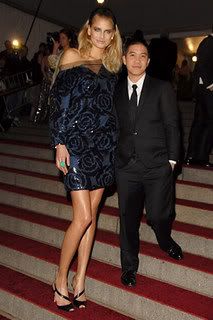 designer Thakoon Panichgul with model Hana Soukupova, in his design.
*I almost feel like this doesn't flatter her well but I love the big, gothic-esque flowers on the dress.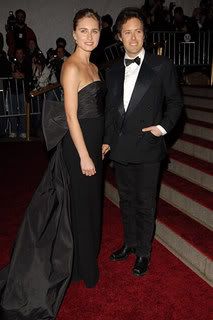 Lauren Bush, in Ralph Lauren Collection, with David Lauren.
*Is she a model? Socialite? or just a relation of the Bush clan, I'm not sure, but her dress is just wierd enough for me to like it.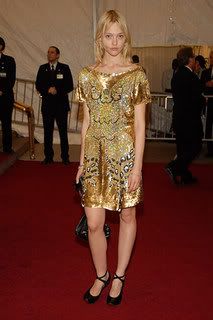 model Sasha Pivovarova, in Emanuel Ungaro.
*I'm not crazy about the shoes, and she looks a bit like a starving or depressed Victorian child but I like the dress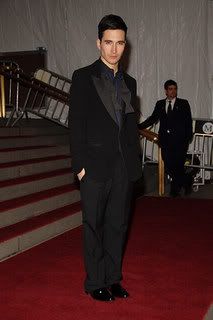 Proenza Schouler designer Lazaro Hernandez (Because he is BEAUTIFUL)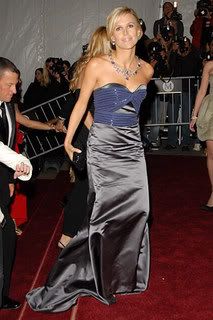 designer Tory Burch, in Proenza Schouler.
*I LOVE Proenza Schoulder but she seems to be tripping over the bottom of this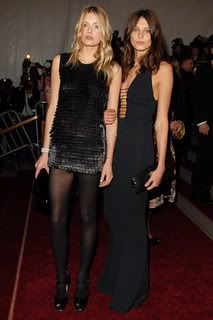 Models Lily Donaldson, in Burberry, with Daria Werbowy, in Azzedine Alaïa.
*I LOVE Lily's dress, and Daria looks great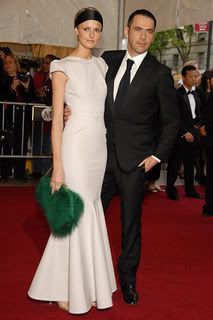 Jacquetta Wheeler, in Roland Mouret, with the designer.
*Note to self: Until you grow 8 inches and lose 15 pounds, you can't pull off this dress!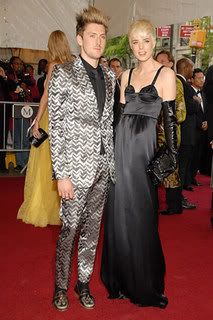 Henry Holland and Agyness Deyn, both in Burberry.
*I LOVE Agyness' dress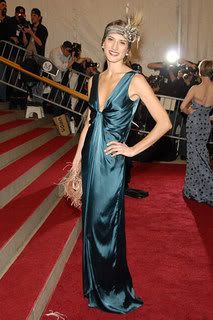 jewelry designer Zani Gugelmann, in Lanvin, with a Valentino clutch.
*Gorgeous color and I even like the wierd headband
Jessica Stam, in Dior Couture by John Galliano with Lorraine Schwartz jewels.
*Jessica Stam always has such great clothes, this isn't your average "model" dress but I love it on her
Claudia Schiffer, in Alberta Ferretti with Bulgari jewels.
*She looks like a fairy princess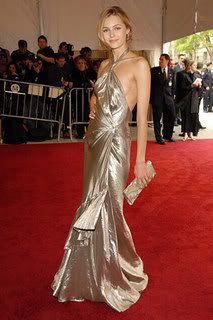 Valentina Zelyaeva, in Ralph Lauren Collection.
Robert Tagliapietra and Jeffrey Costello, with Angela Lindvall in their design. Ms. Lindvall wears David Yurman jewelry.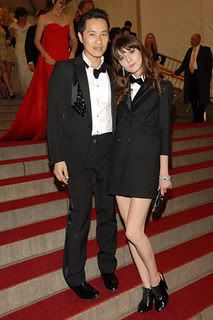 designer Phillip Lim with model Irina Lazareanu, in his design and Van Cleef & Arpels jewels.
*Irina has such quirky taste but it works so well!
ACTRESSES AND SINGERS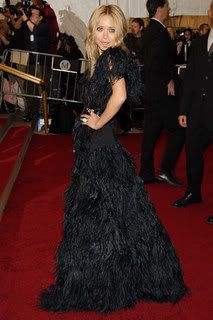 Mary-Kate Olsen in Vintage. I know it's a bit wierd but I kind of like it...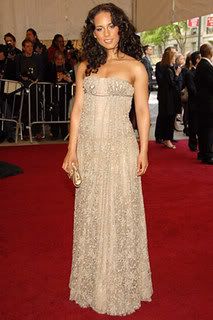 Alicia Keys, in Armani Privé and H. Stern jewels.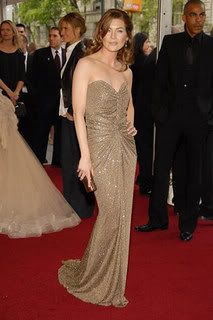 Ellen Pompeo, in Michael Kors.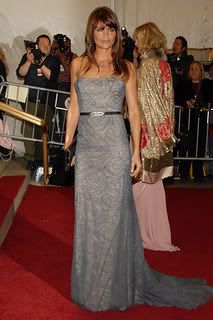 Helena Christensen, in Calvin Klein Collection.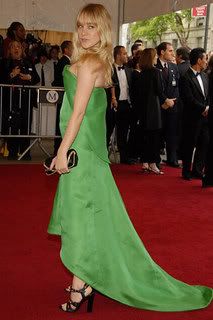 Chloë Sevigny, in Balenciaga.
*I LOVE this color!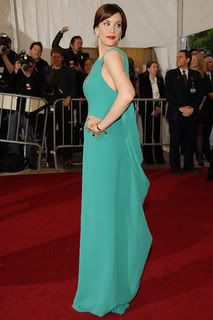 Liv Tyler, in Calvin Klein Collection and vintage Van Cleef & Arpels jewels.
*Again, the color is fantastic on her.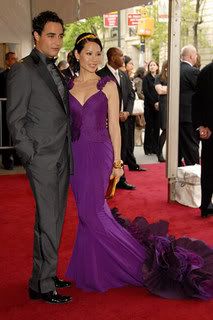 Zac Posen with Lucy Liu, in his design, both in Fred Leighton jewels.
*PURPLE! and than train is amazing!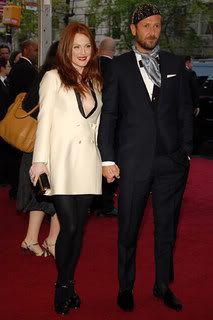 Julianne Moore, in Yves Saint Laurent and Fred Leighton jewelry, with Stefano Pilati.
*So simple yet so great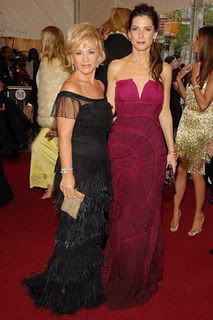 designer Alberta Ferretti with Sandra Bullock, both in Alberta Ferretti. Ms. Bullock wears a Lorraine Schwartz bracelet.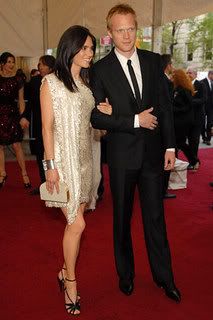 Jennifer Connelly and Paul Bettany, both in Balenciaga.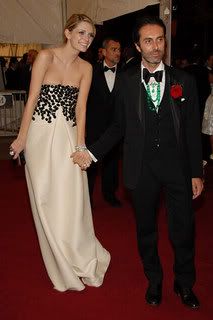 Giambattista Valli, in Boucheron jewelry, with Mischa Barton, in a dress by the designer and Cartier jewelry.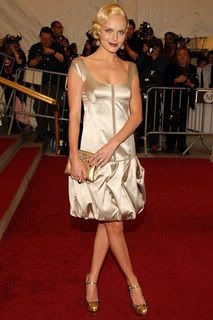 Kate Bosworth, in Prada.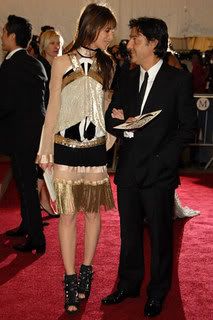 Charlotte Gainsbourg, in Balenciaga, with Yvan Attal.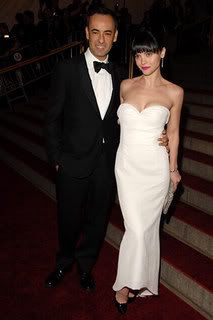 Francisco Costa with Christina Ricci, in Calvin Klein Collection and jewelry by Tiffany & Co.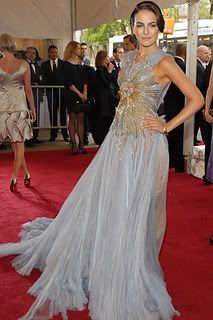 Camilla Belle, in Gaultier Paris Haute Couture and Boucheron jewels.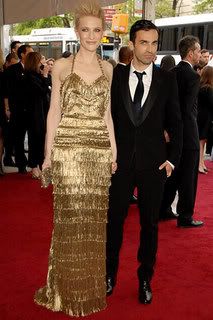 Balenciaga's Nicolas Ghesquière with Cate Blanchett, in his design and Fred Leighton jewels.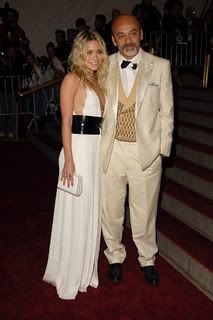 Ashley Olsen with Christian Louboutin.
Enjoy!
-Arianna
fashioninsider00@aol.com
to be added to the mailing list comment with your email
source:
Style.com