As you know, I'm a purse addict.
What you may not know is that I often prefer bags by Independent designers that aren't immediately recognized by EVERYONE
as in...
"Oh My GAWD, I LOVE that Louis Vuitton"
First, I adored a soft, chocolate brown Botkier Trigger bag, then I found love with Anna Corinna's gray, pebbled calf leather drawstring bag,
and now I am lusting after...BOYY
The bags, cheekily named after the creaters' Jesse Dorsey and Wannasiri Kongmans' imaginary childhood friends, are lined with cloth adorned with childish scribbles, but the outsides are just soft, beautiful leather, complete with practical pockets, hidden compartments, and built in mirrors.
always-ahead-of-the-trends hipster Chloe Sevigny already has hers...
now go get yours before everyone finds out!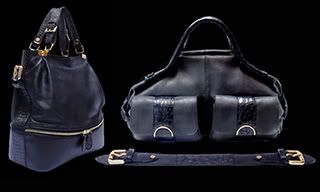 Chloe's Frank Bag, and the Dean bag $594
The Best Spring/Summer Bags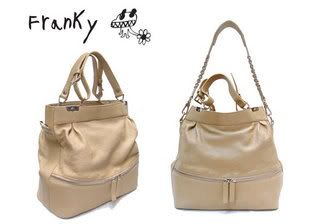 $575 available in washed sand, washed taupe, vintage olive, vintage blush, vintage navy, and washed black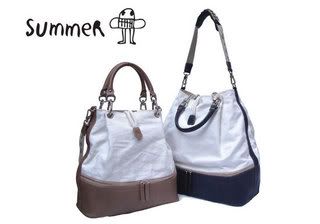 $335 available in washed taupe, vintage olive, and vintage navy
"I use male names for my bags because I think carrying a bag is like having a boyfriend by your side."
- Wannasiri Kongman, Co-creator, Boyy Bags
The Frank bag $594
Available online: http://www.boyybag.com/shop_online.html
or at:
ALBERTINE
13 Christopher St.
New York, NY 100014
between Waverly Pl. and Greenwich Ave
EVA
227 Mulberry St
New York, NY 10012
near Spring
(212) 925-3208
POPPY
281 Mott St.
New YOrk, NY 10012
(212) 219-8934
STEVEN ALAN
(Tribeca)
103 Franklin St.
New York, NY 10013
ALCHEMY
503 N Franklin Turnpink
Ramsey, NJ 07446
(201)818-4700
COLETTE
213 Rue Saint-Honoré
75001 Paris-France
GRASSHOPPERS
5 Washington St.
Nantucket, MA 02554
JENNA WHITE
7301 SW 57th St.
Suite 110
South Miami, FL 33143
CIAO BABYY
-Arianna
fashioninsider00@aol.com
To be added to the mailing list, comment with your email address