"Fashion is a form of ugliness so intolerable that we have to alter it every six months."
-Oscar Wilde
Black prevailed on the Fall 2007 runways, and though the color will never go out of style, I definitely got bored with the consistant dreary darkness. Every time a show incorporated REAL colors, I felt immediately drawn to them. Bright blues, sunny yellows, bold reds, and brilliant purples were sprinkled into many of my favorite shows, while others stayed with a more muted palette of cream, gray, and of course, BLACK. Trends that stuck: minidresses, tights, volume, oversized blazers, metallics (but more silver than gold this season), and ankle boots. The new trends: off-kilter straps, capes, zippers, leather, and flapper dresses (tiers). See for yourself, and tell me what you think!
BLACK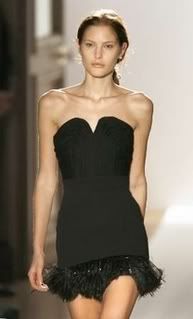 Balmain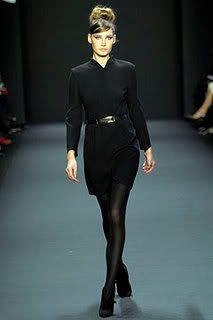 Bill Blass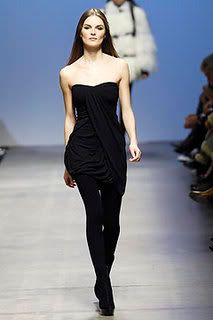 iceberg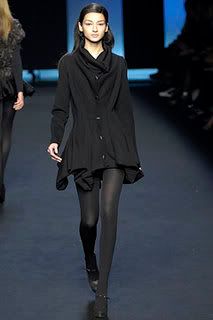 Sophia Kokosalaki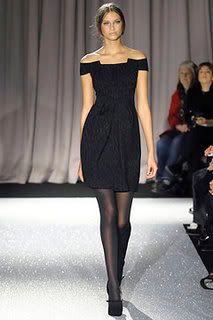 Martin Grant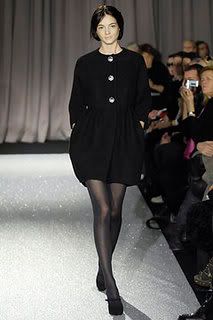 Martin Grant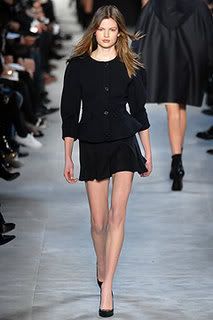 Stella McCartney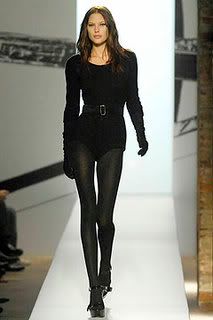 Anna Molinari- Reminiscent of Edie Sedgwick's tights and leotard look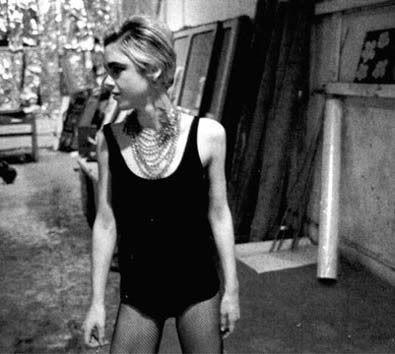 BRIGHT BLUE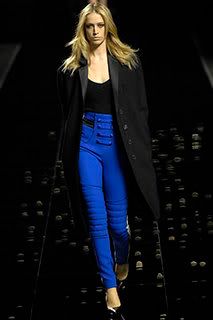 Ungaro- I LOVE these pants. The high waist and the buttons are such incredible touches.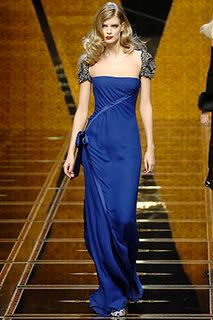 Valentino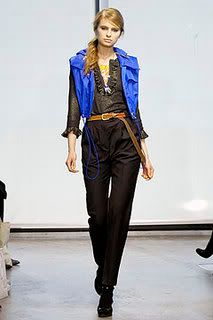 karen Walker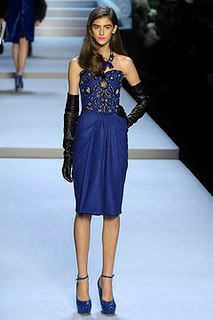 Dior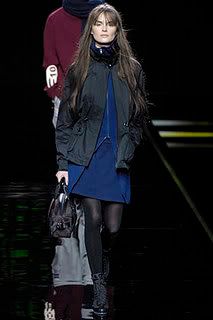 Y-3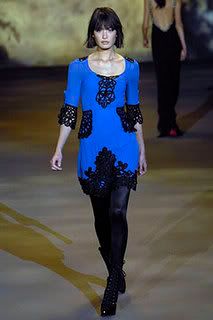 Temperley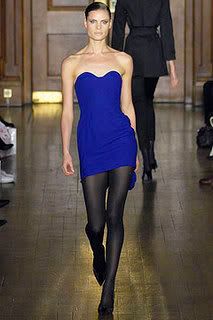 Erdem
YELLOW
the shade appeared on the smallest pieces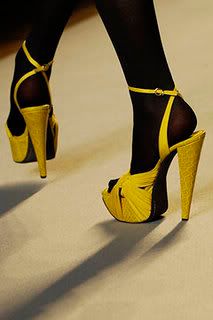 Giambattista Valli shoes
and the LARGEST pieces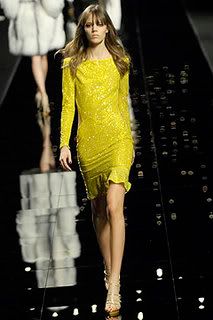 Ungaro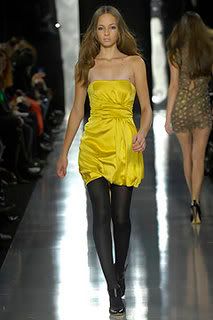 Jasmine Di Milo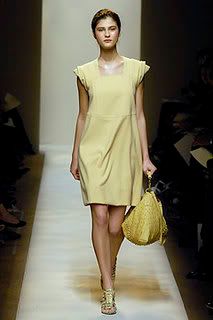 Bottega Veneta
And some in between...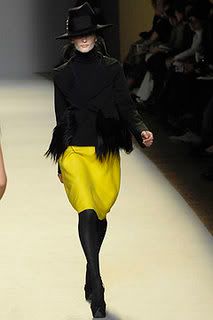 Giambattista Valli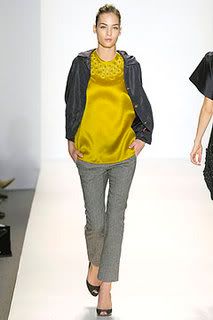 Lela Rose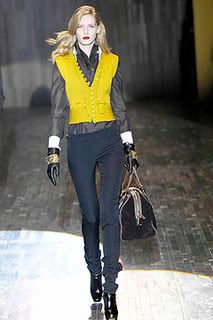 Gucci
RED
In my opinion, red is as much a classic color as black or gray. A person wearing red just EXUDES confidence.
LITTLE TOUCHES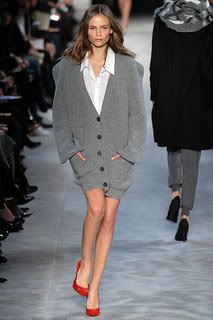 Stella McCartney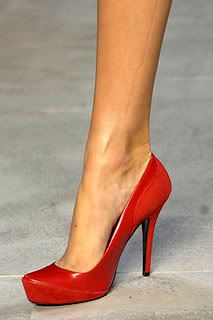 Stella McCartney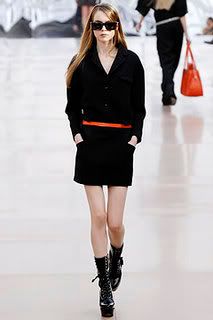 Chloe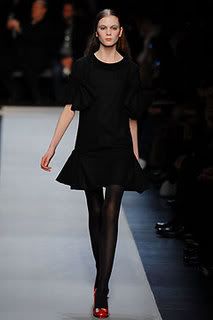 Rue du Mail
FULL ON CRIMSON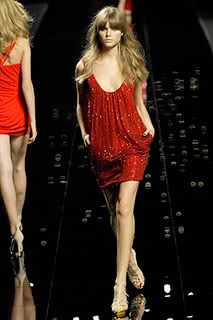 Ungaro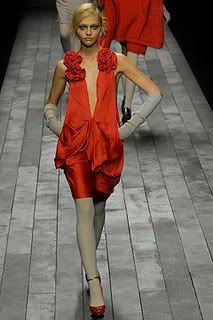 Sonia Rykiel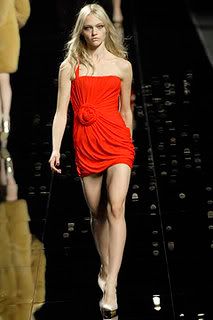 Ungaro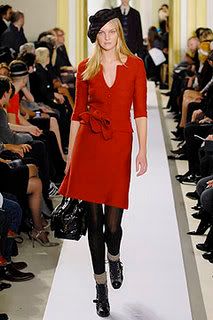 Marc by Marc Jacobs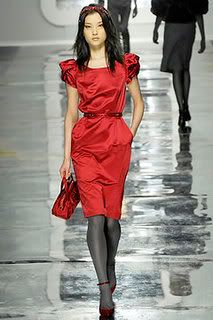 Blumarine
"I want a mouth like a crimson gash"
-Val, The World of Henry Orient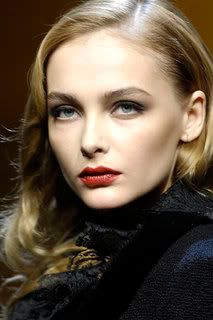 Snejana Onopka at Valentino, where the girls exuded Veronica Lake sultriness with finger-curled hair and red lips
PURPLE
the rich, unexpected color showed up often this season, in decadent royal hues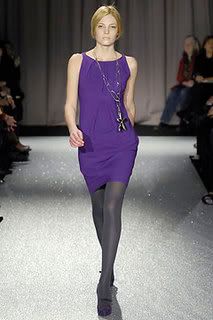 Martin Grant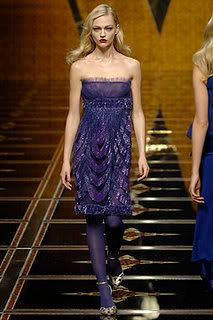 Valentino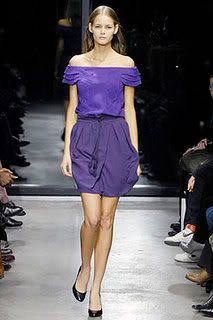 Bruce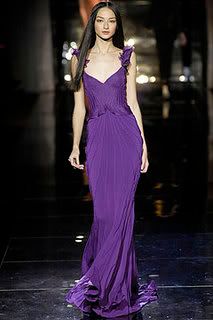 Zac Posen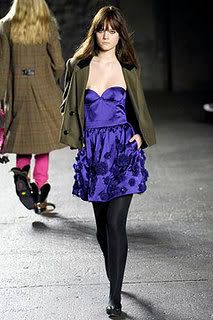 Luella
CREAM/Tan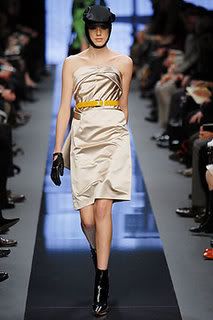 Celine
Rue du Mail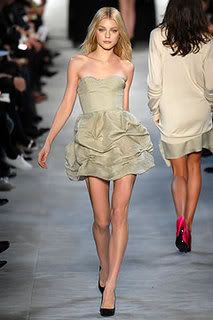 Stella McCartney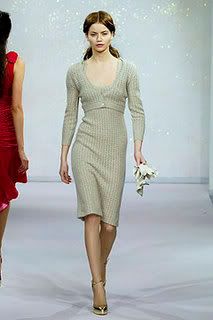 Luisa Beccaria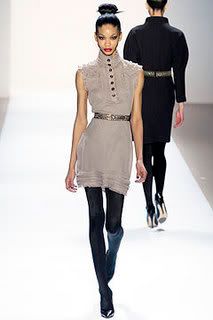 Monique Lhuillier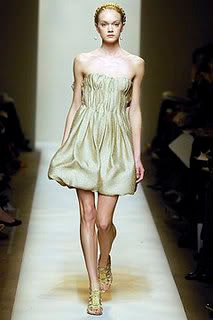 Bottega Veneta
GRAY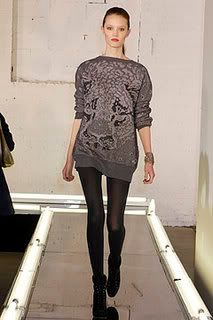 Alexander Wang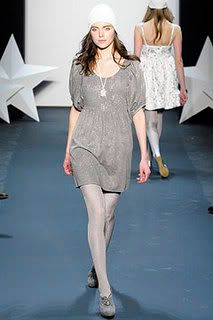 Erin Fetherston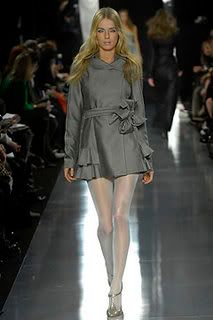 Jasmine Di Milo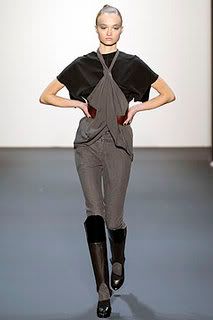 Toni Maticevski
VOLUME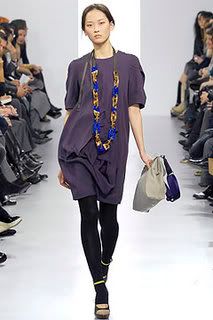 Marni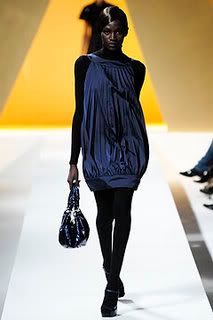 Moschino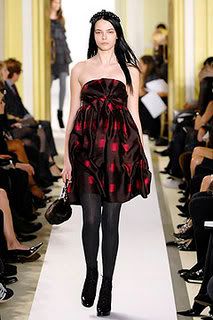 Marc by Marc Jacobs
OVERSIZED BLAZERS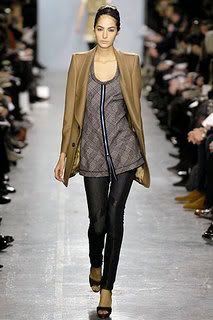 Derek Lam
Antonio Berardi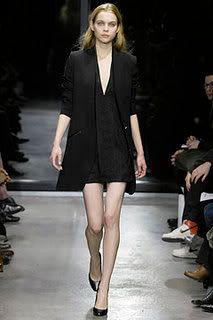 Bruce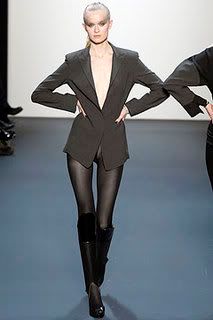 Toni Maticevski
METTALICS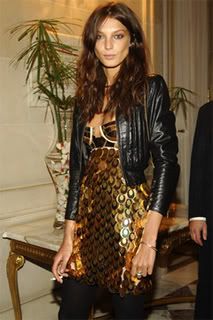 Dari Werbowy in Versace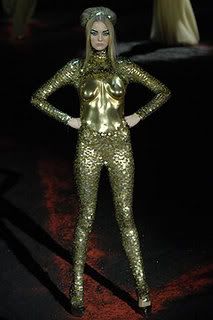 Alexander McQueen-THE EXTREME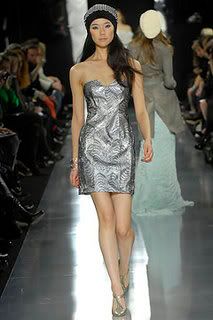 Jasmine Di Milo-THE TAME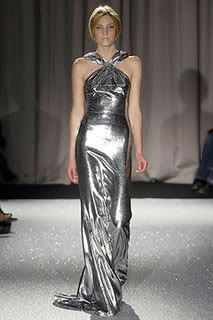 Martin Grant-RED CARPET METAL
Jasmine Di Milo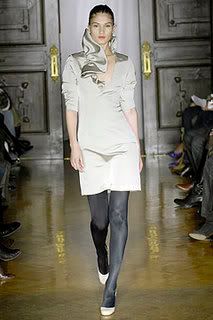 Ruffian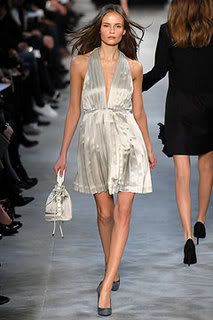 Stella McCartney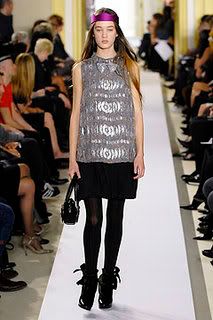 Marc by Marc Jacobs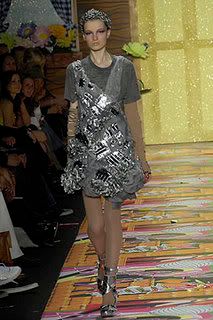 Heatherette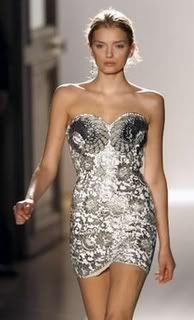 Balmain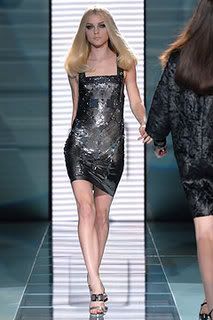 Versace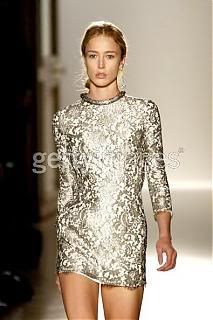 Balmain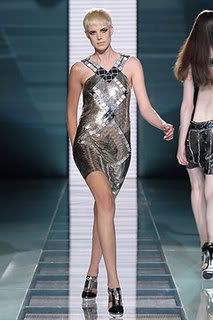 Versace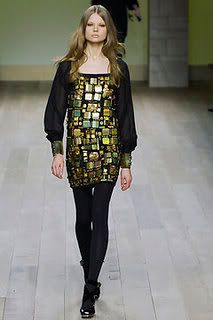 Emilio Pucci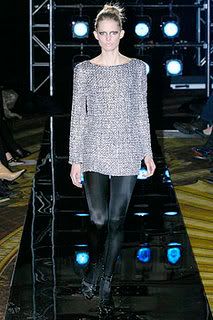 Douglas Hannant
METALLIC EMBELLISHMENTS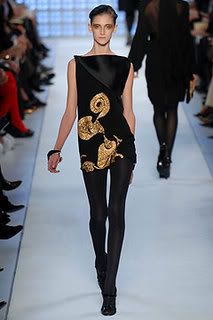 Loewe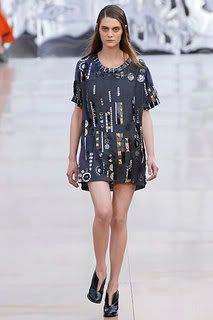 Chloe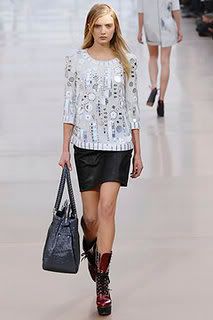 ANKLE BOOTS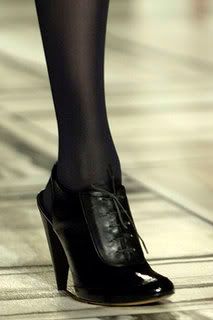 3.1 Phillip Lim
Stella McCartney
OFF-KILTER STRAPS
This new trend was all over the runways, I never really understand how the designers all end up producing the same trends...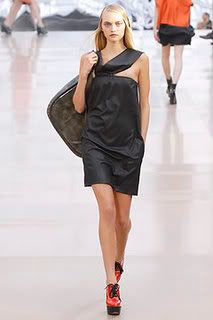 Chloe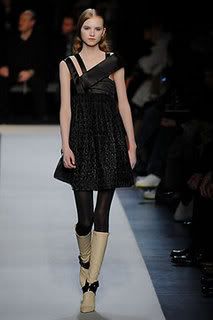 Rue du Mail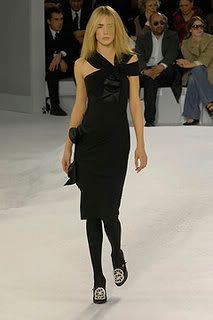 Chanel
Costume National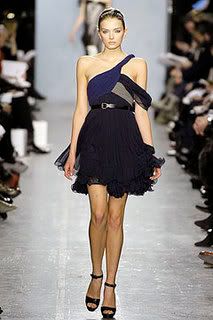 Derek Lam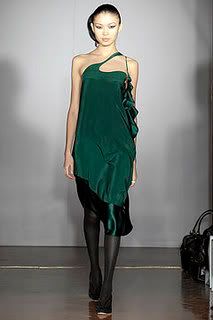 Threeasfour
CAPES
I love this trend, I just bought a beautiful green hooded APC cape from a resale designer store, before they appeared on the runways!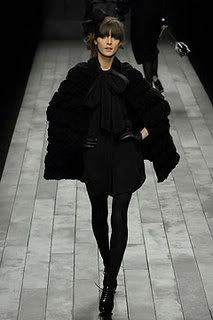 Sonia Rykiel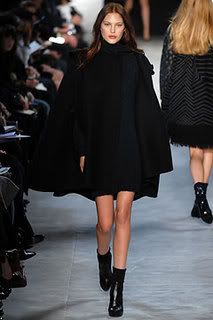 Stella McCartney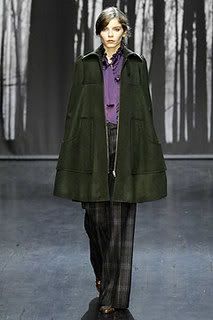 Véronique Brangquinho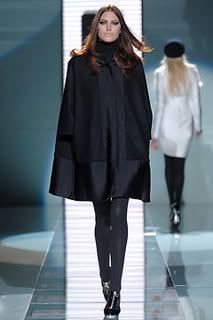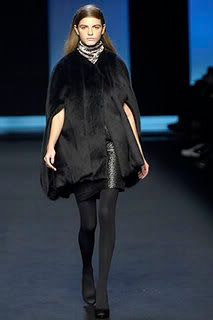 Sophia Kokosalaki
Versace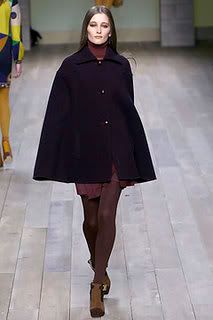 Emilio Pucci
Benhaz Sarafpour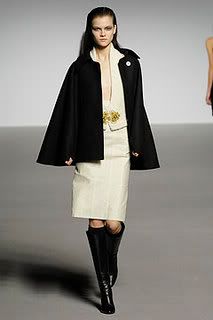 Aquascatum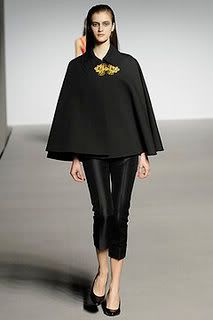 Aquascatum
ZIPPERS
Not your average zipper. The designers reinvented the functional closure in a way, adding decorative zippers to many of their Fall 07 pieces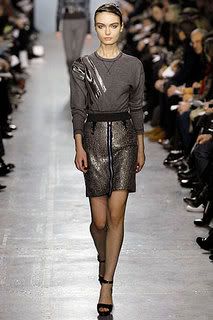 Derek Lam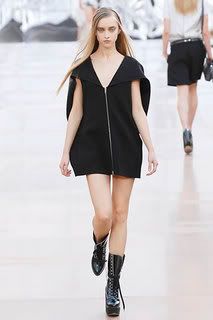 Chloe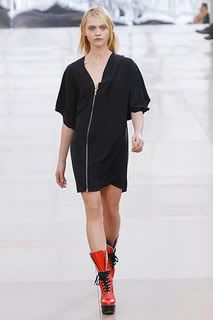 Chloe
LEATHER
Leather, like red, exudes confidence, but also a tough, "don't mess with me, bitch" vibe. A buttery soft leather jacket is definitely a fall staple. On the runways, leather showed up in abundance, and not just on the frail shoulders of the models, there were leather skirts, pants, and trench coats. Though full on leather is just too cool for me to pull off.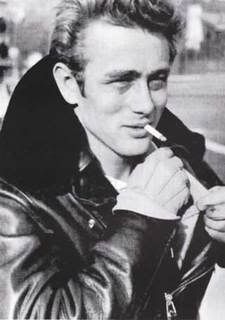 James Dean in a leather jacket-the ultimate rebel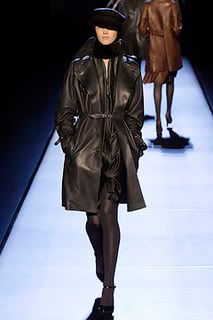 Hermes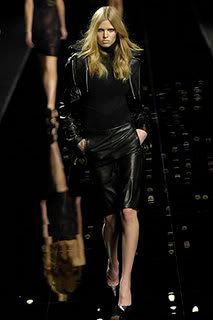 Ungaro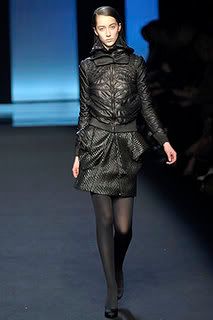 Sophia Kokosalaki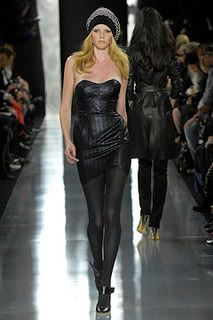 Jasmine Di Milo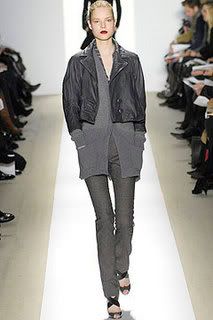 Peter Som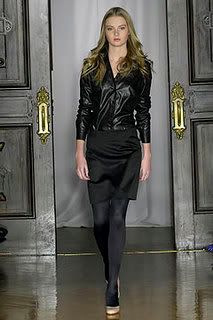 Ruffian
SKIRTS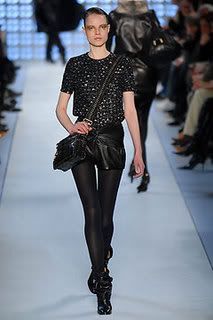 Loewe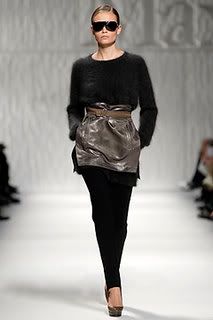 PANTS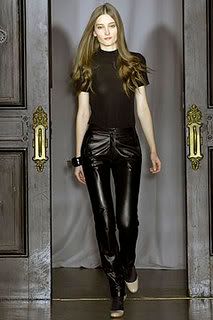 Ruffian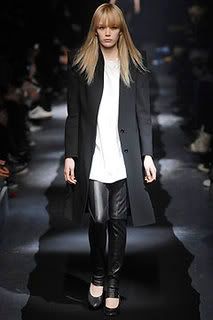 Maison Martin Margiela
FLAPPER DRESSES/TIERS
Mini, mod-ish, but more reminiscent of the 20's Flapper girls, these tiered dresses are definitely a staple for Fall 07. I've found an abundance of REAL 20's flapper dresses in vintage stores and thrift stores, no need to shell out 2,000 for a Fendi one, though it's nice to look at.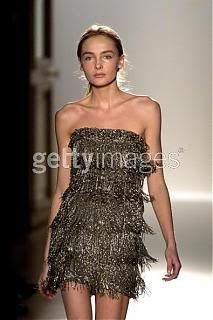 Balmain
Sophia Kokosalaki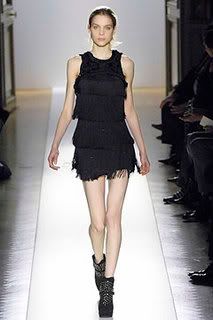 Balmain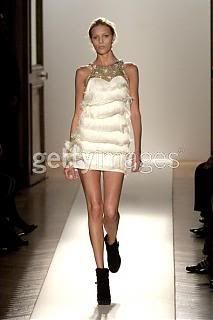 Balmain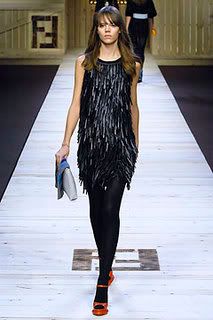 Fendi
WHITE DRESSES- not necessarily a fall trend, I just LOVE white dresses, they just emanate innocence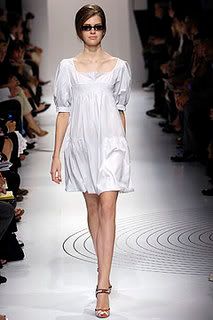 Miu Miu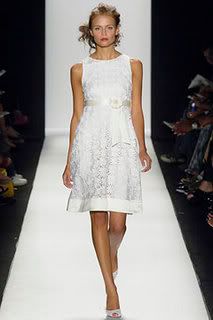 Luca Luca
GREEK TOUCHES
La Perla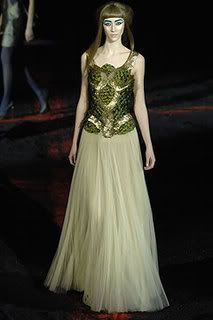 Alexander McQueen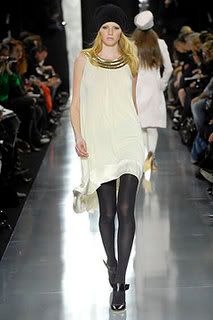 Jasmine Di Milo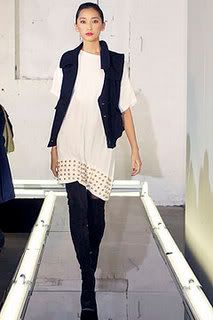 Alexander Wang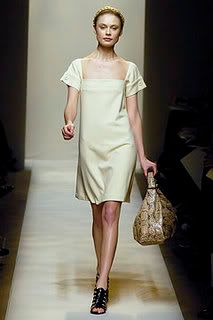 Bottega Veneta
BANDAID DRESSES
Allesandro Dell'Aqua
Ungaro
SWINGIN' 60's
The floor-length halter dresses of last year? GONE.
Brian Reyes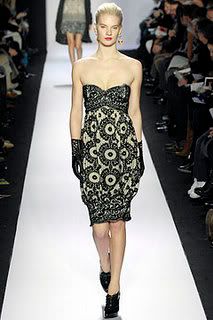 Diane Von Furstenberg
***COATS***
BLACK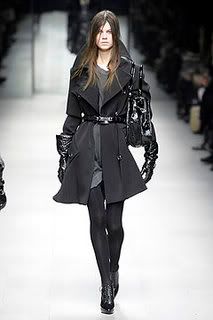 Burberry Prorsum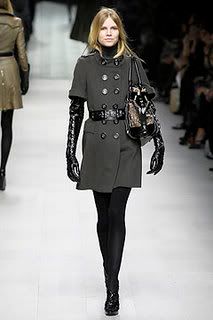 Burberry Prorsum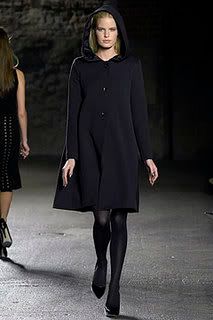 Benhaz Sarafpour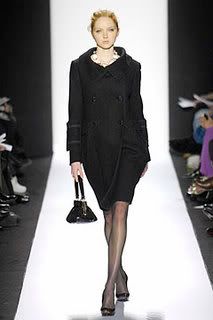 Badgley Mischka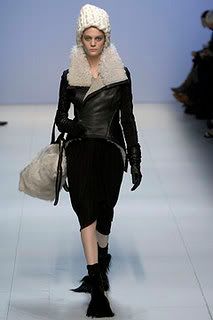 Rick Owens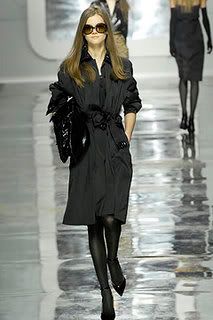 Blumarine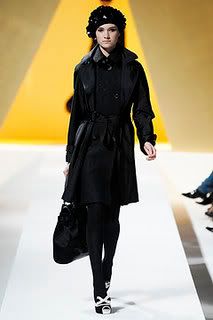 Moschino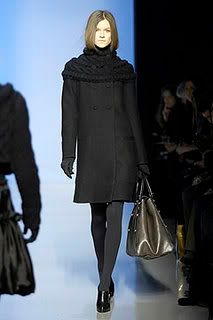 Pringle of Scotland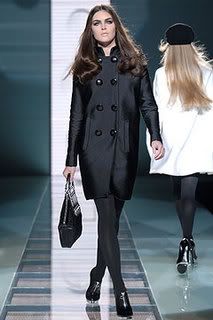 Versace
RED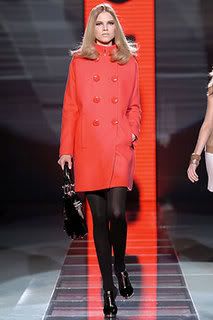 Versace
WHITE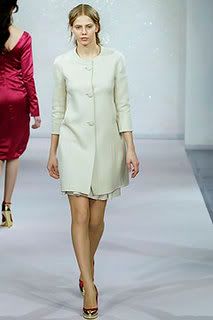 Luisa Beccaria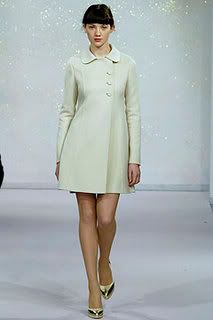 Luisa Beccaria
GRAY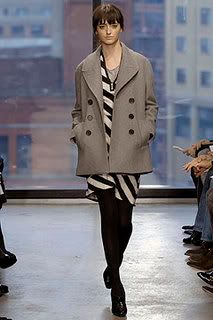 Yigal Azrouel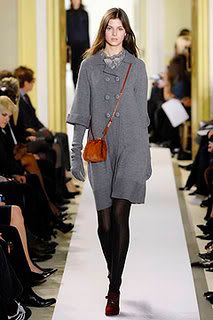 Marc by Marc jacobs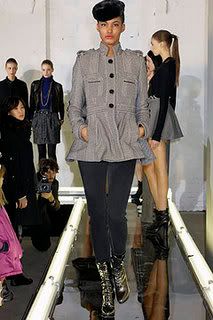 Alexander wang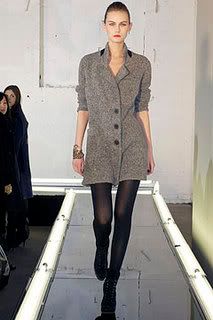 Alexander Wang
BLUE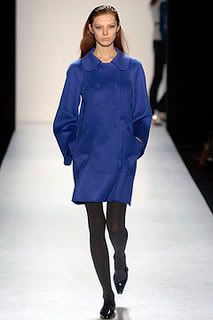 Richard Chai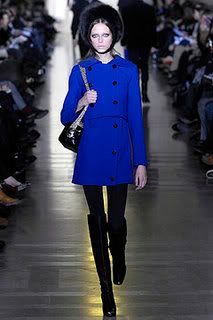 JIll Stuart
TAN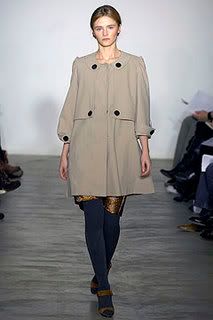 Brian Reyes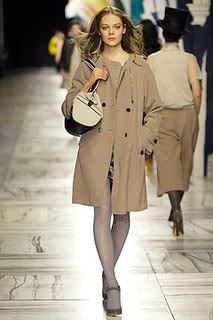 3.1 Phillip Lim
LEOPARD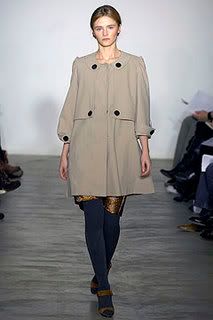 Betsey Johnson
MILITARY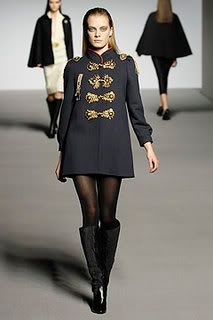 Aquascatum
PLAID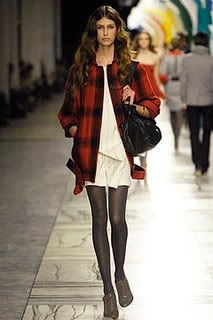 3.1 Phillip Lim
That's all for now! I'll keep posting from the upcoming shows...
love, Arianna
fashioninsider00@aol.com
To be added to the mailing list, comment with your email address. Please tell me if you'd like your comment deleted after for privacy purposes