A few days late but here it goes... the good, the bad, and the OOOOGLAY at the Oscars. This year was a bit disappointing though, no Bjork-esque animal dresses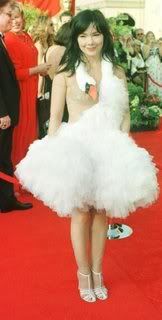 or down to THERE Jlo dresses
Just plain old gowns.
THE GOOD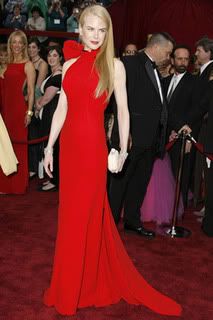 Nicole Kidman in Balenciaga. Me LIKE! She looks so elegant and bold in this crimson dress, and I love the visible bow. I would definitely choose this dress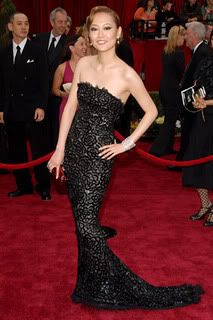 Best Supporting Actress nominee Rinko Kikuchi in Chanel Haute Couture. She is definitely one to watch, and I'm in LOVE with this dress.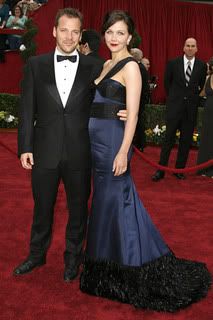 Maggie Gyllenhaal in Proeza Schouler. And she just had a baby too!
Cate Blanchett in Armani Privé. Leading the fashion brigade in the trendiest of trends right now: METALLIC DRESSES. Yet she pulls it off without an ounce of tackiness.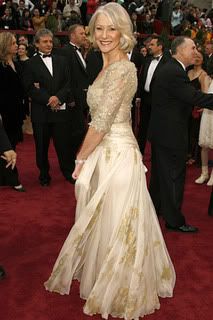 Best Actress Helen Mirren in Christian Lacroix. She looked absolutely stunning, and I loved all the comments from the younger men about how they wanted her. Smart boys!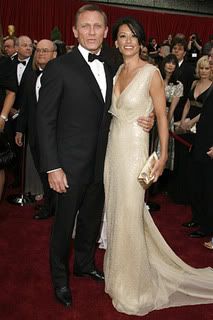 Daniel Craig with Satsuki Mitchell, in Alberta Ferretti. No, I don't know who she is either, I just thought her dress was kind of pretty.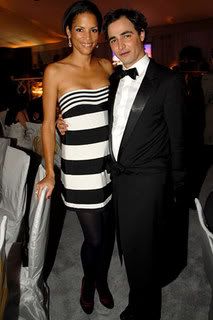 Actress Veronica Webb with Zac Posen (GOD) at an Oscar Afterparty. I like her dress, it's bold but still classy.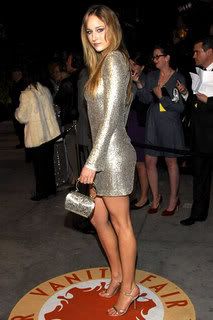 Leelee Sobieski in Naeem Khan. Another Glitteratti Girl. I almost feel like this type of dress is overdone, but I like it. It reminds me of a Tory Burch dress I saw at Bergdorf's the other day.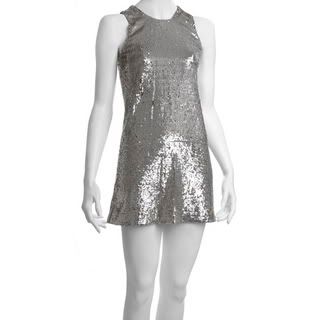 Sequin Tunic, $750.00 (YIPES!) http://www.toryburch.com/catalog_detail.aspx?cid=474&id=16581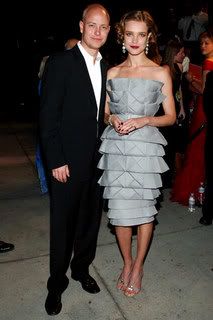 Justin Portman with Natalia Vodianova in Christian Dior Haute Couture by John Galliano. I'm not really sure I like this one, but she's my favorite model and she can pull off ANYTHING because she's gorgeous. SIGH.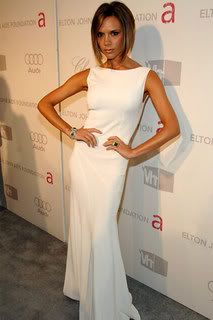 Victoria Beckham at an afterparty in Azzedine Alaïa. I don't much like the dress on her plastic body, but I've got to separate my opinion of the dress from my opinion of the person!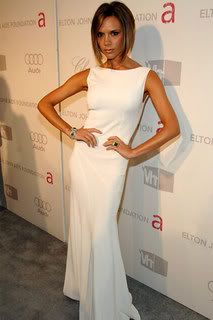 Clive Owen. He's just darn sexy.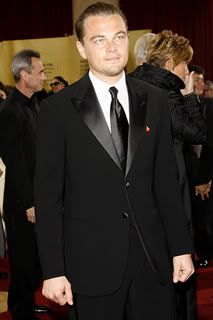 Leo. Because he's darn sexy too.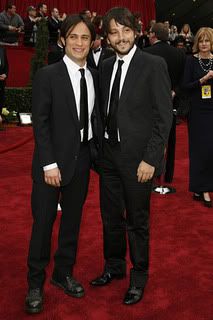 Gael García Bernal and Diego Luna. Because they're BOTH darn sexy.
Sacha Baron Cohen with Isla Fischer in Monique Lhuillier. Smart redhead, green is our best color.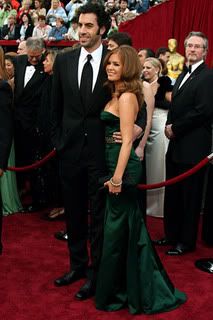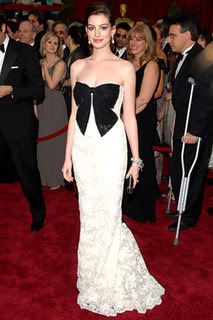 Anne Hathaway in Valentino. I think I like this. I do, I like it. Why was Ryan Seacrest making fun of it?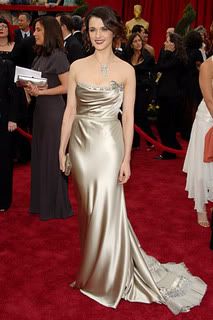 Rachel Weisz in Vera Wang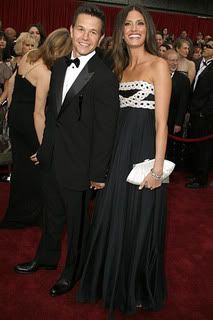 Mark Wahlberg and Rhea Durham in Marchesa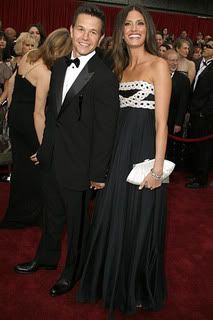 Penelope Cruz in Atelier Versace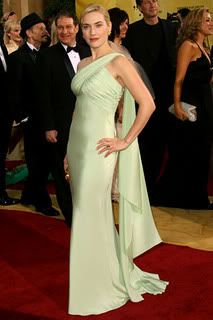 Kate Winslet in Valentino. I LOVE HER. I want to be the American Kate Winslet.
THE MAYBES?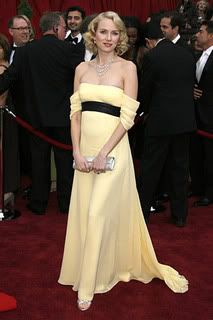 Naomi Watts in Escada. I THINK i like this.. but something about the black against the pale yellow is off-putting.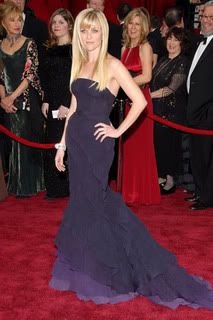 Reese Witherspoon in Escada. I'm just not feelin' her in this dress, though it's pretty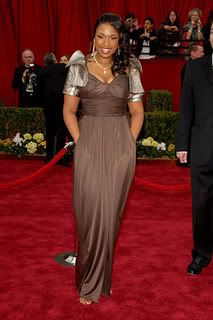 Best Supporting Actress Jennifer Hudson in Oscar de la Renta. That singing competition between her and Beyoncé was semi-ridiculous, they were both so obviously trying to out-sing each other!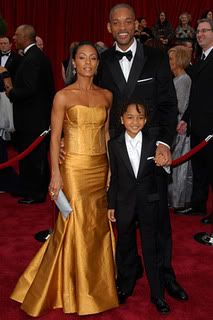 Will Smith, Jaden Smith, and Jada Pinkett Smith in Carolina Herrera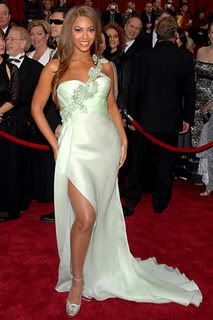 Beyonce in Armani Privé. Pretty...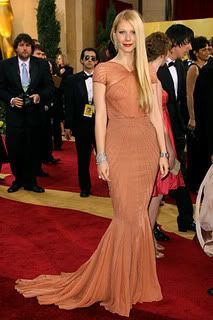 Gwyneth Paltrow in Zac Posen. I don't know about this color on her.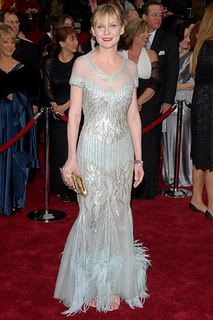 Kirsten Dunst in Chanel. What do you all think about it? I want your feedback, I really don't know. I don't think it's very figure flattering, but that might be just because she has terrible posture.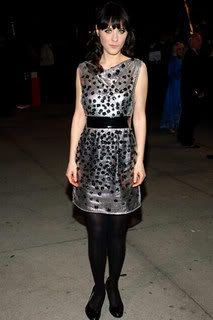 Zooey Deschanel in FENDI. I THINK I like it, but part of me doesn't...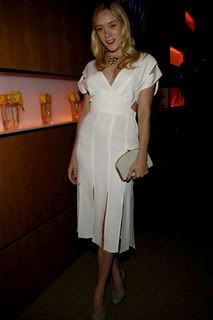 Chloë Sevigny in vintage Thierry Mugler. Chloë I'm surprised at you, I expected something better. I usually really like her fashion risks.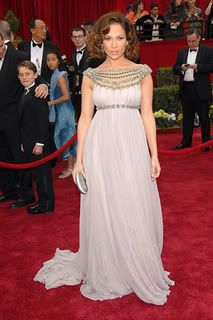 Jennifer Lopez in Marchesa. I don't think this dress is very flattering on her.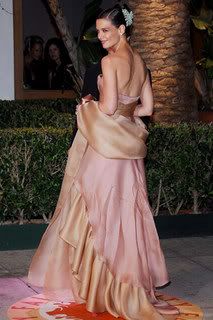 Katie Holmes in Armani Privé. This just pisses me off a bit because it seems like she's trying to steal the spotlight from the REAL stars. Why the insane train, Katie?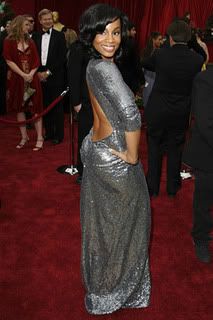 Anika Noni Rose in Naeem Khan. I guess I like this... I just don't know how I feel about floor-length METAL
Abigail Breslin in Simin. She's too cute to criticize. Oh, and that 12 year old is wearing Harry Winston Jewelry!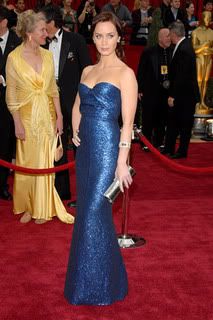 Emily Blunt in Calvin Klein. It's nice, but just not my cup of tea.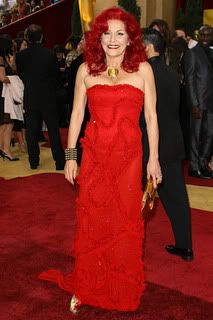 Patricia Field in David Dalrymple for House of Field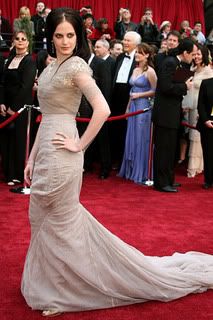 Eva Green in Givenchy. Eh? This doesn't fit very well.
THE BAD(ish?)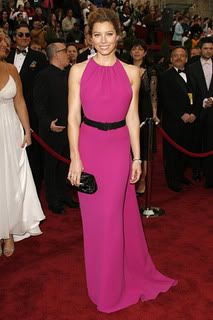 Jessica Biel in Oscar de la Renta. Who wears HOT PINK to the OSCARS? I just don't like it. I don't like it at all. I'm being harsh here.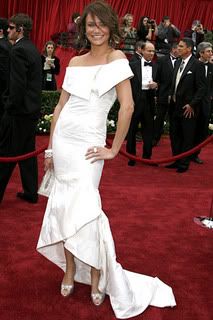 Cameron Diaz in Valentino. Meh...Her style bores me, her choices are always a little bit off the mark
My life is hectic as all Hell right now, but I'm working on the Fall 2007 Runway Trends article as we speak... and keep holding your breath for the NYC thrift and vintage guide, it's coming! Actually, don't hold your breath, it ain't coming that soon!
That's all for now, I love to hear your opinions
email me at fashioninsider00@aol.com
Love, Arianna
*To be added to the mailing list comment with your email, for privacy purposes please tell me if you would like your comment deleted after*