The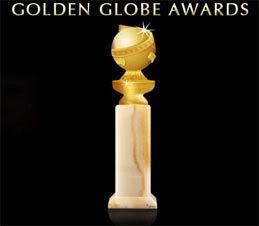 were last night. An actor's dream party, next in line to the Oscar's of course.
Where was I? Sitting in my friend's dormroom reading gossip magazines, while watching... hello fantasyland. Ok, so yes I wish desperately I could be the American Kate Winslet...or Blanchett for that matter. Kate and Cate are both so great! yes...I rhyme.
Anyway, I was so caught up in my actor's fantasyland that I almost forgot to focus on the most important part of the Globes. The fashion, DUH! Well, maybe the acting is a bit more important. By the way.. who's upset that Jennifer Hudson (AMAZING VOICE and musical theatre-y acting) won supporting actress? Ummm my friend CATE the great should have won, thank you very much! (Notes on a Scandal is a MUST SEE) Anyway, here's a bit of a recap of the GG fashions for all you fashionistas.
My favorite moments of the night: Meryl Streep: "congratulations to the nominees...blah blah blah...Annette and Toni and BEYONCE and Renée, Penelope, Judi, Maggie and Helen and Kate." Hahahahaha I almost died laughing when she said Beyoncé. I bet she was thinking, oh God why am I thanking her? That girl should NOT have been nominated. The only person from Dreamgirls who deserved it all was Eddie Murphy, who was incredible and definitely deserved the win.
In terms of fashion, most of the girls went for spring-y brights, I LOVE Reese's Yellow cocktail dress, it was so refreshing next to all the white gowns. Sadly, there really weren't too many OH MY GOD WHAT WERE YOU THINKING??? dresses, I love those. Too bad, there's always hope for the Oscars!
FAVORITES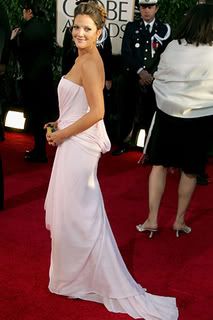 Drew Barrymore in Dior. She's so classy now, I love it. I want to be her friend, I feel like she'd be really fun to hang out with.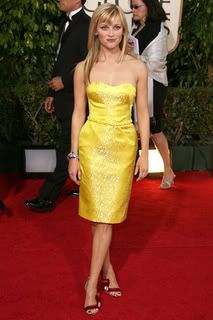 Reese Witherspoon in Nina Ricci, with Van Cleef & Arpels jewels. I LOVE this dress. She is so cute, but she got sooo skinny!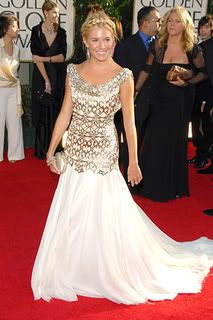 Sienna Miller, in Marchesa, with Cartier jewels. I actually DID like this one, though many other people were mixed. I really liked her hair and the dress was interesting.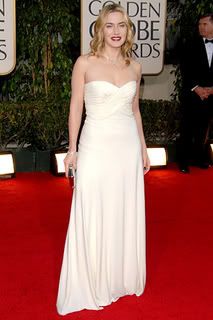 Kate Winslet, in Azzaro by Vanessa Seward, with Roger Vivier clutch and Chopard jewels. Classy all the way, as usual!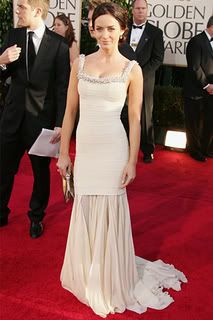 Emily Blunt in Hervé Léger. She's so adorable, I think she's going to go really far.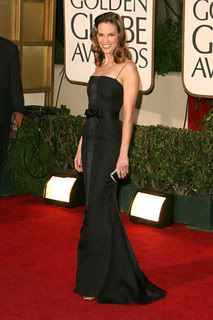 Hilary Swank, in Chanel Haute Couture and Chopard jewels. Love her.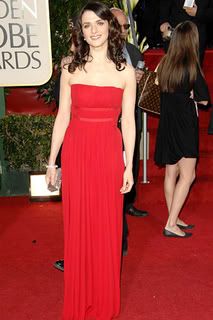 Rachel Weisz, in Bill Blass, with Chopard jewels and an Alexandra Knight clutch.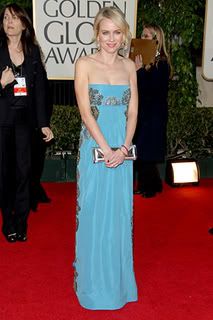 Naomi Watts, in Gucci. SO pretty, and out of the ordinary, which is good.
GOLDEN GIRLS-the sparkly trend takes over the Globes.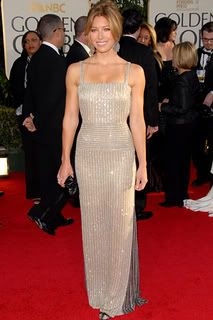 Jessica Biel, in Valentino.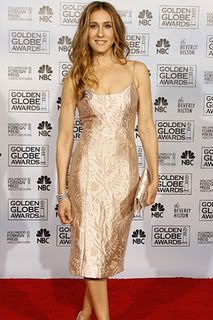 Sarah Jessica Parker, in L'Wren Scott, with Christian Louboutin bag and Verdura jewels.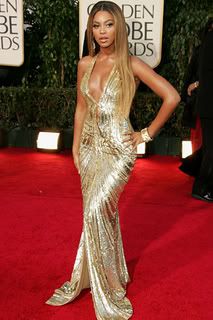 Beyoncé Knowles, in Elie Saab. She's trying to look like a trophy in order to get one right?
CUTE COUPLES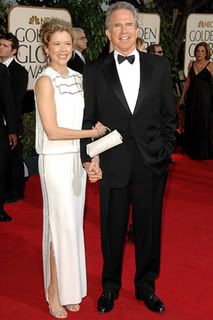 Annette Bening and Warren Beatty. What an amazing, talented couple. I have such a crush on old Warren Beatty, especially in Bonnie and Clyde.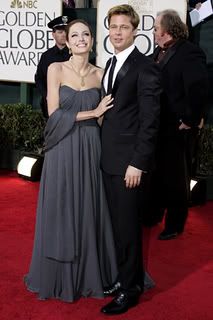 Brad Pitt and Angelina Jolie in St. John. THE MOST BEAUTIFUL AND OVER-PUBLICIZED COUPLE IN THE WORLD! Really, America. yes, they have hit the genetic jackpot, but please just leave them and their beautiful babies alone, okay?
Will Smith, in Giorgio Armani, and Jada Pinkett Smith, in Armani Privé.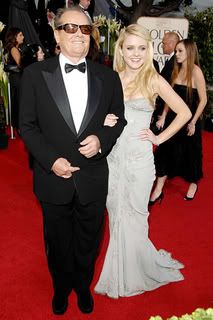 Jack Nicholson with his daughter Lorraine Nicholson, in Christian Dior. She's so pretty! Lucky girl.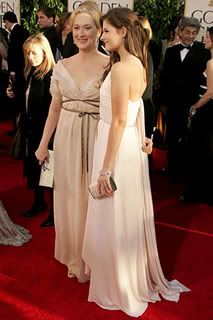 Meryl Streep with her daughter, Louisa Jacobson Gummer, both in Carolina Herrera. Cuuute. I want my mommy to be Meryl Streep and take me to the Globes!
THE "EH?" DRESSES. What's your take on them?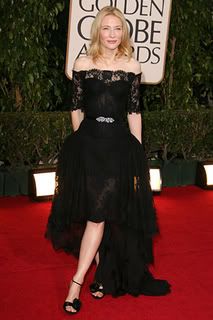 Cate Blanchett, in Alexander McQueen, with Roger Vivier heels. Umm, love ya Cate, but really... what were you thinking?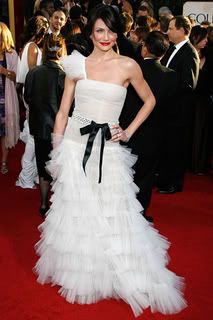 Cameron Diaz, in Valentino, with Cartier jewels. Hmmmm... Not so sure about this one. I think I might have liked it if it didn't have the one strap, but even then it's still a bit wedding cake-y.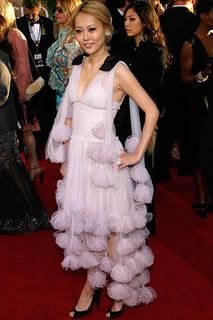 Rinko Kikuchi in Chanel. She's so adorable that I forgve her for this ridiculous dress.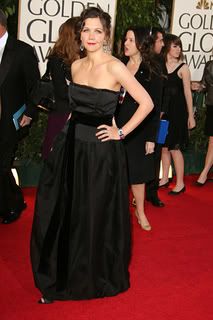 Maggie Gyllenhaal, in Yves Saint Laurent dress and sandals, with Van Cleef & Arpels jewels. NO thanks. This dress does NOT fit her well.
EXTRAS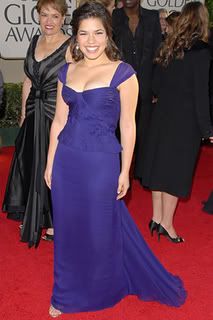 America Ferrera in Brian Reyes, with Jimmy Choo shoes and Fred Leighton jewels. LOVE her. Ever since Real Women Have Curves I've liked that she never conforms to Hollywood's beauty standards. PLEASE America, don't lose weight just because you'll get more roles (sad, but true) She looks great how she is.
Penélope Cruz, in Chanel Haute Couture and Chopard jewels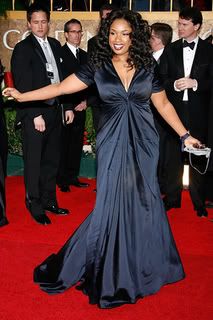 Jennifer Hudson, in Vera Wang.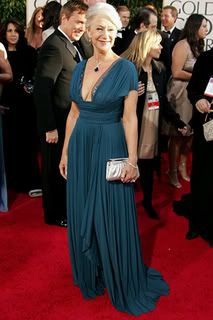 Helen Mirren, in Donna Karan Couture and Chopard jewels. WONDERFUL actress, stylish older woman.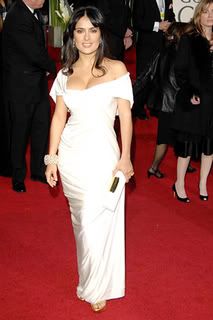 Salma Hayek, in Dior by John Galliano, with Chanel jewelry and Sergio Rossi shoes. Nice but a bit blah. She always goes to show off her figure, which is great.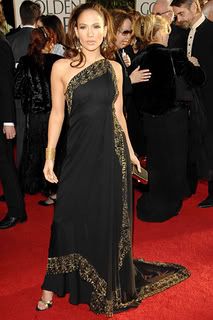 Jennifer Lopez, in Marchesa, with Roger Vivier clutch and Jimmy Choo shoes. Hmm, definitely not my fave.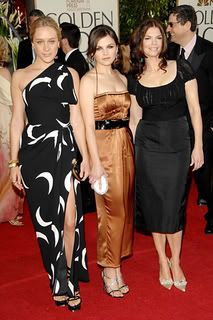 Chloë Sevigny, in vintage Yves Saint Laurent and Bulgari jewels; Ginnifer Goodwin, in Dolce & Gabbana, with a Swarovski clutch and Leviev jewels; and Jeanne Tripplehorn, in Giambattista Valli, with Fred Leighton jewels.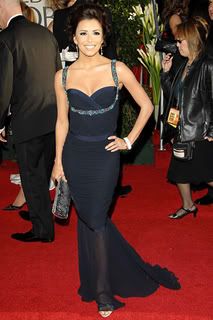 Eva Longoria, in Ungaro. Eh, why does she always look a bit cheap? Oooh I'm such a harsh critic I surprise myself sometimes.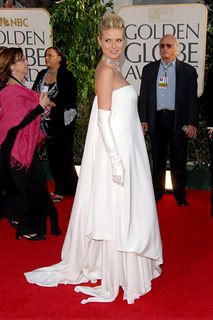 A post-pregnant Heidi Klum in Givenchy Haute Couture.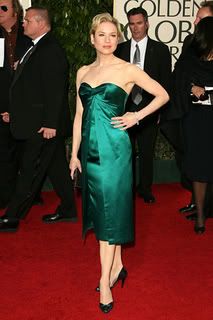 Renée Zellweger, in vintage Christian Dior. Perrty.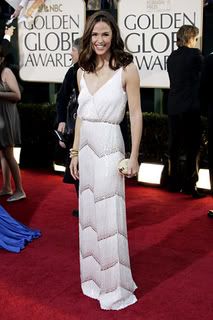 Jennifer Garner, in Gucci, with Bulgari jewels and a Tod's clutch.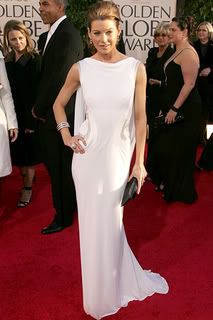 Ellen Pompeo, in Versace, with Fred Leighton jewels.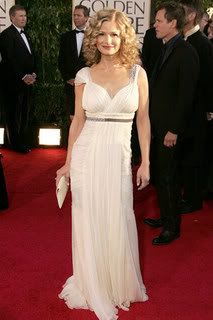 Kyra Sedgwick, in J. Mendel.
****After parties and some other parties. Most of the Chanel-wearers are at a CHANEL party****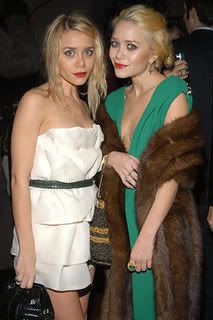 Ashley Olsen, in Giambattista Valli, with Mary-Kate. I kind of like Ashley's dress but her hair looks pretty bad. and MK PLEASE EAT SOMETHING!!!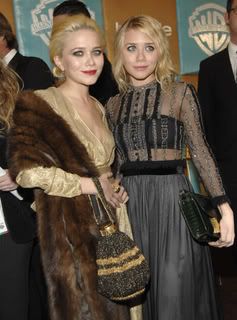 Mary Kate and Ashley at another GG party.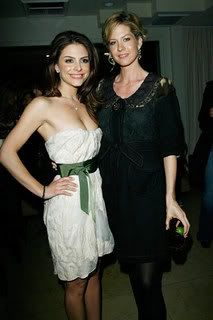 Maria Menounos, in Brian Reyes, with Jenna Elfman. I really like Maria's dress.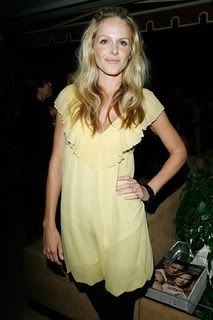 Monet Mazur, in Jenni Kayne. YELLOW!! yesssss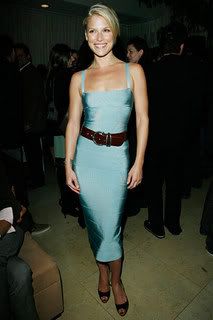 Ali Larter. So hot!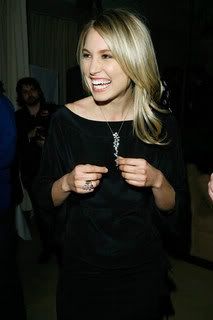 Sarah Carter. She's cute, but please tell me this isn't Nick Carter's sister who is famous for NOTHING. Or wait, don't they have a reality show now? Ohhh please make it stop.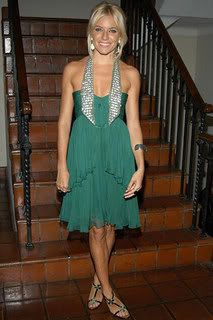 Sienna Miller, in Chanel, at the company's Les Exclusifs de Chanel fragrance launch at the Chateau Marmont. I like that she always goes for the unusual dresses in bright "Notice me" colors. I respect most of her style choices.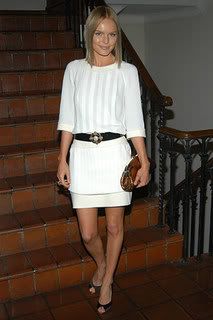 Kate Bosworth. Cute outfit.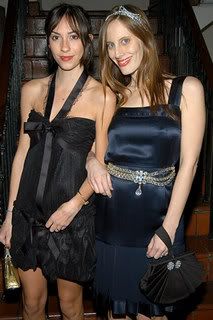 Gia Coppola, in Chanel, with Liz Goldwyn. I love Gia's dress.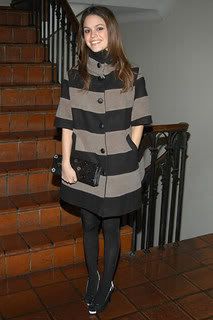 Rachel Bilson, in Chanel.
Can't wait for the Oscar's!
CREDIT: Style.com
Toodles!
-Arianna
email me with any q's or comments: fashioninsider00@aol.com
comment to be put on the email list, tell me if you'd like your email deleted after