Price Key
$-Cheap. Get. Over. There. NOW!
$$-Moderately priced
$$$- Quality and boutique prices
$$$$-You might end up digging into the piggybank of savings you started when you were three
Downtown LA, where pushing your way through loud vendors, dirty alleys, and sleazy men yields great results: a so-well-stitched-it-looks-real faux
Fendi Spy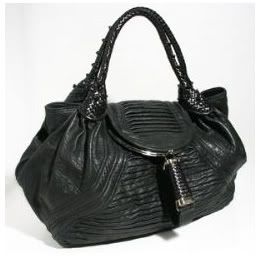 every shape and size of Louis Vuitton imaginable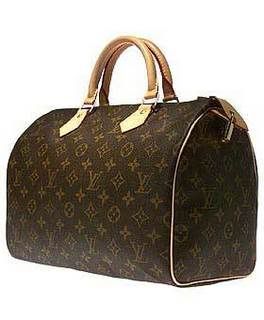 Chloe Paddington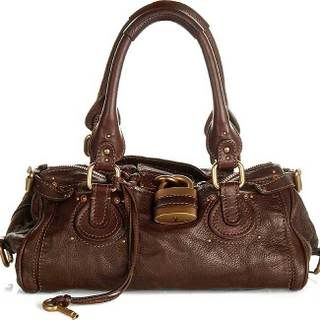 Balenciaga motorcycle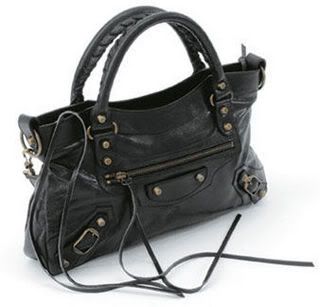 or YSL Muse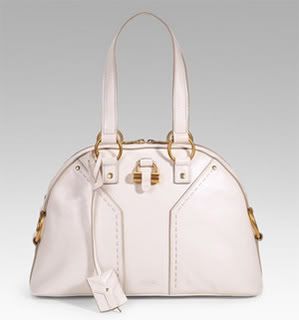 Yes, you may think I should not be supporting the fake bag industry, but trust me, if you were me at 13 years old, the only girl in the 7th grade without a REAL Kate Spade Bag, when I YEARNED for one, and my mother and I searched high and low for anything with the KATE SPADE label tattood on it, you would go for the fakes. I LOVE designer bags. I've got the
the paddington
the mj stam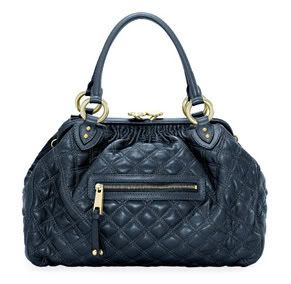 even a botkier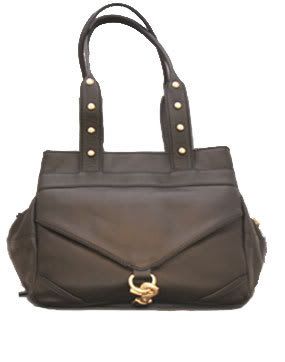 ALL FAKE. I am not a poser, I'm thrifty. Why spend my food money for the month on one measly bag when i could get say... 5 fake for the price of one real?
Anyways, what all this leads up to is SANTEE ALLEY.
Located at East Olympic Blvd and Maple Ave in Downtown LA, its knock-off designer heaven.
Chanel Sunglasses: $450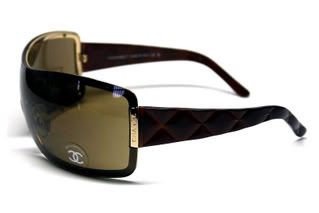 Rolex Watch: $21,0000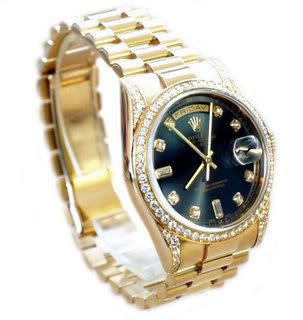 Looking good for the paparazzi? Priceless
or not.
Try the alley version.
Chanel Sunglasses: Five dolla! Five dolla!
Rolex Watch: Fifteen special price for you
Leaving feeling like a super-celeb? priceless!
Basically you have to search around to find the best fakes in the alley.
Not in the mood for counterfeit purses?
How about vintage dresses, sweaters, boots, and coats?
Shareen
Shareenvintage.com
350 North Avenue 21
Los Angeles, CA
(323)276-6336
$$
Before Shareen Mitchell (actress and fashionista extraordinaire) opened her vintage clothing store in a warehouse in East LA, she sold vintage dresses at the Melrose Trading Post flea market on sundays (at Fairfax high school). My mom befriended her, and she told us that she was thinking about opening a store. Soon enough, we got an email welcoming us to Shareen Downtown, which happened to be five minutes from our house. Shareen's became my friends and my secret weekly haunt, it was like playing dress-up in a HUGE and fabulous closet where everyone runs around in their underwear (no boys allowed). We made a pact not to tell anyone about it, lest it should be overrun with the vintage clothing hounds at our high school. Yet it grew and grew, and soon Shareen created her own line, now sold at many LA and New York boutiques as well as Henri Bendel's department store in New York. So, sadly, word has gotten out to say the least. There are racks and rows of colorful vintage dresses, fur stoles, lacy blouses, and riding boots in the large and slightly daunting downtown warehouse. Shareen's is booming, yet her prices are still pretty great--about forty dollars for your average vintage dress in great condition (she dry-cleans, mends, and steams every item of clothing). She also sells her designs at the warehouse for a lot less (a $250 dress for $80 par example). So, if you have any interest whatsoever in vintage anything, head to Shareen's.
THE BEST THRIFT STORE IN ALL OF LA?
St. Vincent De Paul's, conveniently located right down the street from Shareens
210 N Avenue 21
Los Angeles, CA 90031
(323) 224-6280
You never know what you'll find. No designer clothes, but you may find a great sweater that looks just like one you've had your eye on a bloomies. There is an ENORMOUS room about the size of a normal thrift store filled with women's clothing of all shapes, sizes, styles, decades (80s and 90s is definitely prevalent). It's great for vintage belts, sweaters, sundresses, and skirts. Just browse around, and refer back to my thrift shopping guide post for tips and tricks!
WEST HOLLYWOOD
West Third Street Shops
Scout LA
scoutla.com
7920 West Third St at Fairfax
(323) 658-8684
$$$
Sleek, wooden, and with mouth-wateringly great clothes, Scout has got to be my favorite store on Third Street. Yet it is pretty expensive, I can barely afford anything. So it's a little depressing to tempt myself. Brands: Jeremy Scott, Jessica Ogden, Grey Ant, Vivienne Westwood jewelry, Society for Rational Dress belts, and Alex+Chloe jewelry. There's also a little vintage clothing room in the back with great stuff.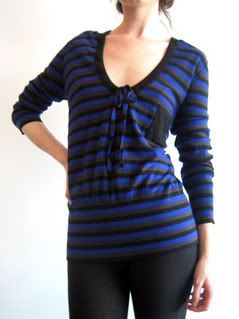 Sonia Rykiel Stripe Sweater $128 http://www.scoutla.com/webstore_item2.cfm?page=store&image=2.jpg&photo_id=2&skuid=Sonia02&category=1
Satine
8117 W. Third St at Crescent Heights
(323) 655-2142
Satineboutique.com
$$$-$$$$
Hello Lindsay Lohan's closet. I hear she's a shopping addict, like me, except she has the money to buy new clothing every single day. Satine carries: Stella McCartney, Tom Ford and Alexander McQueen, Clu, 3.1 Phillip Lim, Acne, Jenni Kayne, Alexander Wang, Mayle, Paul and Joe, Rogan Jeans, United Bamboo and Vena Cava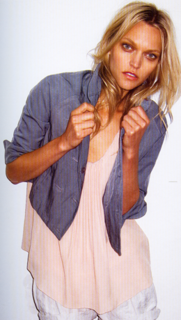 Alexander Wang Cropped Double Breasted Jacket, Price unknown SatineBoutique.com
Polkadots & Moonbeams Vintage
8367 W. Third St and Kings Road
polkadotsandmoonbeams.com
Celebrities flock to this tiny, jam-packed 3rd street vintage store with fairly well-priced fur coats, blouses, dresses and shoes.
Built by Wendy
7938 W. Third St at Fairfax
$$-$$$
Beautiful and unique pieces by Wendy Mullen: silk dresses, jeans, canvas jackets and trench coats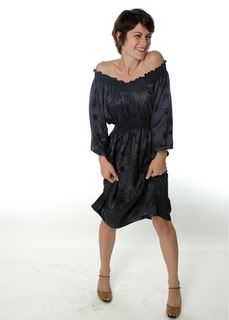 Built By Wendy Molecule Dress SALE $160 http://www.builtbywendy.com/onlineshop/cart.php?target=product&product_id=16708&category_id=299
Milk
8209 W. Third St at Harper Ave.
$$$-$$$
Oh boy, would I love to wake up and see these clothes hanging in my closet. One of the "celeb frequented" stores (though not trashy like Kitson), Milk does the body good, but the wallet? Not so much. Hello, Derek Lam, Diane Von Furstenberg, Chloe, Anna Molinari, Aquascutum, Cacharel, Catherine Malandrino, Jill Stuart, Karen Zambos, Lauren Merkin, Lily McNeal, London Sole, Matthew Williamson, Missoni, Moschino, Philosophy di Alberta Ferretti, Twelfth Street by Cynthia Vincent, Woo, Wrangler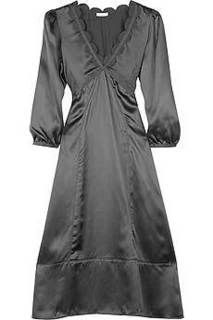 Cacharel Satin Circle Dress SALE $273 http://www.net-a-porter.com/product/17328
Hillary Rush
Hillaryrush.com
8222 W. Third St
$$$
A glamorous little shop where you're likely to spot Paris, Nicole, or Lindsay (but trust me, the clothes aren't PH-style and trashy). It carries soft Alexander Wang cashmere, Kenneth Jay Lane jewelry, James Jeans, Sunner and London sole ballet flats

Sunner Sophia Belted Tunic $217 http://www.revolveclothing.com/DisplayProductDetail.jsp?product=SUNN-WS21
Sigerson Morrison
8307 W. Third St
Chic, colorful shoes ranging from durable rainboots to ballet flats with inlaid stones at the toe.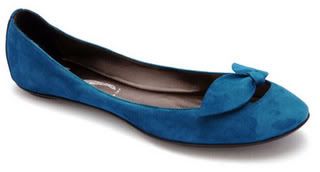 Belle by Sigerson Morrison flats in Ultra fine teal suede $265 http://sigersonmorrison.com/shop/item.php?style_id=223
MELROSE
Wasteland
7438 Melrose Ave at N. Vista st.
$$
They buy and resell your designer clothes and give you a percentage of the sale. You'll find soft and lightly worn James Perse tees, Marc by Marc blouses, and J Brand jeans. They have a great range of vintage clothes as well, all for relatively low prices. I'd say its the best resale/vintage store on Melrose.
Slow
7474 Melrose Ave at Gardner St.
$$
A great assortment of vintage clothing, second favorite melrose vintage store, with less designer clothing. They have a great selection of vintage tees, fur coats, and shoes.
The World of Vintage Tee Shirts
7701 Melrose Ave
323-651-4058
$$
As the title says, it is a little house on melrose chock full of vintage tee shirts. Check it out if you're into old rock band and sports team shirts.
Jet Rag
835 N. La Brea Ave at Melrose
$$
Another vintage store, similar to Slow, with great clothes from the '40s to the '80s. On Sunday there is a great $1 sale in the parking lot.
American Rag
150 S. La Brea Ave. at W. 1st St.
Carries all the hip brands, Tsubi, Rogan, Trovata T-shirts, A.P.C, Vanessa Bruno, Alice McCall, Camilla & Marc, Splendid and Marc Jacobs. There's also a huge selection of vintage clothing.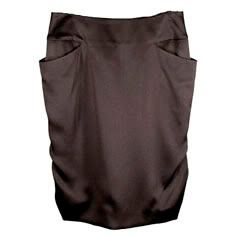 Vanessa Bruno Double Slit Skirt $450 http://www.dianiboutique.com/Vanessa-Bruno_MDD41:page-2.html
World Denim Bar
126 1/2 S. La Brea Ave. at 1st St.
American Rag's jean department fills an entire store. Every wall is covered with chic wooden squares filled with all your favorite jean brands: J Brand, Earnest Sewn and Serfontaine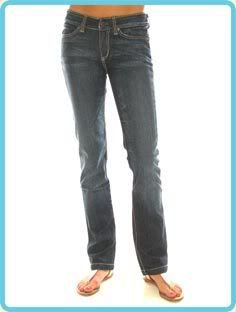 Serfontaine Skinny Mini Jeans HV $198 http://www.bluebee.com/product_display.aspx?l=00090119000200000000&p=SER01274&pn=1
Fred Segal Melrose
8100 Melrose Ave. at N. Crescent Height's Blvd.
$$$-$$$$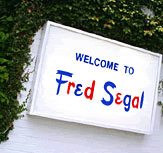 #1 LA Hipster's store. You're bound to see any celebrity, ranging from Tori Spelling to an Olsen twin. The store is like a mini department store, complete with Jean bar and Purse cabin. Labels: C & C California, Chip & Pepper, Chloé, Coast, D & G, Diane Von Furstenberg, Dries Van Noten, Earl Jean, Ginger & Java, Katayone Adeli, Madley, Marc by Marc Jacobs, Miller Harris, Morphine Generation, Paula Dorf, Rebecca Taylor, Jill Stuart. The Ron Herman mini-store within Fred Segal carries 3.1 Phillip LIm, Acne, Autumn cashmere, Cheap Monday, Rogan, Generra, Jovovich Hawk, Karl lagerfeld, La Rok, Lewis Cho, Ya ya, Mayle, Miss Davenporte, Missoni, Proenza Schouler, Lisa Stewart jewelry Lainey Keogh, Stella McCartney, Vikort & Rolf, Tsubi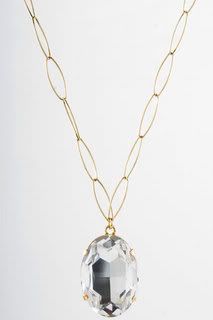 Lisa Stwart Glass pendant $145 http://www.ronherman.com/detail.aspx?ID=1927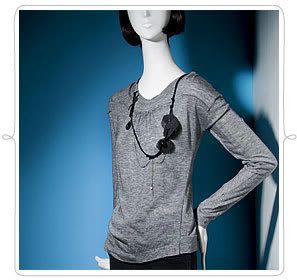 Hanii Y SALE $168 http://www.ronherman.com/detail.aspx?ID=1430
Betsey Johnson
8050 Melrose Ave at N. Laurel Ave.
$$$
The quirky designer's boutique carries all her pretty little lace dresses with unusual details. Though neon green is mainly out, Johnson still holds her own with her unusual party dresses and leather purses.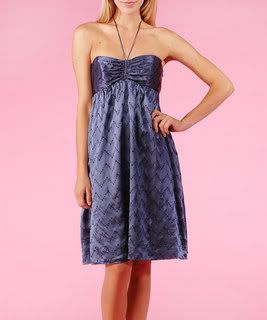 Betsey Johnson Adorable All Over Embroidered Strapless Dress $280 http://www.betseyjohnson.com/Adorable_All_Over_Embroidered_Strapless_Dress/pd/np/1101/p/1202.html
Cynthia Rowley
7975 Melrose Ave
(323) 658-7642
$$$
Beautifully made silk dresses and shirts in unusual cuts in bright blues and greens.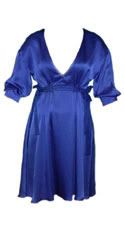 Yves Klein V-Front Dress SALE $179 http://www.cynthiarowley.com/shopping_cart/pages/products/dresses/large/yves_klein_vfront.html
Miu Miu
8025 Melrose Ave
$$$$
The quirky and edgy runway designer Miuccia Prada's LA boutique carries all the line's best designs, though they are very expensive. I treat it as a museum, good for you if you can afford it!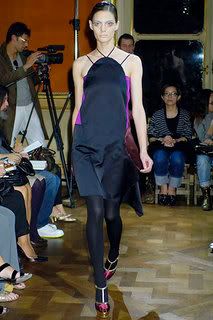 Marc Jacobs
8409 Melrose Pl at La Cienega
MJ's high fashion line, extremely expensive and beautiful, complete with gorgeous leather bags.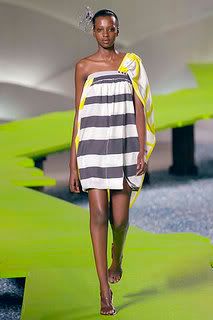 Marc by Marc Jacobs
8410 Melrose Ave. at La Cienega Blvd.
$$$
Today's fashion king has his lower priced line's boutique on the famous melrose strip as well.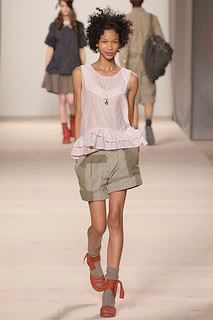 Marni
8460 Melrose Pl. at Alfred St.
$$$$
The Italian fashion house's unstructured slouchy clothing are expensive, but great to look at. Pop in if you're in the neighborhood, don't expect to find anything under $500.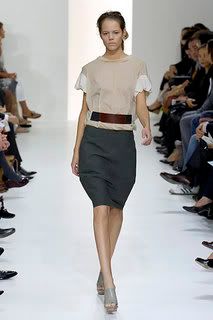 Diane Von Furstenberg
8407 Melrose Ave. at Orlando Ave.
$$$-$$$$
The original dress designer has expanded her line, but still has an assortment of funky patterned '70s style wrap dresses at her Melrose boutique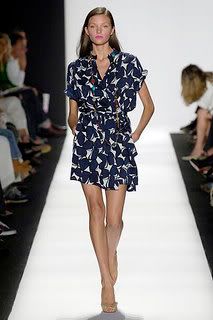 Decades
8214 1/2 Melrose Ave. at Harper Ave.
$$$$
LA's most well known upscale vintage store. It's where the celebs look for their Oscar dresses, and where you may cry with joy at discovering a gorgeous vintage Chanel gown.
Maxfield's LA
8825 Melrose Ave. at Robertson Blvd.
Yes, the Maxfield you see Mary-Kate coming out of in all those parazzi pics. Maxfield's is like a mini department store housing expensive fashion and high-priced soaps and candles for those with high class taste and a never-ending cash flow.
labels: Raf Simons, Carol Christian Poell, Martin Margiela, Armani, CDG, Yohji Yamamoto, Rick Owens, Libertine, Gucci, Marni, Dior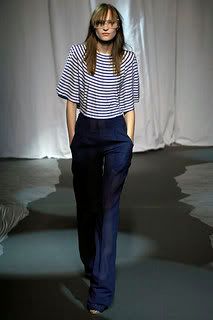 Maison Martin Margiela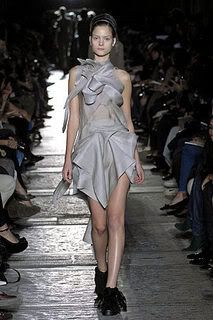 Rick Owens
VENTURA BLVD
Dari
12184 Ventura Blvd., Studio City | (818) 762-5420
One of my favorite LA boutiques, with Marc Jacobs, Jill Stuart, Joe's jeans, Paper Denim & Cloth jeans, Rebecca Taylor, Generra tanks, Sonia Rykiel sweaters and The Great China Wall hoodies, Cosabella undies, and Golden Bleu handbags.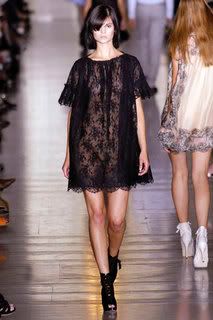 Jill Stuart
Rodeo Drive Resale
13727 Ventura Blvd. at Woodman Ave.
(818) 783-2330
it's not on Rodeo Drive but its filled with the clothes you might find there, Chanel suits, Dolce & Gabbana sneakers, Blue Cult jeans, Marc Jacobs cardigans, vintage Pucci, Jimmy Choo's, Gucci, and Versace, all at at 25-80 percent off retail.
Dungarees
12230 Ventura Blvd. , Studio City | (818) 508-5326
Another store with a focus on JEANS. Sevens, Blue Cults, True Religions, Dungarees (of course), Rock & Republics, Taverniti So, Diesel, G-Star, Meli-Melo, Antik, Paper Denim & Cloth, AG Adriano Goldschmied, Saltworks, Grail, and Kunna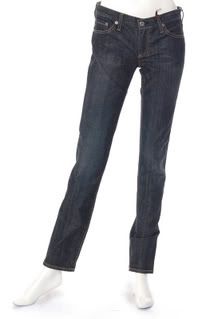 AG Jeans $163 http://www.azaleaonline.com/agjwdnm1110.html
Crossroads
12300 Ventura Blvd and Laurel Canyon
Another resale store that buys your old clothes and resells them. You'll find all kinds of clothes, cast off by valley dwelling fashionistas. I've found: chip & pepper jeans, James Perse tees, Jimmy Choo shoes, marc jacobs, and free people.
THE BEST LA FLEA MARKETS
Melrose Trading Post
7850 Melrose Ave (Cross Street: in Fairfax High School parking lot at corner of Fairfax Boulevard and Melrose Avenue)
Hollywood, (323) 655-7679
$$
It's small enough not to be overwhelming, but large enough to keep you busy for hours. I've found vintage Chanel purses, Louis Vuitton, '70s ray ban sunglasses, and vintage Rolling Stone's concert tees. There's also new jewelry and tons of little trinkets to peruse.
Rose Bowl Flea Market
1001 Rose Bowl Dr (Cross Street: Seco Street)
Pasadena, CA 91103
(323) 560-7469
$-$$
Alot of people find it overwhelming, it takes place in about three large parking lots. Yet I find it exhilerating, it has everything you could possibly want from a flea market: old pocket watches, vintage jewelry, furniture, fur coats, leather jackets, tee shirts, sweatshirts, 40s dresses, vintage purses, shoes, and practically anything else you can think of. Oh, it also has new stuff, like all different kinds of hats, toilets with real fish tanks attached (i know, i just passed it by), water filter systems, fake purses, and much more. Plan to spend your entire day there and DO NOT GO IN THE DEAD OF SUMMER. It's sweltering hot, I was there in 100 degree weather trying on fur coats. Not too fun.
Best of luck shopping!
-Arianna
fashioninsider00@aol.com
To be added to the mailing list, comment with your email address. Please tell me if you would like your comment deleted afterward for privacy purposes.