The City of Angels. La La Land, Movie Star town, Hollywoodland.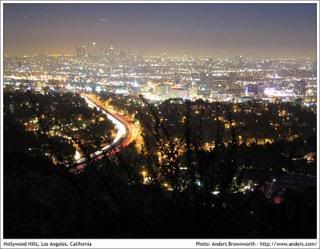 Angelinos never complain, New Yorkers claim to hate it (pure jealousy). 70 degrees year round, little dogs in sweaters EVERYWHERE, and some sort of plastic surgery on practically every woman over thirty. How can you hate it? Having lived in LA all my life until my college years, I naturally feel very protective of it any time a New Yorker insults it. However, I must say that every day I live in NY, I fall more and more in love with it. That said, I'm back in LA for Winter break and it is currently a lovely 65 degrees outside. Take THAT New Yorkers.
I grew up in a small neighborhood called Silverlake on the East side (Insert "East side represent" plus wierd looking East LA hand signal here), a haven for the artsiest Angelinos and 20-something LA transplants. I am constantly asked where in LA I am from, yet I rarely find someone who actually knows Silverlake. I prelude my answer with, "Do you know LA?" to which the answer is usually "yeah, well my sister lives there"/"I visited once when I was little"/"No, but I've been meaning to go." I then continue with, "well I'm from Silverlake, ever heard of it? Silverlake, Echo Park, Los Feliz...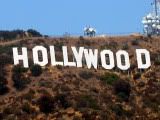 ?"
Most often people recognize the latter and nod understandingly. That said, I will begin my LA Shopping Guide with my regular Silverlake/Echo Park/Los Feliz haunts.
I realize now that in my NY guide I completely forgot to include the chain store that is taking over the WORLD: American Apparel. In Los Angeles alone there are a total of EIGHT AA stores (not including Santa Monica, West Hollywood, etc). Now the clothes look great, and I truly appreciate the use of only fairly paid workers (no tiny secret sweatshops), yet I've found that the seams of practically every item of clothing I've bought from AA have come apart within several weeks of purchasing. Yes, it is wonderful that the workers are paid well, but shouldn't that mean that the sewing quality is better too? Many of their clothes are ill fitting as well, but their tee-shirts are great (if you CAREFULLY wash them so as not too undo the way too delicate seams), especially the gray tri-blend women's track tee, of which I have both the crew neck version, V-neck version, and tank top version. But why can't they make ALL their shirts out of this material? Why only gray?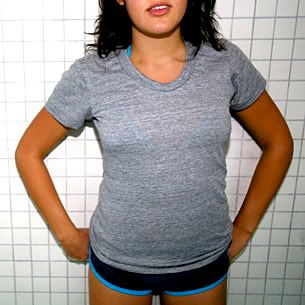 Tee, $18.00 americanapparelstore.com
American Apparel is relatively cheap and practically EVERYWHERE, but if you're not sure where to find your nearest location, check out http://www.americanapparel.net/storelocations
Anyways, there are two American Apparels in Echo Park, which is what reminded me of it in the first place. One on Sunset Boulevard (yes, THAT Sunset Boulevard) 2111 Sunset, and the other at 4665 Hollywood Boulevard.
Price Key
$-Cheap. Get. Over. There. NOW!
$$-Moderately priced
$$$- Quality and boutique prices
$$$$-You might end up digging into the piggybank of savings you started when you were three
SILVERLAKE
Patty Faye
2910 Rowena Ave
(323) 667-1954
$$$
I feel a close connection with Patty Faye because one of the owners (The "Faye" half) used to work at Edna Hart (now a jewelry store and knittery) across the street, which is where I first met her when I was about fourteen. I distinctly remember falling in love with some light washed paper denim jeans and re-structured vintage tees from Edna Hart, and so I faithfully followed Faye over to her new store, at which she has never ceased to delight me. The store is located in an adorable little cottage with gorgeous hardwood floors and racks of beautiful filmy blouses and sophisticated (though pricey) pieces. Of course, each handpicked item has a splash of unique silverlake hipness, found in slinky Graham & Spencer dresses, select Ingwa Melero pieces, Cake Jewelry, J brand jeans, and ParkVogel tees and cashmere.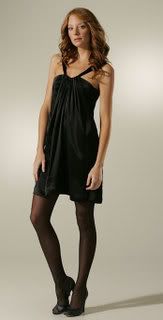 Graham & Spencer Silk Charmeuse Mini Dress $306 shopbop.com
Ingwa Melero Aurora Top $313 shopbop.com
Clover
2756 Rowena Ave.
(323) 661-4142
$$-$$$
A great place for presents for anyone on your list. It has a mix of books, kids games, vases, furniture, hatsjewelry, purses, jeans, and sophisticated silverlake-mom clothes (aka the COOLEST young mom possible). I go there for the wide selection of James Perse and Plenty Tees.
The Circle
2359 Glendale Blvd. at Brier Ave
Indie designer clothes for less. Grey ant, Mon Petit Oiseau, Monah Li, Rachel Pally, and Coco Kliks
Rachel Pally V Neck Printed Kimono Dress $185 shopbop.com
Panty Raid
2378 Glendale Blvd.
$$
The sexiest high-end lingerie (nothing trashy allowed) with bright colored lacy things from Cosabella, Hanky Panky, and Mary Green. It also has a great selection of hard-tail pants and C&C California shirts.
ECHO PARK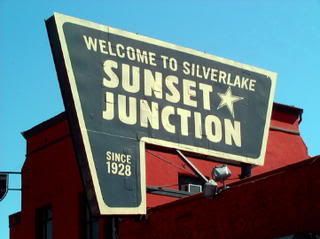 at Griffith Park Boulevard is getting to be like a tiny melrose, with great stores, great restaurants, and and AMAZING new homemade Gelato (ice cream) cafe at which several of my friends worked last summer. Pazzo Gelato 3827 Sunset Blvd.
Ragg Mopp Vintage
3816 W. Sunset Between Lucille & Hyperiod
(323) 666-0550
$$-$$$
True vintage clothing from every decade. Classy 40's pansuits or 50's housedresses, beautiful shoes in great condition. Nothing past the 70s. Old Rock tees line the walls but are unnecessarily pricey. I've found beautiful cashmere cardigans, vintage tees, and pristine condition 60s mod dresses.
Come to Mama
$$
4019 Sunset at Santborn
It's the place to go if you want to fit in among the artsy silverlake designers and musicians. Hand-picked vintage 1960s and 70s dresses, leather bags from Jose Arellanes, pieces from local silverlake designers, and owner Terri Mussatti's own line Come to Mama, with tiedyed vintage slips and bustiers.
Matrushka
4281 Fountain at W. Sunset
$$
Handmade skirts, dresses, and shirts, on-the-spot alterations, good prices.
Ozzie Dots
$$
Crazy costume vintage, clothes all over the wall, this is your place for costume parties, halloween, or for when you just feel like dressing up. It has normal vintage clothes too, but the whole aura of the place SCREAMS halloween.
Sirens & Sailers
1104 Mokawk St. at Sunset Blvd.
(213) 483-5423
$$-$$$
Another cottage turned store with an eclective mix of designers such as Grey Ant, GoldenBleu, Brian Lichtenberg, Alex & Chloe jewelry, Sally Tseng, and Prospect 44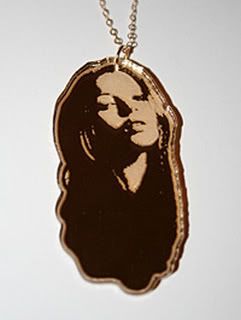 Kate Moss necklace $54 Alexandchloe.com
The Kids Are Alright
2201 Sunset Blvd. at Mokawk St.
(213) 413-4014
$$-$$$
Down the street a bit from the sunset junction cluster. It has cool, hip, silverlake-kid clothes from small brands from LA, New York, and even some from Japan. Great jewelry from local designers and simple Edward An pieces, funky Grn Apple Tree teeshirts, and Mon Petit Oiseau sweaters. It is also a regular haunt of some of the top celeb's stylists.
Edward An Bryce Shirt Dress SALE $154 activeendeavors.com
Luxe de Ville
2157 Sunset Blvd. at Mohawk St.
(213) 353-0135
$$
In the Kids are alright/sirens and sailors cluster. Half vintage clothing and local-made jewelry, half new clothes. Great vintage sunglasses and hand painted cuff bracelets.
Flounce
1555 Echo Park Ave at Scott St.
(213) 481-1975
Flouncevintage.com
$$
A tiny little shop that reminds me of a roly poly, red-cheeked, and eclectic British woman's closet, If that makes any sense. Everything seems pastel and there are a lot of vintage cashmere cardigans, 50s dresses, tweed blazers, pretty, girly tops and skirts, and vintage leather bags and clutches all thrown together in a crowded yet cozy little space.
Kicks
3938 W. Sunset Blvd at Hyperion
(323) 644-1272
$-$$$
the best selection of the hippest modern and classic sneakers, with lots of Converse Chuck Taylor All-Stars, Vans silp-ons in limited-edition prints such as denim and snakeskin, rare Nike Dunks, and soccer-style Pumas and Asics. The BEST place in LA for the coolest sneaks.
LOS FELIZ
Atmosphere
1728 N. Vermont at Prospect Ave
$$-$$$
Very LA, I'm not sure if its my style but if you're in the neighborhood and looking for some Juicy couture, Plenty, Ella Moss, or Fred Perry, head over to Atmosphere for the latest styles. In the back are yoga clothes and paraphanalia like blocks and mats with cool patterns.
Squaresville
1800 N. Vermont at Russell Ave
$-$$
A fairly well-priced "new vintage" store that buys your clothes off you and resells them: one person's trash is another person's treasure. I've found great designer jeans for about $40, interesting blouses for $20, and cute vintage heels for $45. It's unpredictable what you'll find but you're sure to dig up a treasure.
Una Mae's
4651 Kingswell at Vermont
$$
Contemporary and vintage, with lines like Built by Wendy, Le Tigre, Levi's, Miss Sizy, Ok47, Havaiana flip-flops, and Y2K T-shirts as well as vintage 80's dresses and polo shirts.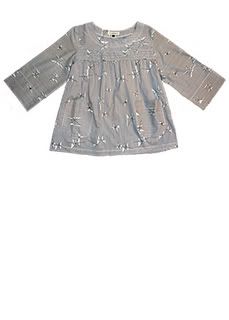 Built By Wendy Cobweb Pullover Top $115 http://www.builtbywendy.com/onlineshop/cart.php?target=product&product_id=16880&category_id=299
White Trash Charms
1951 Hillhurst at Franklin
whitetrashcharms.com
$$$
All the hippest jewelry (seen in in US weekly? its probably here!) and a few racks boutique-y cute clothing. But the real focus is the abundance of cool jewelry.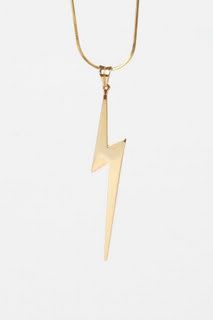 White Trash Charms Gold Vermeil Lightning Bolt $145 couturecandy.com (I have it and LOVE IT, its the same one SJP wore on SATC)
Zen Tropa
1720 N. Vermont between Kingswell and Prospect
(323) 913-3091
$$$
High-fashion styles from edgy, up and coming designers such as Antonio Aguilar, Ismail Gardea, and the owner's own line WIE (West is East).
Silverlake/Echo Park/Los Feliz is my HOOD so I started with the stores I'm most familiar with in the area I love the most. Next, I'll go all over the city shopping up a storm to bring you the best stores of the rest of LA!
Best of luck shopping!
-Arianna
fashioninsider00@aol.com
To be added to the mailing list, comment with your email address. Please tell me if you would like your comment deleted afterward for privacy purposes.