Boutique |boōˈtēk| noun
1. A small store selling fashionable clothes or accessories
2. A business that serves a sophisticated or specialized clientele (you, my lovely and fashionable readers)
I just love that word; it evokes fond memories of wandering around the streets of Paris with my little sister, and discovering the most glorious little French shops full of beautiful trinkets and luxurious clothing.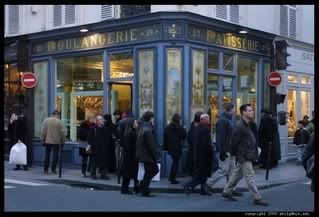 As you can guess, French fashion is my all-time favorite, so I probably will find ways to lead everything back to Parisian style. Elegance, sophistication, uniqueness, it is about piecing together beautiful articles of clothing and fantastic pieces of jewelry from all over the city to create a chic and put-together look that is entirely your own.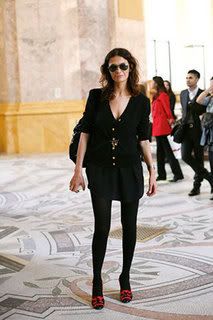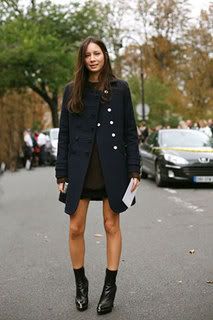 From Style.com Street Style-Paris
I've often heard the rule, and I tend to agree, that one should NEVER wear all one designer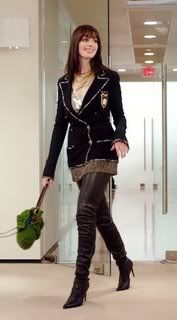 Hmmm, as in ALL Chanel on Anne Hathaway in the Devil Wears Prada?
But I've found that French women would never even THINK of wearing things all from one place, they love to discover new little shops and mix and match new, vintage, generic brand, and high end clothing. We Americans, however, tend to go to J Crew, Gap, or Old Navy, buy an outfit, and call it a day. Your style should be about showing off YOU, who you are and what you believe is truly stylish.
Sadly, I will not be living in Paris until next year (studying abroad, basically due to my love of French language, culture, and most of all, fashion, so until then I will have to focus on what I have in front of me, which ain't that bad: New York City.
This city is overflowing with tiny shops with beautiful clothing as well, it just takes a little research to find the good ones that people don't really know about. As I said, mixing and matching is key. I'll shop at H&M one day, and tiny upscale designer resale boutiques the next; those are where you KNOW you're getting something unique. A luscious, eggplant colored, loose-knit, wool, Chloé blanket sweater from several seasons back perhaps? My current favorite article of clothing.
The Boutiques are divided up into Areas: East Village, Lower East Side, West Village, and Soho
Price Key
$-Cheap. Get. Over. There. NOW!
$$-Moderately priced
$$$- Quality and boutique prices
$$$$-You might end up digging into the piggybank of savings you started when you were three
~~~~SOHO and NOLITA~~~~
APC
131 Mercer at Prince
APC.fr
$$$
It's like the J Crew of France, more expensive, but with better fitting clothing. A.P.C has quickly become a hipster essentials store with its simple minidresses, suspender shorts, and striped cashmere sweaters. The whole store has a cool, laidback vibe, much like the boutiques in France (well, yes it IS French), and the clothes are very well made. I went several weeks ago when I was wandering around Soho wishing I had more spending money, so due to my lack of funds (probably because I splurged on something else earlier that week) I sadly left the store empty handed, but another visit is definitely in the books as soon as possible!
Opening Ceremony
35 Howard Street between Broadway and Crosby
212-219-2688
$$$
The idea behind this adorable boutique is to feature fashions from different countries, such as Brazil, Germany, and England, each year. The owners go to a new country, live there for a while and SHOP, buying several seasons' worth of collections from a number of local designers and bringing them back to their New York store. The top level of the store is devoted to Topshop, a British H&M type store (with fairly good prices!). The lower level clothing is more pricey but well worth the money.
Knitted Pinafore Dress 40 pounds (UK) Topshop.com
Big Drop
174 Spring St. Between W. Broadway and Thompson
Bigdropnyc.om
$$$
A little too Trendy sometimes...Frankie B low rider's anyone? I feel a bit like I'm back in Middle School at my prep school in the valley with all the brightly colored clothes reminiscent of Juicy Sweatsuits (Aaahh!), but they do have some nice 3.1 Phillip Lim pieces (my FAVORITE!!) as well as Ya-Ya and Paige Premium Denim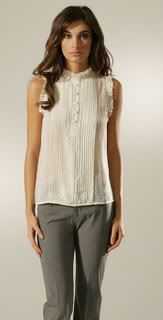 Ya-Ya Silk dot blouse $230 shopbop.com
Only Hearts
230 Mott St. at Prince
212-431-3694
onlyhearts.com
$$
Delicate lace lingerie pieces, which seem almost too pretty to wear
Kirna Zabête
96 Greene St. near Spring
212-941-9656
$$$-$$$$
The coolest of the cool. A hip, pop-arty store with all the hottest clothing, jewelry, and accessories from designers such as Balenciaga, Tuleh, Derek Lam, and B Romanek. Very expensive and a dream to stylists and personal shoppers, but to poor college students, it's just torture. Go to see the beautiful items but know that you...will...want...everything.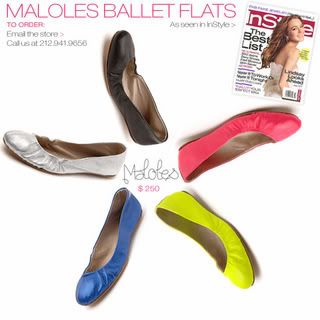 kirnazabete.com
I Heart
262 Mott St.
iheartnyc.com
$$$
Great labels, like the gigantic closet of that INCREDIBLY cool girl I want to be. Labels: Development, SONIA: Sonia Rykiel, St. Tropez Leisure, Tsubi, United Bamboo, and Karen Walker
United Bamboo Spring 2006 Ready To Wear
Blue Bag
$$-$$$
266 Elizabeth and Houston
BAG LOVERS HEAVEN, lots of bright colors and unusual styles as well, tres chic and elegant
Intermix
98 Prince St
365 Bleecker St.
901 Broadway
1003 Madison
210 Columbus Avenue
$$$-$$$$
Hello, and welcome to Nicole Richie's closet. This boutique chain is literally the epitome of the waifish fashionista socialite's wardrobe. Chloe minidresses, boots, and bags, Stella McCartney, Matthew Williamson, Catherine Malandrino, Diane Von Furstenberg, KORS by Michael Kors, Vince...all the "It" bags, "it" dresses, "it" shoes. Basically US Weekly's entire style page.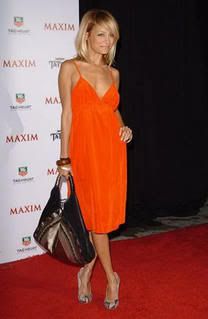 Ms. Richie wearing 12th Street by Cynthia Vincent
Scoop NYC
532 Broadway
430 West 14th
$$$-$$$$
Another Go-to for all the most popular designers: Kooba, Gold Hawk, Anna Corinna, Anna Sui, Alice & Olivia, 12th Street by Cynthia Vincent... you're bound to find something, just don't become Paris Hilton please.
~~~~WEST VILLAGE~~~~
Marc by Marc Jacobs
403 Bleecker Street at W. 11th
$$$
The king of modern style has a tiny boutique stuffed to the gills with all the items from his Marc by Marc line. I don't actually like a lot of his lower priced line as much as THE REST OF THE WORLD, though the normal (more expensive) line is fabulous. I find Marc by Marc clothes are too expensive for the quality you're given, and not that unique since EVERYBODY has them. He has some nice coats, and silk shirts and AMAZING shoes though (the accessories store is right down the street). Please don't kill me! Like him all you want, to each his own. Definitely check out the shoes down the street though. His are my favorite.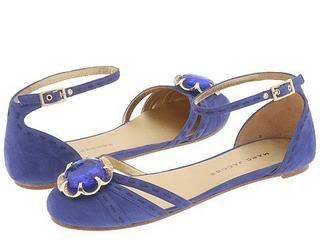 MJ jewel flats SALE $208 Zappos.com
Cynthia Rowley
376 Bleecker St. at W. 11th
$$$
Beautifully made silk dresses and shirts in unusual cuts in bright blues and greens. If you haven't been introduced to this designers work, get over to her quaint little boutique IMMEDIATELY. And while you're at it, pick me up some vanilla Magnolia bakery cupcakes please? thanks.

Trophy Dress $220 cynthiarowley.com
Girlshop
819 Washington St Between Little W. 12th and Gansevoort
Girlshop.com
$$$
It started as a small web company with cool indie designers. It became...a phenomenon. At least to those who worshipped the website, now a hip W. village boutique. Look for Lewis Cho, Rachel Essex jewelry, Tart, and Juliette Longuet
Mick Margo
19 Commerce St. between 7th Ave S and Bedford
$$$
A chic, elegant store reminiscent of the dapper British grandfather-type the store is named for. Alexander Wang sweaters, Mod dresses by Lewis Cho, vintage jewelry by Lulu Frost, Rare pieces by Karen Walker, Clu, and Shin Choi.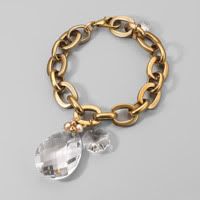 Lulu Frost Chandelier Bracelet
$360 Saksfifthavenue.com
Darling
1 Horatio St at 8th Ave
www.darlingnyc.com
$$$
The ultimate girly girl/garden party dress store. Lacy, slinky, floral, lovely, enchanting, amazing. For the little Victorian girl in all of us. Great if you're going to a wedding or a tea party in the English countryside, Oh how lovely. A. Cheng, Helen Wang, Shoshanna, and Woo.
~~~~EAST VILLAGE~~~~
Sophia Roan
117 E. 7th between 1st and Avenue A
212-529-0085
$$-$$$
Edgy yet sleek jewelry, clean, simple dresses that aren't too girly, and a very hip owner who gives her honest opinion, who could ask for anything more? Designers include Ilana Moses, Nicola Fan, Ella Moss, Steven Alan, and Ong
Steven Alan
87 Franklin St New York, NY 10013 Ph 212.219.3305
Stevenalan.com
$$$
Hip downtown style with local designers mixed with hot independent but national sold labels such as Twinkle and Clu. Also features Acne jeans, Rogan jeans, Comme des Garçons, Capital Taylors, and Alan's own label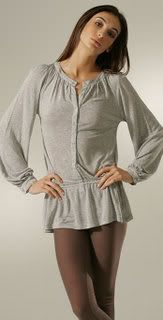 Clu Poets shirt $154 Shopbop.com
Azaleas
Azaleasnyc.com
223 E. 10th between 1st and 2nd
$$$
Flirty and fun lingerie and comfortable clothing all hand selecting by owner Cindy Kahng. Cosabella, La Cosa, Charlotte Ronson, Viv & Ingrid jewelry, Splendid tees, Woo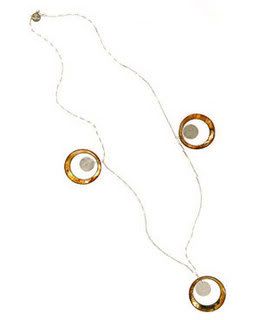 Viv & Ingrid necklace
SALE $66 Southmoonunder.com
Famous Friends
616 East 9th St. Between B and C
www.famousfriendsnyc.com
$$$
Not happy with the jeans your mom passed down to you? Wish you were born with better ones? (Terrible joke, I'm sorry) Find the best jeans in NY here, including Acne Jeans, Rogan, Levi's, Nudie Jeans, Lorenzo Merlino, Rag & Bone, Trovata, Bliss Lau, and much more. Check it.
~~~~LOWER EAST SIDE~~~~
Tory Burch
257 Elizabeth Street
212-334-3000
$$$
Bought my dream Tory Burch shoes the other day. I gave in. I've been wanting them for a few weeks, and even trekked all the way to her L.E.S. store and tried them on (whilst salivating) but didn't have the money. Then the other day a friend and I braved the crowds at Saks and I found the black patent leather ones and FELL IN LOVE. The rest of her clothes are nice, lots of (tasteful) gold bedecked dresses and shirts, I really like a navy pullover sweater with gold buttons, but that'll have to wait.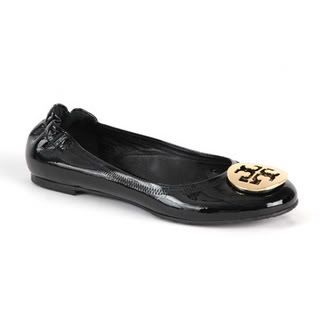 Reva Ballet Flats $195 plazatoo.com, toryburch.com
TG-170
170 Ludlow St. Suite 1 at Stanton St.
tg170.com
$$$
Great unknown designers and downtown essentials by Daryl K, J Brand, Grey Ant, and Built by Wendy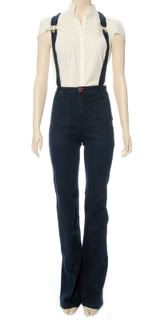 Grey Ant Carpenter Overall in Navy $374 Azaleaonline.com
Plum
124 Ludlow at Rivington one street below Houston
www.plumstyle.com
$$$
Cool clothes that nobody will have. Many labels that you probably haven't heard of: Anja Flint, Catherine Brule, Guy Baxter, Dean, and Lizzie Fortunato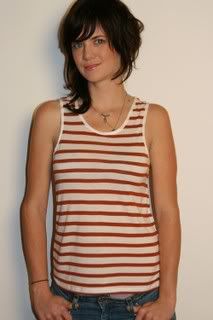 Guy Baxter Stripe Tank $76 Guybaxter.com
So now for the generic stores. Mix and match unique pieces found at the boutiques above with basics found at the stores below.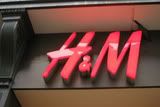 $-$$
http://www.hm.com
If you haven't heard of it, you must have been living in a box in Antarctica these past five years. It's a large chain that was established in Sweden in 1947 that then quickly took over the rest of Europe, then America, and LAST OF ALL Los Angeles (a few weeks ago), of course after I move to NY. It's a store that sells versions of the latest trends at good prices, and I've found plenty of great, trendy pieces to work into my wardrobe here. My friends and I were OBSESSED with H&M in Europe (better than the ones in America) and went at least 5 times on our month long trip to Paris, Amsterdam, and Barcelona two years ago.
H&M is great for plain tee-shirts, sweaters, jeans (if you want to go the non-designer route since signature back pocket designs are less popular now), they even have great skinny jeans, nice jackets and coats, and lots of little frilly blouses. The trick is not to get sucked into spending hours there, because most of the NY stores are HUGE. Go in with the framework of a list in mind, like, I need a winter coat, a dress for that party, some new tights, etc. They sometimes have good jewelry and accessories (headbands, hairclips) too, and I've found a few purses I like there.
The BEST H&M is definitely the 5th Ave outpost (5th and 53rd), it has three levels and sometimes live DJ's, even live mannequins! I swear, I went there one day and did a double take because models were standing quite still where the mannequins usually are.
The newest thing in Brand name stores is High Fashion designers doing cheaper lines. Target (Isaac Mizrahi, Paul & Joe, Behnaz Sarafpour and more), even Gap (Roland Mouret for (Project)RED) and H&M. Last year Stella McCartney designed for them, but I never even got to see much of her stuff because apparently people lined up at the door at 8 AM and the place was a madhouse. Karl Lagerfield (Chanel) also made a lower-price line for H&M and most recently design team Viktor and Rolf collaborated with them. I saw their stuff the other day and it was all pretty nice, but mostly everything was $99.90 (sell tactic, makes you THINK it's not $100) and not entirely worth it.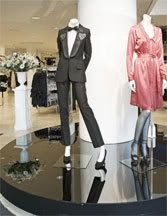 Viktor and Rolf at H&M

Union Square South
$
I've found that the Forever in New York is much worse than the LA stores, so I rarely even go there anymore. Their stuff is poorly made in sweatshops, not too enticing. It's hard to go there with a list in mind because their stock is pretty unpredictable too. However, I've wandered into it after class one day and found some pretty darn good things such as a short white faux fur (but REALLY soft) jacket for $30, or a flowy white button-up camisole ($15). Forever 21 is great for inexpensive leggings and the occasional jersey dress, and a friend of mine swears by their cheap yet colorful underwear, though the one pair I bought didn't fit right.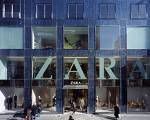 5th Avenue and 16th Street
Zara.com
$$
A clothing store that started as a tiny lingerie company in La Coruna, Spain, which also made the transition to America after overtaking Europe (I've also frequented the Paris store quite often.) The clothes are reinventions of the latest runway/high fashion trends as well, but the stuff is a bit pricier than Forever 21, around . Zara often has gorgeous blouses and great shoes, I got a pair of beautiful black ankle boots there a few weeks ago that I'm in love with. Sometimes I regret buying their stuff however, because some of it looks nice in the store and cheap next to the rest of my clothes, so don't buy on a whim, think it over carefully!
Uni Qlo
546 Broadway below Prince
$$
Uniqlo.com
This newly opened (and OVERLY advertised) store is kind of like the Japanese H&M, with great cashmere sweaters and scarves, and well-cut skinny jeans.
Stores like J Crew, Banana Republic, and Gap are pretty well-known so I'm not including those. Basically my favorite of the three is J Crew, whose prices have drastically risen in the past few years, but so has the quality of their clothing. Look there for great Cashmere sweaters, scarves, tweed blazers, and cotton button-ups.
If you've found a fabulous NYC boutique that you don't mind sharing, I'd love to hear about it!: fashioninsider00@aol.com
And that's all for now folks! Next up: NYC designer resale stores, vintage clothing stores, flea markets, and thrift stores!
-Arianna
If you would like to be put on the mailing list, please comment with your email
but any kind of comment is much appreciated!!
fashioninsider00@aol.com