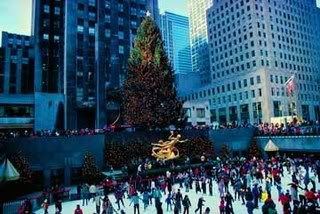 NYC baby. Love it or hate it, its the city that never sleeps. It's loud, smelly, dirty, exciting, exhilarating, and the fashion capital of America, maybe even the world. So how on earth can a poor college student afford anything in this city? I save up. And I am constantly on the lookout for new boutiques, resale stores, thrift shops, and flea markets.
Price Key
$-Cheap. Get. Over. There. NOW!
$$-Moderately priced
$$$- quality and boutique prices
$$$$-You might end up digging into the piggybank of savings you started when you were three
First off, the department stores.

$$$$- I should probably add a fifth. Yeah. It's kind of like a museum. until SALE TIME!
754 Fifth Avenue at 59th St.
Bergdorfgoodman.com
Bergdorf's: the Jackie O of department stores. A friend once told me there were old ladies who go in there EVERY DAY, get their hair done, buy a new outfit, and get on with their day. Oh, to be rich and eighty years old in New York. But in reality, it is extremely expensive and filled with the most mouth-watering designer duds one could ever want. The classics: Chanel, Dior, Gucci, D&G, LV, Calvin Klein, Oscar de la Renta, Burberry, to the new: Zac Posen, Marc Jacobs, Moschino, Anna Sui, Stella McCartney, Rebecca Taylor, Milly, Catherine Malandrino. Yeah, it's kind of my heaven. I first discovered their AFTER CHRITMAS SUPER SALE when I got my hair cut at Ouidad on 57th and then felt I needed a new look to go with my new hair (not that I had the money.) I wandered into Bergdorf's like a kid in a candy store, mouth watering at the luscious clothing. Then at the pricetags... not too bad! Mostly everything was up to 80% off and it was late January! So remember to check it out after the holidays and tell me about your lovely purchases! (fashioninsider00@aol.com) last year I walked away with a Stella Mccartney cashmere tank top, Marc Jacobs skirt, and Rebecca Taylor silk shirt. I'm not telling you how much I spent because I know my parents read this but let me just tell you this, it was about 1/8 of what I would have spent had they been full price!
NAVIGATING THE STORE
I tend to get lost in giant department stores so here goes.
Level 1 (street)-Accessories, hats, scarves, handbags (yes that's a real Chloe), jewelry, sunglasses
Level 2-European collections, more handbags, designer shoes: the expensive ones, AKA my good friends Manolo Blahnik and Christian Louboutin.
Level 3-Designer Collections: Marni, Miu Miu, Marc Jacobs (not Marc by Marc, thats 5), Behnaz Sarafpour, Proenza Schuler... Basically my dream closet. This is where I found my Stella M shirt. But if you tempt yourself when it's not sale time, you'll cry as you pry yourself away from the $800 Prada Dress. I did.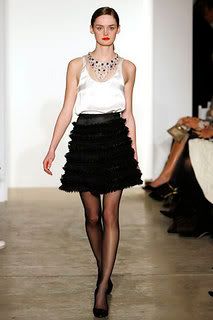 Behnaz Sarafpour Fall 2007
Level 4-Couture and personal shopping, and...FUR SALON?? I don't know. Basically don't go there unless you have a billion dollars and/or are one of the 80 year old millionaire women who dress themselves at Bergdorf's everyday.
Level 5- Contemporary Clothing- the (slightly) more affordable designer brands such as Catherine Malandrino, M Missoni, Marc by Marc Jacobs, Vince, Diane Von Furstenberg and the lower priced shoes. Basically the teen/young adult section, but not at all like the Juniors at your local Macy's.
And above that? Only if you want really expensive lingerie, a $500 dollar facial, or a hand-painted antique mirror.

660 Madison Avenue at 61st St.
Barneys.com
$$$-$$$$
Barney's. Celeb Haven numero uno and indie labels galore. Classy and chic, the epitome of Sex and the City style.
"If you're a nice person and you work hard, you get to go shopping at Barney's. It's the decadent reward."
-Sarah Jessica Parker
For some reason I haven't frequented this famed designer outpost that much, I always get tired out by Bergdorf's and never get around to it. Maybe it's just far too tempting for me to handle. Anyways, this is the hipper, younger sister of Bergdorf's. It has most of the same labels, plus hipster brands like 3.1 Phillip Lim, Daryl K, Edun, Rag & Bone, Sunner, and Yumi Kim. Some names huh? If you havent seen their lines, RUN to barneys and check them out. Or just search the web. They're pretty amazing, Phillip Lim is my favorite thing since sweet cream ice cream.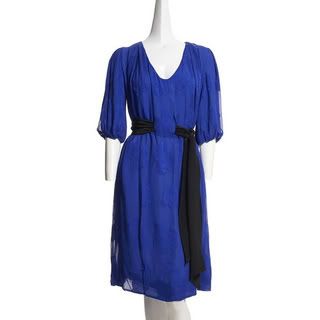 3.1 Phillip Lim Tea Dress ON SALE $349.00 barneys.om-- I know I know not much of a "sale" but it's an amazing dress nonetheless.
Barney's also has most of the unknown super-cool jean brands like Acne, Cheap Monday, J Brand, Rag & Bone, Rogan, and Superfine.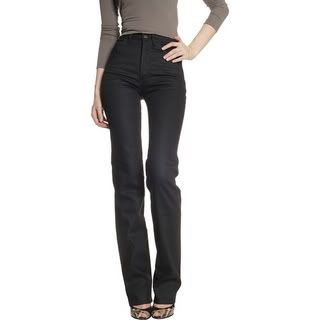 Acne Jeans Tube Cash $250 Barneys.com. I WANT THESE SO BADLY!
So what is Barney's Co-op then? It's the even YOUNGER sister of Barney's, a HIPPER, EDGIER little store carrying many of the same brands but geared even more toward the younger generation.
CO-OP CHELSEA
236 West 18th Street
CO-OP SOHO
116 Wooster Street
BLOOMINGDALES
59th Street and Lexington
Home of the Little, Medium, and Big Brown Bag.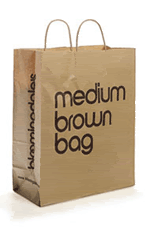 $$$- Three money signs. Because there isn't much here that would cost as much as that car you're saving up for. But that doesn't mean cheap!
Bloomies is classic, and not too new to me since I'm from Los Angeles and go to the Beverly Center location as often as possible. It's my old faithful, where I know I'll find jeans I like (Seven's, Citizen's of Humanity, Paper Denims, Paige Premium Denim, Joe's), and can stock up on classic tanks and tees by C&C-- by far my favorite brand of Tees, though they need to be handwashed because the seams unravel quickly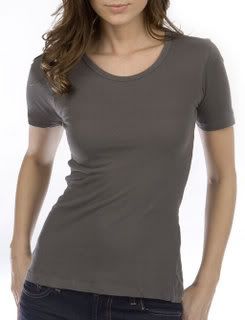 C&C Wranger Tee in faded black $46.00 Candccalifornia.com
or Splendid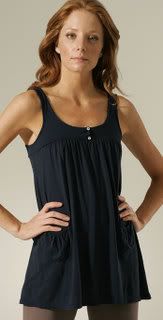 Jersey Babydoll Top $61.00 Shopbop.com
and cashmere sweaters for about $100. There are usually year-round sale racks. Nothing too edgy like Barney's, just the classic brands like Marc by Marc, Diane Von Furstenberg, and Juicy Couture (it DOMINATES a whole wall), but really now, can juicy sweatsuits just be banished to workout wear please?

Madonna epitomizing 2002 fashion. But wait, where are the Uggs?
IMPORTANT: the plain flavored frozen yogurt at 40 Carrots cafe on the subway level is TO DIE FOR. A friend and I have gone here specifically to have it as our dinner. No, not anorexic, the portions are huge and you can get things like boysenberry sauce or granola on top. I'm serious, you won't be disappointed.
mmmmm
Henri Bendel
$$$$
712 5th Avenue at 55th
The Famous little pink and brown striped bags, the decorous windows, Bendel's is like walking into a candy store full of beautiful clothes instead of sugary sweets. It's a little more snooty than Bloomies, but it has gorgeous clothes. It has many of the same labels as Barney's, but there are even more hard-to-find brands hidden in the nooks and crannies of Bendel's strange layout. The top floor is where the bargains are, so head up there near the beginning to avoid out-of-price-range cravings. The plethora of fancy cosmetic labels is pretty impressive too.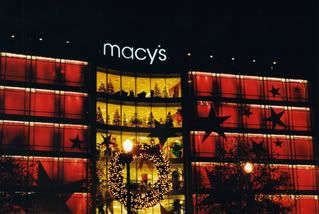 34th Street and Broadway
$$$
This is the biggest and best Macy's I've ever been in (the ones in LA are just like JC Penny's with more of a following) but it's still not that impressive. Brands: BCBG, French Connection, some nice jeans (Sevens, Joe's) It has everything that the others have but is often crowded. I'd rather go to Bloomies.
Filenes Basement
$$-$$$
6th Ave at 18th
Union Square South (my home)
Broadway at 79th
It's a discount designer store, and I've found things such as Paper Denim Jeans for 70 bucks, Marc Jacobs tops for 40, even Missoni sweaters for about $100. Sometimes it has great stuff, sometimes not so great. I actually convinced my dad to pay for a $200 pale pink silk Chloe dress for my birthday from here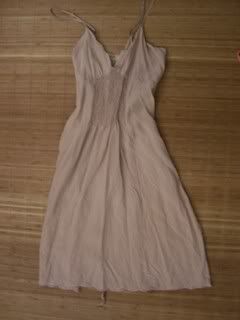 He's a bit of a realist and takes a lot of coaxing to get him to spend lots of money on my clothes. My mother, the bargain hunter, LOVES this place and insists we schlep over here whenever she visits. It requires digging, but there is great stuff hidden everywhere. The coat, scarf, and glove selection is fabulous and they have cheap lingerie too.
Century 21
22 Cortlandt Street at Church
C21stores.com
$$-$$$$
My FAVORITE!!!!!
This too is a discount designer store, a New York must-see for fashion fiends. They've got plenty of discount MJ, Splendid, Paul and Joe, Miu Miu, Prada, Gucci, Missoni, Theory, the works. It's not exactly student budget friendly all the time but if you're looking specifically for a fancy dress and are willing to pay $200-$500 on it, heres your place. But don't be discouraged by those high numbers, there are plenty of things for under $100, you just have to dig for the buried treasure and beat the crowds. That is VERY important. Don't even TRY to go to Century 21 during the Holiday Season!
Loehmann's
$-$$
7th Ave at 14th
Me no likey. The one in LA is about 100 times better. I just included it so you would know NOT to go. I'm being harsh, but it's true, this one just sucks.
That's all folks! If you live in NYC check them out and tell me what you think, if not, drool over the luscious clothes (and descriptions) and book a ticket to the city ASAP.
Coming up next: NYC boutiques, thrift stores, and flea markets
Happy Holidays!
-Arianna
Comment with your email address to be put on the mailing list
Feel free to email with whatever questions or comments you have, I love hearing from you!
fashioninsider00@aol.com