Welcome to the Fashion Insider, your guide to EVERYTHING relating to personal style and fashion.
Style is part of what makes you unique. The clothes you wear send a message to every single person who sees you; nobody has identical wardrobes or identical tastes. Style is influenced by everything: environment, upbringing, heritage, travel, art, film, friends, celebrities, parents, sisters, brothers, current events, EVERYTHING! My clothing comes from high fashion designers to dollar bins, and I feel everyone is capable of forming a personal style that makes them feel confident, sexy, and chic. So how do we find that style? Many of us go to celebrities for ideas.
We long for that thoughtlessly thrown together yet chic and stylish look that today's celebrities seem to have down pat. How do they do it? One, they have money. Lots of it. And two, they have stylists: hired professionals whose sole purpose is to spend hours rifling through clothing & accessories to create that perfectly "thrown together" chicness. How are the rest of us to keep up without those two fashion necessities? Style doesn't have to mean wearing all high fashion labels 24/7. Remember, the label is on the inside of the item unless it is a handbag emblazoned with repetitive logos. The trick is finding items of good quality and material.
THE ART OF THRIFT SHOPPING: CHEAP AND CHIC
Some of my favorite articles of clothing are dollar items found at flea markets or thrift stores. The first thing to do is Google or Mapquest your nearest thrift stores and get yourself in the digging mindset. Call and ask an employee what days they put out their new stuff, and go as early as you can on that day, otherwise the eagle-eyed vintage store owner will snap up all the good stuff. For thrift store shopping, wear clothes that allow you to slip something on without a changing room.
- LEGGINGS are key, but I prefer to wear a skirt as well, necessary for those not interested in unwanted attention from male workers/shoppers, and a NEUTRAL COLORED (black or white) tank top.
- Thrift shops can be incredibly overwhelming so I always bring a list with me of what I should be looking for. For example, lets say I'm wild about a tan long grandpa sweater that Lindsay Lohan was wearing in Us Weekly, Christina Aquilera's red heels, a vibrant blue tee-shirt of Mandy Moore's, and a dark brown crock-skin purse that Mary-Kate carried. I jot these down on a post-it after going through my dog-eared stack of magazines, and then at the store, I hone in on those COLORS AND MATERIALS.
- Don't be discouraged at the amount of ugly nineties old lady clothes that smother the nicer items at the thrift store, just know that you're going to have to dig.
- I always bring HAND SANITIZER (who knows who's touched those things), a bottle of WATER, and an ENERGY BAR with me when thrifting, as I always get caught up in searching and find myself parched, starving, and dirty at the end.
that allow you to slip something on without a changing room.
- Plan a day of thrifting with your equally chic friends. Friends, mothers, or sisters are always helpful in telling you what looks good and what doesn't!
- You'll eventually find your own way of thrifting, but I usually find myself initially gravitating toward PURSES, SHOES AND BELTS. I've found things from vintage Ferragamo flats to brand new brown leather riding boots at thrift stores. Treasures are hidden everywhere, you just have to look! Pursewise, I tend to look for beat up, slouchy, leather bags and clutches. As for belts, my favorites are the short, wide ones that cinch your waist and can be worn with everything from flowy summer dresses to v-neck sweaters and leggings.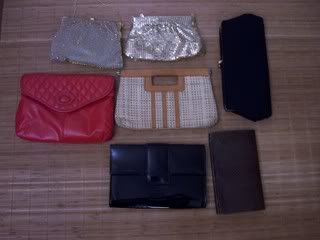 some clutches found thrifting
- Next, I go to SWEATERS for cashmere cardigans and v-necks. I love big, soft men's sweaters and sweater vests, as well as worn in SWEATSHIRTS (dig deep for smaller sizes) and vintage store quality TEE-SHIRTS.
- SKIRTS next, usually the most prolific section. Minis, knee-length, pencil, long, whatever you want, thrift stores have them. The DRESS section is also a good one, though sometimes I have to alter my thrift store finds (DIY or bring it to a tailor for an alteration for 10-20 bucks).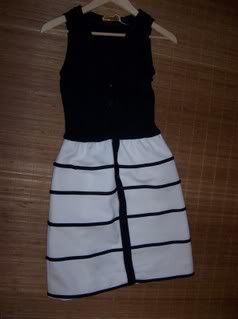 thrift dress from Shareen Downtown LA
- I look in KIDS clothes for little schoolboy blazers and schoolgirl jumpers. Rummage through kids tee-shirts and sweatshirts too for smaller sized vintage-ish finds, though many just have soccer team or summer camp logos.
- JEANS tend to be hard to buy because most are old, high-waisted Levi's (if that's your thing, more power to you!) but they are easily cut up and sewed into miniskirts or shorts.
- Looking for COATS can be hard, but definitely well worth it, especially if you're looking for something specific like a houndstooth winter coat or gray tweed jacket.
Find a mirror and start tryin'. Things can be altered, so if you're in love with the material, get it. Chances are it's 2.99 and an alteration will only put you out about twenty bucks.
STAINS are tricky as it's hard to tell when they happened, so unless vintage grunge is what you're going for, leave it.
- Last stop: JEWELRY, my favorite. I've found so many priceless items for about 5 bucks each that my jewelry drawer is overflowing. Look for trendy gold chains, beaded necklaces, interesting bracelets, brooches, earrings, name it, you might find it. STERILIZE everything you can with rubbing alcohol or jewelry cleaner, but be careful of fake gold or silver that might tarnish.
Tip: sniff gold or silver looking jewelry to tell if it's real. Fake will smell slightly like rust, real won't smell. But who cares right? If it's just for fun and you're not planning on wearing it everyday, get the fakes too.
CLEANING: You probably want to wash everything before you wear it, dry clean cashmere and coats (check labels)
SO WHY THRIFT? Well, first off, the prices are great, nothing beats a leopard print skirt (that you saw Kate Moss wearing in Us Weekly) for 4 bucks. Also, if you're the kind of fashion slave who just wears something until it's black-barred by Cosmopolitan, thrift stores will help you find those trends for cheap because as you know, trends are recycled. Those popular ankle boots? 80's. belted dresses? 50's. Sleek minidresses? 60's. Save up for the classic items like the little black dress or the perfect trench coat. Last but not least, INDIVIDUALITY. Chances are, none of your friends are going to have the same black patent leather clutch you find thrifting. That bag you bought last week at urban outfitters? There are probably about 20 more of them that are being snapped up by your friends at this very moment. Your #1 style idol who's wardrobe you envy probably thrifts from time to time, no matter how rich she is. Some of the greatest things I own are the results of successful thriftshop trips.
Bargaining is often possible, ask to get a good deal if you buy a bunch of things, or if a price sounds like too much, offer them a lower one.
THE ART OF BARGAINING: My mom is the craziest bargain hunter alive. She thrifts about 4 times a week, coming home with 3 bags a clothing each time (she's currently seeking help from a clutter therapist), and she has mastered the art of cheap deal web-surfing for everything from airfare to restaurants. So naturally, she has taught me her ways. To some, this might seem an obvious skill, but you'd be surprised at how many people don't know how to bargain and get duped into thinking they got a deal at the seller's asking price. Bargaining can apply to all sorts of deal-making: fake purse buying at Canal st. in New York, Thrift store purchases, flea markets, even bazaars and art fairs. Here's how to do it:
You: how much is this bag?
Scheming Seller: I'll give it to you for 55.
Y: I'll give you 20.
SS: 45.
Y: 25
SS: Can't go lower than 40, I'd be losing profit
Y: It has a rip right here, I'm sorry I'll only give you 30.
SS: 35.
Y: No, that's ok, thanks anyway. (Toss your head indignantly and start to walk away)
SS: Ok, ok 33.
Y: 30.
SS: Ok. Thirty dollars.
-Never seem too interested
-Don't go too low for your first price or they'll laugh in your face (I've had that happen to me!)
-If they don't say anything after you start to walk away and you REALLY want it, come back and say one or two dollars lower than what they said was their lowest (38 in the example above).
Seeing as this is my first post and I'm making it to help you with any of your fashion quandaries and predicaments, please comment or email telling me what you'd like to see in upcoming editions, thank you!
♥ Your Faithful Fashion Guru Arianna
arianna.fashioninsider@gmail.com
I'll update whenever the mood strikes, weekly at the least, but ideas are coming to me left and right so check back often!
If you'd like to receive a weekly email reminding you to check the blog, comment with your address. For your security, tell me if you'd like me to delete the comment with your email after I get it.
Now go forth and thrift!