Hi, My name is Arianna and I'm a Pursaholic.
We've all seen it. That perfectly worn in, gorgeously colored bag, lusciously slung over a fashionable shoulder. The Perfect Purse—my constant craving.
In my tiny jail cell dorm room I currently have fifteen, yes FIFTEEN purses stuffed unceremoniously into every crevice of my miniscule closet. Probably about 10 more lie forgotten and lonely in the closet in my parents house (or are secretly being used by my fashion forward eleven year old sister.)
How many do I actually use? Embarrassing question. About 4, maybe 5. Daily, I rotate three: my perfectly worn in black balenciaga motorcycle bag (ioffer. FAKE but no one can tell), Black vintage Chanel chain strap tote (Melrose Flea Market in LA), and a soft brown leather bag roomy enough that searching for my keys, cell phone, or student ID becomes a five minute ordeal (Rosebowl Flea Market in LA). The other bags are the occasional clutch used on a night out, ridiculously impractical in NYC where anyone can easily snatch it out of my unsuspecting hand.
Come Christmas I will be getting this.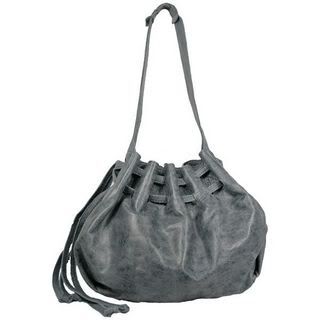 Anna Corrinna GRAY drawstring purse, over which I have been salivating ever since a friend of mine showed me hers in brown. (available on Shopbop.com)
My purse carries my life. As Carrie Bradshaw said: "balls are to men, what purses are to women. It's just a little bag, but we'd feel naked in public without it." So true.
So how to find your perfect purse without going broke? Keep your eyes peeled! Notice what attracts your eye: on other girls, in magazines, or in way too expensive stores.
- The New Marc Jacobs Stam, YSL Muse, or the B Fendi? Check out the DESIGNER BAGS at ioffer.com (they're all fake, ebay is usually more expensive but there are real ones there too.) My favorite ioffer seller is mirrorimage0629, tell me if any of you are interested in purchasing from her, and maybe I can strike up a little READER DISCOUNT DEAL! If you live in the LA area, check out Santee Alley in downtown LA, or in New York check out the craziness in Chinatown at Canal Street. Now bargain like I taught you to, there's a good girl.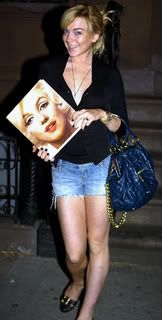 Lindsay Lohan (Or Lilo is it now?) carrying the MJ Stam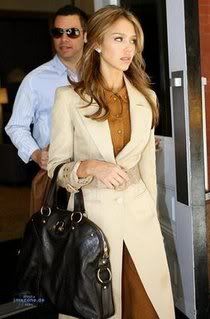 Jessica Alba carrying the YSL Muse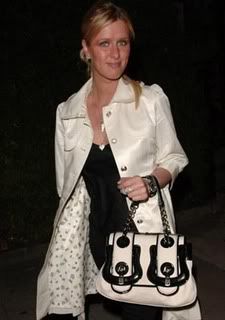 Nicky Hilton carrying the B Fendi
- An unknown designer, plain, vintage-ish WORN IN LEATHER BAG (like my brown one)? Check out your local flea markets and thrift stores. Brands like Anna Corinna, Botkier, and Lauren Merkin (shopbop) make already worn in nondescript soft leather handbags, but the pricetag nearly makes you faint.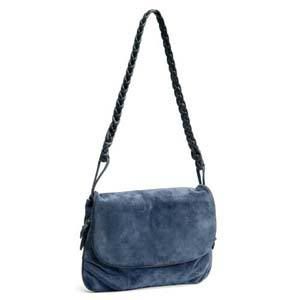 Lauren Merkin Dylan Calf Suede Messenger $375 laurenmerkin.com
- Random going out CLUTCHES? Thrift it
- Urban Outfitters and H&M often have relatively well priced bags too.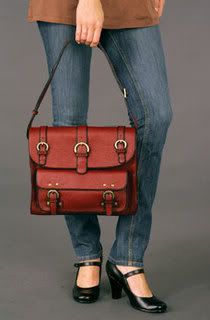 Structured Pebbled Shoulder Bag $48 Urbn.com
Once you find it:
-Wearing it in will give it character (a friend of mine beats her Balenciaga against a wall to soften up the leather!)
-Personalize it with a silk scarf tied at the handle, or add brooches and pins.
Hot right now? Unexpected colors like red or gray (like my xmas present!). A friend of mine rocked a green slouchy bag that turned out to go with everything and totally became her signature, it wore out and she's onto a purple one now.
HOW TO EBAY IT (AND NOT GET SCAMMED)
Yup, I've done it, bought the (fake) hot new designer purse from ebay and then compared the real and fake and found out that I was GIPPED! Not a good fake at all. But then I searched around and came up with a method of determining which sellers were trustworthy and which to steer clear of.
*IOFFER*
- search in "items for sale" for the brand and bag name (if you know it)
- click on a result with a price that agrees with you
- click on the seller name n the upper left hand side
- click on RATING on the upper right hand side and read the reviews.
-If the description of the bag claims it has something without showing a picture—for example: the lightning bolt writing on the zipper of a Balenciaga motorcycle—go back to the bag description and click ASK A QUESTION, then ask any Q you have, click REQUEST THE SELLER FOR MORE PICTURES (yes that is grammatically incorrect. Bad ioffer.) and send!
EBAY
- usually has some real ones but they are the ones for $600 and up, no matter how "authentic" they say the $200 dollar ones are
- Search for it, find an agreeable priced bag, click on it, then click READ FEEDBACK COMMENTS
- I choose not to risk it so only buy stuff from sellers with a 96% Positive Feedback Score
- BEWARE: always check out the shipping price as they might try to scam you by making it fifty bucks or more
- I suggest signing up with PayPal (paypal.com), it makes it incredibly easy to buy (and spend lots o moola)
Ahhhh to have a bag named after me. THAT is my goal in life. Just kidding...kind of.
The first to inspire a bag, by the beyond elegant Hermès nonetheless... Grace Kelly carrying the Hermès Kelly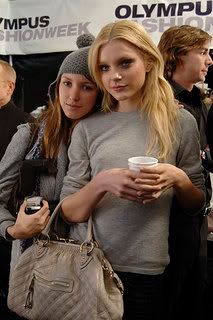 Model Jessica Stam with the MJ bag she inspired--last year I saw her in starbucks carrying it!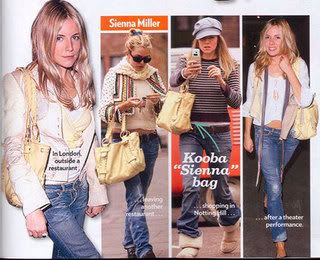 Sienna Miller with the Kooba Sienna bag
So...be it hobo, clutch, structured, tote, doctor bag, oversized, drawstring, quilted, buttery soft leather, straw, patent leather--the choices are endless--your perfect bag is out there waiting for you, now start searching!